Naim Mu-so QB 2nd Generation Wireless Music System Page 2
Naim provides two other paths to multiroom streaming: Via AirPlay 2 using the Apple Home app to stream to AirPlay-compatible speakers or via Chromecast using the Google Home app to stream to Chromecast-enabled speakers, available from a variety of brands including Bang & Olufsen, Harmon/Kardon, JBL, Pioneer, Polk, Riva, and Sony, to name a few.
As with the original Qb, you have a choice of three optional grille colors — olive (green), terracotta (a pinkish beige), and peacock (teal) — if you don't want standard black but it'll set you back a hundred bucks. It would be nice if Naim let you select an alternate color grille as part of the $900 deal.
Let the Music Flow
I enjoyed an expansive selection of music — ranging from acoustic and classical to jazz, hip-hop, and all of rock's faces — over several weeks as I put Qb through its many paces and was consistently impressed by what I heard. The updated Mu-so Qb remains a very capable speaker — in fact, more capable than its predecessor.
Starting at the low end of the sound-quality spectrum, I put the Qb in Bluetooth mode and let the streams roll from Amazon Music and Pandora. Overall quality varied but was mostly decent. Lou Reed's signature monotone on the "Walk on the Wild Side" (The Essential Lou Reed) was surprisingly robust for a song recorded 47 years ago, as was the "colored girls" singing do-ti-do-ti-do do-ti-do… though the sax solo in the song's outro was more grating than gratifying. Modern recordings such as Keith Urban's "Break On Me" from 2016's Ripcord or The Milk Carton Kids singing "Whisper In Her Ear (The Ash & Clay) came across as more balanced and open with a slightly bigger sound stage, though for the most part, the Qb's stage is confined to the space immediately surrounding it. Listening via Bluetooth was certainly pleasurable and perfectly fine for casual listening.
My musical exploration found me spending hours on end streaming internet radio from around the world, with much of that time spent thoroughly enjoying Radio Paradise's eclectic playlist, which sounded quite good streaming at 320 kbps. The mix of old and new rock served up by U.K.'s Easy Rock Paradise at 128 kbps was varied and at times a bit shrill. One best sounding stations I heard was Naim's very own Naim Radio, streaming original music from Naim Records at 320 kbps.
The little speaker started coming into its own when I switched to Tidal and settled in for an extended listening session centered on the outstanding "Autumn Serenades" playlist streaming in CD quality (16 bits/44 kHz). Mazzy Star's "Fade Into You" from 1994's So That I Might See was one of many mesmerizing tracks. Everything just fell into place: the acoustic guitar's steady strumming, the simple yet confident bass line punctuated by tambourine and a mournful slide guitar were perfect complements to Hope Sandoval's haunting, reverb-drenched vocals. The Qb's typically restricted sound stage opened up a bit on this superb recording, filling my 10 x 12 office with volume to spare.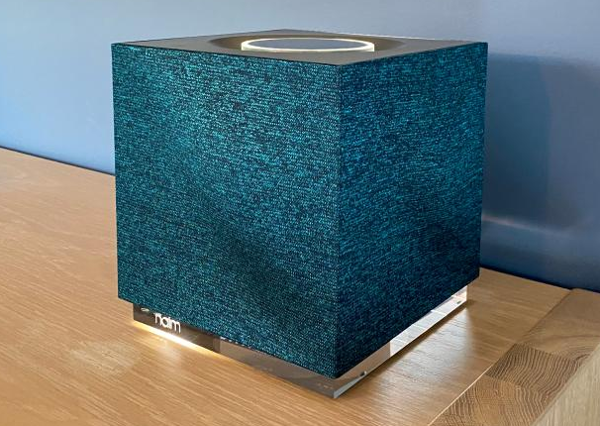 The "Autumn - Tidal Masters" playlist, a collection of MQA-encoded songs was a sonic goldmine of impeccably recorded music. I was captivated by the immediacy of the 1963 recording of Ella Fitzgerald, backed by the Count Basie Orchestra, singing "Dream A Little Dream Of Me" (Ella and Basie!) and intrigued if not a bit mystified by Jacob Collier's ethereal, multi-vocal take on Henry Mancini's "Moon River." The sound was consistently rich and full even though I couldn't take full advantage of the MQA technology (the QB doesn't have an MQA decoder).
Notching things up, I dipped into my arsenal of standard test tracks and cued up a diverse playlist of (mostly 24-bit/96-kHz) hi-res music, first going through a Cambridge Audio DacMagic XS connected to the Qb via a minijack cable and then streaming wirelessly from my server/PC — my music library appeared in the app with album art, making it easy to navigate from track to track or album to album. I was hard-pressed to tell the difference between wired and wireless — both sounded excellent. Carl Verheyen's Stratocaster on "Lone Star" (2005's Rumor Mill) was rich and twangy against a pounding kick drum and snare that sounded like it was in the room.
As good as the revamped Qb is, I found myself wishing there was a treble control as the sound could be a tad bright at times. A simple equalizer or tone controls would be a nice addition IMHO. And though music sounded full and detailed, the sound stage was fairly constrained. Then again, expecting an expansive sound field from an 8-inch cube built by audio purists is probably asking too much.
Naim's Mu-so Qb 2nd Generation wireless speaker is impeccably built and one of the best sounding compact speakers you'll find. Though it's not cheap, it will delight you with a seemingly endless stream of musical choices and rich sound that's guaranteed to put a smile on your face.