Media Room Insider: Seneca Cinema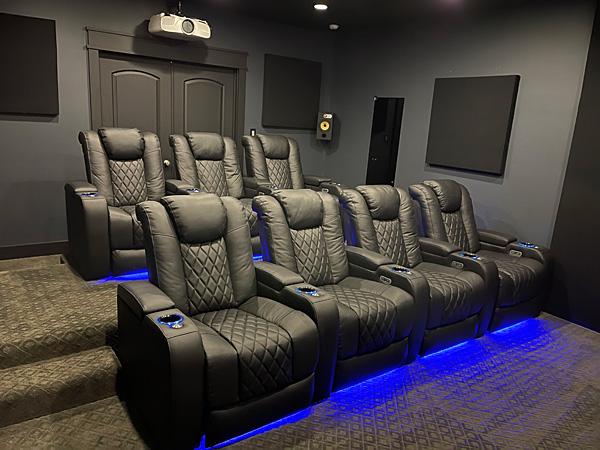 Mike Baturin is an avowed technology enthusiast and proud owner of a Tesla Model 3, one of his "favorite pieces of tech." As cool as the Tesla is with its cutting-edge all-electric design and ability to rocket to 60 mph in 3.1 seconds, it still ranks second behind his most prized possession—a dedicated theater he designed and built from scratch for his new home in the New Jersey Pine Barrens. The theater started with a vision or, as he put it, "an amalgamation of ideas curated over more than 10 years of participating on home theater forums, listening to and watching podcasts, and engrossing myself in the techniques and best practices of setting up a home theater." The space he imagined would put the enjoyment of movies above all else while doubling as a place to watch sports, play videogames, and listen to music.
As soon as he signed the contract to build his new home, Baturin—an IT professional for one of the U.S.'s largest building materials companies—used simple 3D software to model the entire house. Doing so enabled him to not only visualize the overall space to make sure he got every- thing just the way he wanted it but to create detailed plans for the A/V utopia he had in mind. The renderings showed a basement featuring a 21.5 x 14.5-foot theater space with a 9-foot ceiling with specs for a ledge and matching soffit in the front of the room where the screen would go, a niche for his A/V gear, and a back-row riser for three of the recliners he planned to install with a diagram for wiring and electrical outlets. He also specified a grand, double door entry in the back wall of the theater that opens into a playroom he built for his three young children.
Baturin presented his plan to the builder and worked with him to make changes needed to accommodate the theater, playroom, and two offices—one for him and one for his wife, Danielle. The revisions called for relocating the home's mechanical systems into one corner of the basement and moving windows, a stairwell, and sump well. During the framing stage of construction, he showed the builder where to run wire for the planned 7.2.4 speaker layout.
Months later the Baturin family moved into their new home, which included the space destined to become "Seneca Cinema"—built to spec, complete with a ledge for speakers that would be hidden behind a massive video-projection screen and insulated to achieve "mild" soundproofing. "The riser, ledge, and soffit were also all filled with insulation," Baturin explains, noting that he used solid-core entry doors to "prevent as much sound leakage as possible while still having a nice open entry to the room."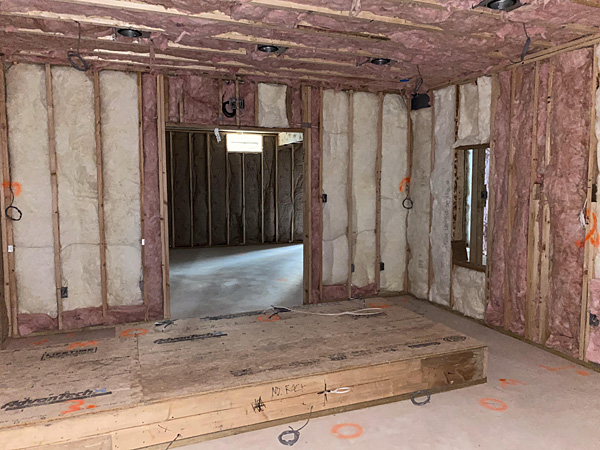 The Fun Begins
While his family settled into their new digs, Baturin began the two-month process of converting the empty space into a first-class home theater. One of his first challenges was to mute noise from the HVAC system in the mechanical room just outside the theater.
The room is accessible through a second door on the left wall of the theater, as mandated by the local building department, so "I built a floor-to-ceiling panel [to conceal the door], filled it with Rockwool insulation, and covered it with black fabric" to make it disappear. To further deaden noise coming from mechanical room, he covered the heating unit and ducts with Kilmat, a self-adhesive-backed deadening material commonly used to soundproof cars.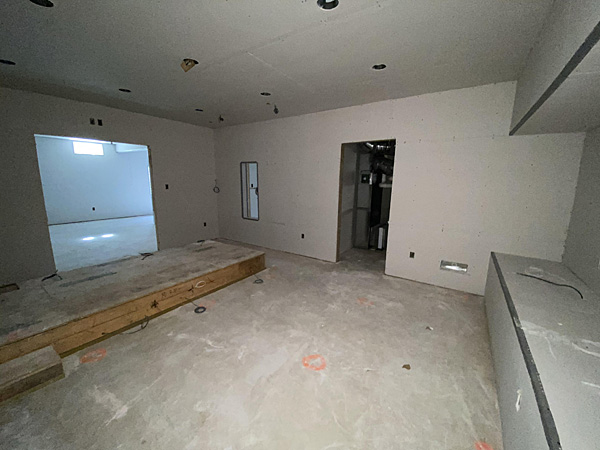 Drawing on inspiration from the many home theaters he had read about over the years, Baturin knew he wanted a dark room and considered painting the entire space flat black but ultimately decided that wasn't the best idea with three young children running around, so he opted for a two-toned look with matte gray walls and matte black trim. "The room is still dark, but with a more elegant style that gives the room more character than a full black out," he observes.
When it came time to select the A/V gear that would bring the theater to life, Baturin was understandably feeling a bit tapped out having just spent beaucoup bucks building his dream home so he looked for ways to save money without compromising performance. He didn't have to look far.
"By reusing some of the speakers and equipment from the 7.2.4 setup in the living room of my previous home, I was able to stay within a reasonable cost range and still get extremely good Dolby Atmos performance," he says. Reusing five perfectly good Bowers & Wilkins speakers and his trusty Marantz SR6011 A/V receiver made it possible to complete the project for just over $36,000 all-in.
The Bowers & Wilkins speakers that gained a second lease on life were a pair of 10-year-old 684 S1 towers, retained for the front left/ right positions, the CM Centre 2 S2 center-channel speaker, and a pair of 685 S1 two-way book- shelf speakers, deployed in the rear corners to handle surround duties. The LCR trio is joined by a pair of 12Hz-capable Rythmik Audio FV15HP subwoofers, each of which houses an amplifier and servo-controlled 15-inch driver in a ported enclosure; all are located behind a Silver Ticket 158-inch (diagonal) acoustically transparent screen whose 2.35:1 aspect ratio screams Movie Theater.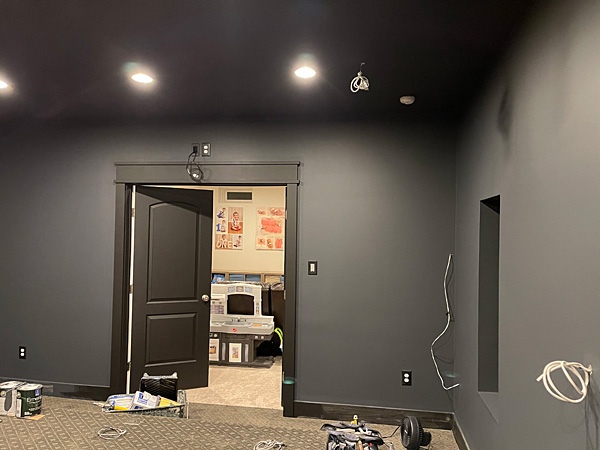 The back and sides walls of the speaker alcove are lined with acoustic foam to treat rear reflections from the LCR speakers, which Baturin says helps prevent intelligibility issues and all of the surfaces facing out into the room are covered in triple black velvet chosen for its excellent light absorbing abilities.
For the side surrounds, which sit halfway between the first and second row of seats, Baturin went with a pair of Bowers & Wilkins CWM362 two-way in-walls, mounted flush in the walls and concealed behind black-fabric panels, to avoid having speakers protruding from the walls. The covers match the floor-to-ceiling acoustic panels in the front of the room. He completed the surroundscape with four RSL C34E in-ceiling speakers, equally spaced to create a compelling sense of height with Atmos soundtracks.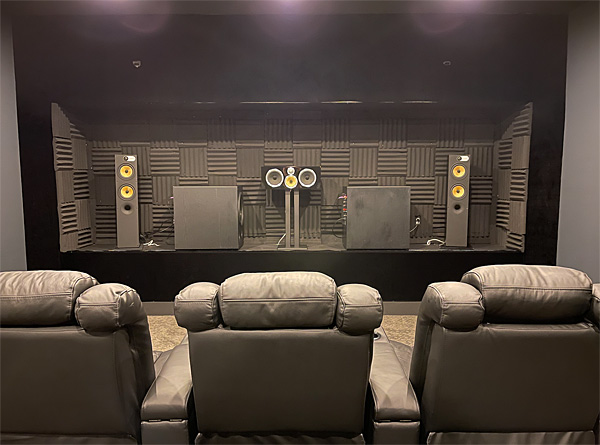 Except for the self-powered subwoofers and two of the height speakers—which are driven by an AudioSource AMP100VS stereo amplifier—all the system's speakers are powered by the Marantz A/V receiver. "I plan to upgrade to separate components in the future," Baturin confides, "but the [five-year-old] SR6011 still offers up-to-date features like Dolby Atmos and has been a solid amp and processor from Day One."