Hollywood Comes Home
How a sound-editor-turned-custom-installation-pro transformed his former home studio into a home theater.
Kent Oberlin had a great gig working in the post-production department at the sprawling Sony Pictures Studios complex in Culver City, CA, former home of the legendary Metro-Goldwyn-Mayer (MGM) lot where The Wizard of Oz and many beloved films from Hollywood's golden era were made and where contemporary films such as Spider-Man: No Way Home are made today. Working out of an office next door to the world-class Barbra Streisand Scoring Stage, he assembled and maintained the workstations sound editors used to build soundtracks for films in production.
Oberlin loved his job, especially the opportunity to meet and work with sound engineers and audio professionals at companies like JBL and Dolby, which piqued his interest in home theater or, as he put it, "the possibilities of bringing the cinematic experience to the home." He would frequent the Sony Electronics store on studio property to check out the latest and greatest consumer A/V technology and take full advantage of his employee discount.
Growing tired of his grueling schedule and the stress that came with it, Oberlin left Sony and began offering boutique post-production sound editing services in the San Diego area, eventually transforming his garage into an office/editing studio with the help of designer/acoustician Bill Dohn. And then the home theater bug returned. "My continued interest in films, coupled with many of my customers recognizing my technical prowess, led me to ultimately switch gears and leave the TV and film post-production world for the A/V world," Oberlin recalls.
The transition to A/V integration started with clients asking him to do side work at their homes and businesses but it didn't happen overnight. Oberlin continued his post-production film work while gradually ramping up what would become Grace Home Systems, the custom systems-integration boutique he runs today. When it was time to go all-in, Oberlin converted the editing suite into a home theater for his family that would also serve as a demo space and a place to meet and entertain prospective clients.
Fortunately, a solid foundation for the new theater space had been laid years earlier when Oberlin hired a contractor to build a 16 x 11.5-foot room with a 9-foot ceiling to house his editing suite, leaving room for a utility closet in the back of what had been the garage. The house was new and his wife had just given birth to their first daughter so the project was done on a tight budget, which, as Oberlin put it, "meant forgoing certain luxuries like pre-fab acoustical treatment, building non-parallel walls and floating the floor, etc." But since the garage was built on a slab he was confident that with additional soundproofing measures there would be enough isolation to meet his needs, especially since he was in effect creating a double-stud wall by building a room within the existing garage.
Construction was standard 2 x 4 framing with insulation but the plan Oberlin and Dohn came up with called for additional soundproofing in the form of two layers of 5/8-inch drywall with offset seams for the walls and ceiling with a third layer added to the front wall that sits behind the garage door. To further minimize sound transmission, anti-sway rubber-padded hardware was used to decouple the framing from the existing structure. Oberlin retained the room's lone window but doubled up on the glass by installing a second window—a custom cut sheet of 3/4-inch glass. "Someone can be pounding on either side and it's pretty much inaudible," he says, noting that a double-door entryway was created as an additional soundproofing measure.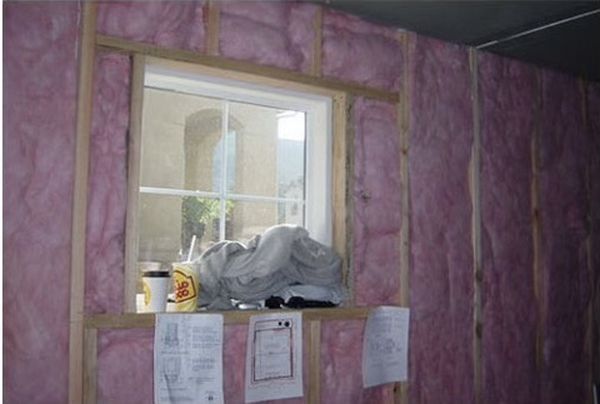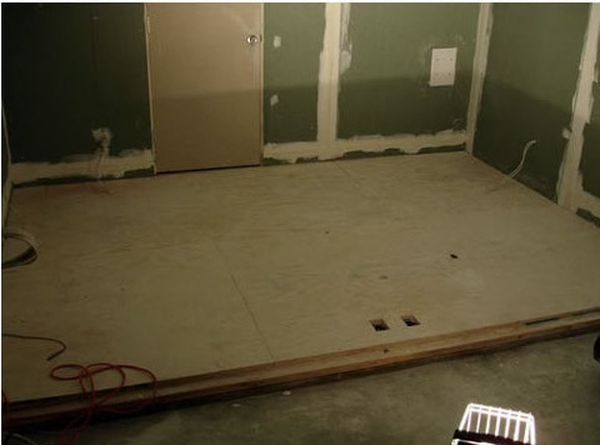 Two 20-amp circuits were added to the home's existing panel to accommodate the room's electrical needs and all of the lights and AC outlets were surface-mounted to create an audio-tight space. Heating and cooling is handled by a dedicated mini-split system that runs very quiet, and ductwork for the Fantech air-recirculation/filtration system Oberlin had installed is insulated to keep the room as quiet as possible.
The Fantech system has connections for four 7-inch ducts and sits in the utility closet with the water heater and water softener; two ducts pull in fresh air from the outside, while the other two expel stale air. Even though the system was installed during the framing stage of construction, situating the ducts in a way that allows repair access—keeping in mind Oberlin added extra elbows to reduce sound transmission—was a bit of a Rubik's Cube challenge because the space is so tight.
Working on a tight budget meant saving money wherever possible, so, with guidance from Bill Dohn, Oberlin fabricated his own custom acoustic panels—25 in all—framing 2-inch-thick rigid fiberglass panels in 1 x 4 wood strips and covering them with burlap (since changed to fabric). "I employed a similar technique with the bass traps just doubling their height to accommodate the 9-foot ceiling," he advises. "My overall goal was to create a dead space that would allow sound coming from my near-field monitors to hit my ears without the room coloring it."
In the end, Oberlin figures the room's STC (sound transmission class) rating is probably twice that of what it had been as a lowly garage. "I have to be hitting some very high SPLs for it to be a nuisance," he says. "Even today, unless there is a lot of LFE [low-frequency effects] action, I get zero complaints when watching films at typical theatrical levels—even with someone sleeping in the guest bedroom directly above the garage."
All of Oberlin's past efforts greatly simplified the transition to a theater space. The original construction even included a 6-inch riser in the back of the room to allow for elevated seating where his clients would sit (and where he and family members/guests/clients now sit on a comfy sectional) while he performed his editing wizardry at custom-made "editorial desk." Except for the hardwood surface on the riser, the room was (and still is) carpeted with special padding designed for use on a concrete slab.
From Editing Suite to Home Theater
Oberlin hired an interior designer to help him realize his vision for a "comfortable media room that would be light, inviting, and fun, while maintaining that high-end cinematic experience" he knew so well from years of working in the movie industry. "I wanted a room where you could open the door, flop down on the couch, even roll out sleeping bags for a slumber party, and be wowed when you start up your favorite video game or movie with a simple button press."