KEF Music Lounge Theater: A THX Certified Oasis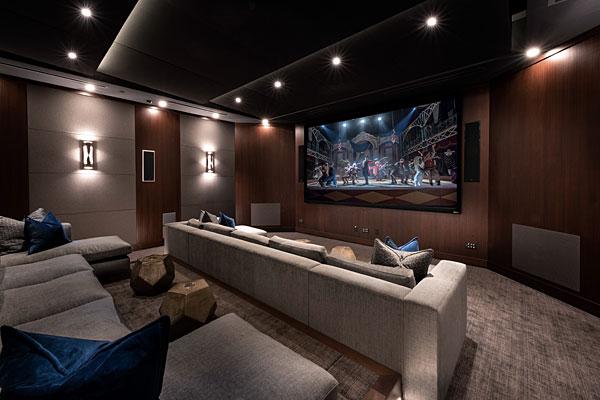 After almost a year-and-a-half in lockdown, I was honored to be the first member of the press to experience the KEF Music Lounge Theater. In late May, I visited the company's U.S. headquarters in Marlboro, NJ and received a warm—and long overdue—Jersey welcome from KEF VP David Kroll and marketing director Stephanie Scola. Work on the theater was largely finished in February 2020 just weeks before the country went into lockdown so the magnificent space with its 9.10.6 Dolby Atmos speaker layout and 160-inch screen sat largely dormant for more than a year. As restrictions eased in the spring of this year, KEF was finally able to put the last piece of the puzzle in place when the theater received official THX Certification.
The christening, as it turns out, couldn't be more fitting as it aligns with the 60th anniversary of KEF's founding. Raymond Cooke, an electrical engineer with a deep passion for music and an unwavering desire to design the perfect speaker, started the company near the country town of Maidstone, 32 miles southeast of London. Sixty years later, Cooke's legacy lives on and is echoed in words he uttered decades ago: "Of all art, music is the most indefinable and the most expressive, the most insubstantial and the most immediate, the most transitory and the most imperishable. Transformed to a dance of electrons along a wire, its ghost lives on. When KEF returns music to its rightful habituation, your ears and mind, they aim to do so in the most natural way they can ... without drama, without exaggeration, without artifice."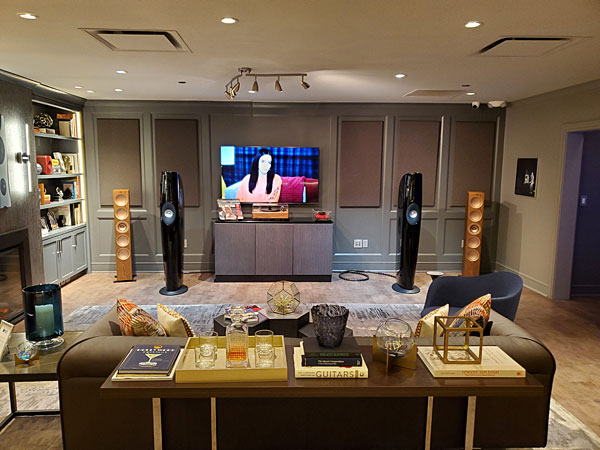 If Cooke was here today, there's little doubt that his dedication to reproducing music as it was meant to be heard would extend to movie soundtracks.
I met Kroll and Scola in the KEF Music Lounge, a homey space with a bar and living room setup just outside the theater and adjacent to a spacious warehouse. I sat at the bar and jokingly ordered a Manhattan and my gracious hosts were ready to oblige. If it was 5 o'clock instead of 10 in the morning, I would have hung out and let the spirits flow. Instead, I was treated to a powerful demo of "We Will Rock You" from the 2018 tribute to Queen, Bohemian Rhapsody, displayed on a TV behind the bar and supported by an inconspicuous 5.2.2 system comprising seven in-wall speakers and a pair of subwoofers concealed in either end of the bar. If only the local sports bar had sound like this...
Kroll and Scola were quick to point out that the lounge is not a showroom. "It's a space for music and movie lovers to enjoy audio as it was meant to be heard," Kroll said. "This is the way we want people to experience our brand and our products, Scola added. "We want them to walk away feeling like they could live here."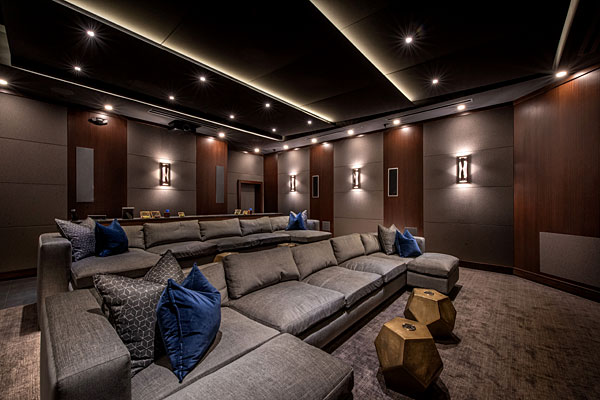 Cavernous Yet Cozy
As we walked into the theater I was immediately struck by how cozy the space felt, despite its 11-foot ceiling and 18-person seating capacity, and how warm and natural the room sounded while we were chatting. "Too many theaters dampen only the highest frequencies, which alters the tone of voices, making them sound nasally," Kroll observed. Definitely not the case here. Seating is spread over three tiered rows: a back row with bar-height seating and two rows of comfy chaise lounge style seating.
"In 2018 I happened to visit Lagasse's Stadium Sportsbook at The Palazzo hotel in Las Vegas," Scola recalled. "The vibe of that space was a big inspiration for how I wanted the seating designed for our theater. Couples were nestled next to each other drinking and snacking while watching the game and you could tell no one wanted to leave. That is exactly the feel I wanted to offer our dealers and their customers. The space had to be a comfortable, relaxing environment with KEF flair."
KEF found the perfect design partner in Kingsley Knauss, owner of Westfield, NJ-based KBK Interior Design. "We created a warm and comfortable environment with oversized sectionals instead of theater chairs for a more informal and 'curl-up and get comfortable' feel," she explained. "We specifically used loose seat and back cushions so that the guests could adjust the cushions as needed for comfort. A low-tech seating solution for such a high-tech space."
And having a high ceiling just adds to the comfort, Kroll noted. "You walk into the room and it feels airy and spacious—you don't feel like you're in a cave."
Though the 9,500-cubic-foot space is relatively unassuming, it's brimming with hidden technology chosen to deliver, as Kroll put it, "a full sensory cinematic experience to showcase what KEF loudspeakers are capable of. What's impressively apparent is that even at THX Reference level, the system is smooth and balanced so you can watch movie after movie in complete awe and comfort."
He's not kidding. I was treated to a series of extended clips starting with the delicate opera performance of "Never Enough" from The Greatest Showman (2017) in which Rebecca Ferguson portrays "Swedish Nightingale" Jenny Lind (the song is sung by Loren Allred) and ending with the terrifying depth charge scene from the 2000 World War II submarine film, U571. In-between, I buckled up for the exhilarating track scene from Ford v Ferrari, where Carroll Shelby (Matt Damon) takes a skeptical Henry Ford II (Tracy Letts) on the ride of his life, and flinched my way through the calamitous VR race scene from 2018's Ready Player One.
"It's easy to make the theater sound impressive in a loud action scene but it's more difficult to have it sound impressive with a single voice singing on stage," Kroll noted in explaining why The Greatest Showman demo is a KEF favorite. "You can sense the spaciousness of the opera house and hear the instruments coming up from the orchestra pit below her feet.
"At one point there is a low timpani roll and you can feel the rumble of the large drums even though they're playing softly—just like when you hear a symphony live. It really does put you right into the scene."
The Ultimate Warehouse Conversion
The KEF Music Lounge Theater was constructed in what had been a bustling warehouse, two-and-a-half stories tall with thick concrete floors. Why so tall? Turns out the building was a ship manufacturing facility before KEF took over the space some years ago.
"The theater is a rectangular box, inside a rectangular box, inside a warehouse," Kroll observed. "Because it's located inside an active warehouse, sound transmission both inside and outside of the space is of critical importance just as it would be in a home." With this in mind, KEF tapped the acoustic design experts at Acoustic Innovations (AI) to design and build the showcase theater. The family-run company, which operates out of Boca Raton, Florida, was founded in 1992 by industry veteran Jay Miller whose credits include the completion of more than 2,000 custom theaters over the past 39 years.
The first step toward creating a sonically isolated space was to build a double wall, so the AI crew constructed outer and inner stud walls with a 1-inch air gap in-between and filled the walls with sound-absorbing insulation to prevent sound from entering or leaving the theater. The inner stud frame forms the structure of the theater and houses the acoustical treatments. "We did one other important thing that differs from what you see in many standard theater installations: Rather than cover the inner stud frame with drywall, we left the stud bays open to give us added depth for thicker absorption and diffusion materials."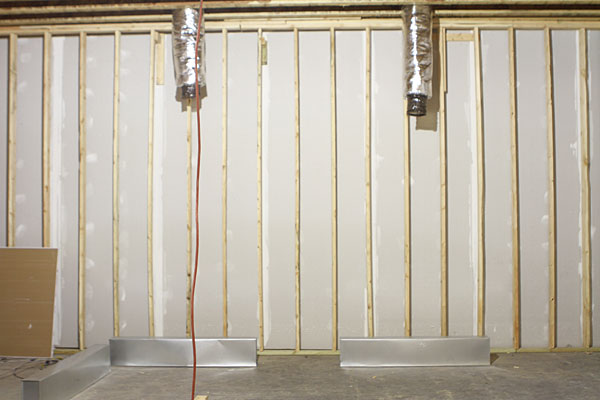 When it comes to the art and science of room acoustics, the strategic selection and placement of acoustical treatments was a fundamental part of the theater's overall design and it goes a long way toward making the space sound as good as it does.
"Following THX guidelines, one of the primary treatments was to absorb the first reflection point," Kroll observed. "By moving beyond the surface and also applying treatments within the full stud depth, we absorb a wide range of frequencies so that the room remains balanced and natural-sounding with the first reflection completely eliminated."
Absorptive surfaces were then balanced with hard, flat reflective surfaces (like the ribbon mahogany paneling) to prevent the room from sounding overly damped and ensure equally good results with movies and music. Diffusion was used extensively on the rear and rear-side walls to, as Kroll put it, "provide a scattering effect that breaks up excess energy to create a spacious surround environment." Diffusers concealed behind fabric panels were also installed across the entire ceiling. "We were lucky to have a visible ceiling at 11 feet with an additional foot above to accommodate the acoustic treatments," Kroll noted.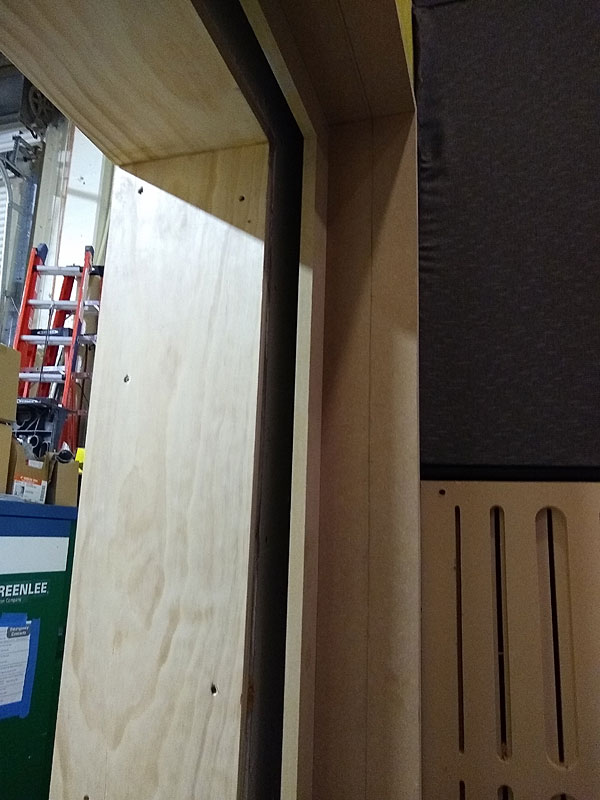 To complete the acoustics puzzle, carpet with thick padding was installed and a combination of absorption and diffusion was used along the top and bottom of the rear walls and rear-side walls to achieve "near perfect RT (reverberation time) decay." Even the riser built to elevate the middle row of seating was slotted and filled with insulation so it would function as a bass trap. Pretty clever.
As you can see from photos of the finished space, all the acoustical magic is done under the cover of linen-textured fabrics chosen to create a "moody and timeless environment" that complements the room's mahogany paneling and sculptural wall sconces.
Speakers Everywhere
All of the system's 25(!) KEF speakers (10 of which are subwoofers) are recessed in the walls for a super-clean look. The front sound stage comprises three top-of-the line Reference series Ci5160REF-THX in-wall speakers in the left, center, and right positions. Each lists for a cool $10,000 and sandwiches KEF's signature Uni-Q driver—in this case, a 5-inch midrange driver with a 1-inch aluminum-dome tweeter in its "throat"—between two pairs of 6.5-inch woofers in a 42-inch-tall frame that's only 4 inches deep and fits between the studs.