The Story Behind this Intriguing Video Wall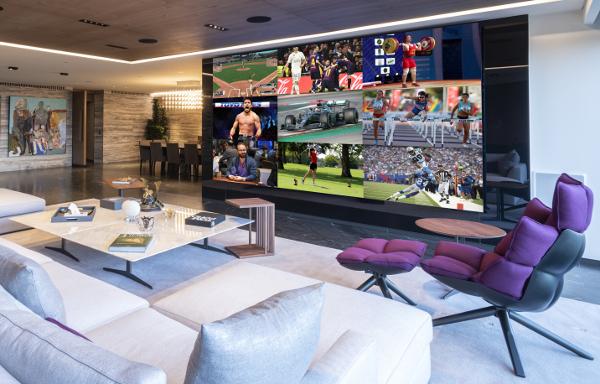 You're probably asking the same question we asked when we saw this tantalizing video wall: How's it work?
Charged with the mission to create the "ultimate sports viewing experience," Mexico City-based Smartlab used nine 55-inch 4K displays to craft a flexible screen layout that can be configured to simultaneously display multiple images of varying sizes. Want to see nine channels at once? Knock yourself out. Or watch one program on a 96 x 54-inch "screen" that groups four of the display together, while keeping an eye on four other games or programs. Or maybe it's time to focus and convert the entire array into one gigantic screen.
The video wall is fed by four satellite receivers, plus Apple TV and Roku streaming devices, and designed to make summoning different screen layouts a simple matter of tapping a button on the Control4 controller or an app on one of the homeowner's iOS (Apple) devices.
At the heart of the system is a 4K Ultra HD over IP system from Just Add Power, a Florida-based company specializing in reliable, hard-wired systems — in this case, a system that supports lossless multichannel audio formats such as Dolby Atmos and delivers 4K video from HDMI 2.0/HDCP 2.2-enabled source components over the home's network.
Each of the system's sources is outfitted with a VBS-HDIP-707POE 3G transmitter featuring built-in video-wall capabilities that delivers content to a series of VBS-HDIP-508POE 3G receivers, one for each of the nine displays that make up the video wall. Each receiver also has a built-in video scaler that automatically adjusts images to fit the screen.
"In this video wall scenario, it was imperative that the homeowner be able to easily send any source to any display and change the video wall configuration, whether it be one large image across all nine displays, nine independent images, or any combination in between," explained Albert Mizrahi, CEO of Smartlab.
"To achieve this, a cost-effective video distribution system with integrated video wall capabilities was required. Just Add Power met both qualifications, allowing us to deliver a state-of-the-art viewing experience that far exceeded our customer's expectations, at a cost that didn't break the bank."
In addition to being able to select an overall configuration for the video wall, the homeowner can change any display to any source, access "image push, pull, and pop features," and even create a vertically oriented portrait "screen" within the array.
The video wall is a $45,000 piece of an elaborate whole-house home automation project that cost $130,000 to execute.
"With the ability to view nine games at once [over] our Ultra HD over IP system [with] seamless source switching, this installation takes that experience to the nth degree and highlights the entertainment possibilities in today's luxury spaces," added Just Add Power's Taft Stricklin.
For more information on HDMI over IP capabilities, visit justaddpower.com.