Subterranean Magic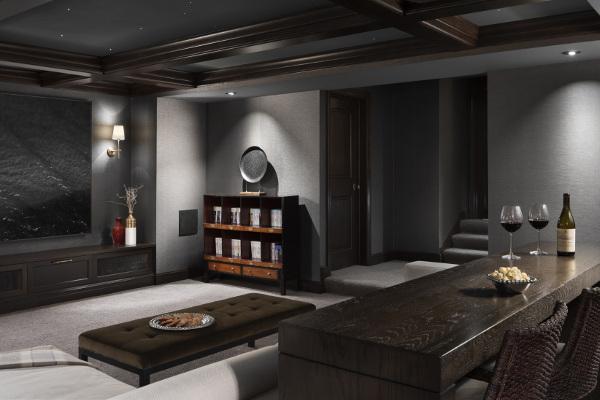 Basements are usually dank, dreary spaces reserved for storage but when the owners of a majestic home in the Milwaukee suburb River Hills hired Deep River Partners to bring a cleaner transitional aesthetic to the traditional décor, they decided to extend the design magic below grade and transform a boring space into a comfy media room. The idea was to create an inviting area where family and friends could gather to watch movies on a huge screen, play video games, or just hang out. And although they wanted a great Blu-ray-based movie system, they were not interested in building a dedicated "theater" space.
The homeowners got more than they bargained for.
Converting the basement into a pleasant, open space required major construction: Two steel support columns (shown below) had to be relocated and an existing steel beam reconfigured into a load-bearing structure. Foundation work was also necessary to relocate a radon-mitigation system. To say the least, it was a costly endeavor — but one that paid dividends in the form of an elegant family room featuring custom millwork and a 105-inch-wide video-projection screen that floats on the wall like a huge flat-panel TV.
Grand Entry
You don't just walk into this room, you descend into it. A dramatic, double-door entry opens to a step-down landing that welcomes viewers into a sunken space featuring textured wallpaper and a coffered ceiling that lends the room a majestic look, while cleverly concealing the steel support beam running across the 22 x 18-foot space. Adding a touch of whimsy is a Universal fiber-optic lighting system that turns the ceiling into a star-lit sky with twinkling orbs that change color. The space even has its own powder room.
About that gigantic screen: It's a 16:9-format Zero Edge design from Screen Innovations that's brought to life by a ceiling-mounted Sony VPL-VW285ES LCOS projector. The vivid 4K video it projects is complemented by a suite of seven speakers and two subwoofers, configured in a 7.2-channel layout and neatly concealed in the walls, ceiling, and cabinetry below the screen. The A/V setup is the handiwork of Global Sight & Sound of Brown Deer, just north of Milwaukee. To inject a bit of ambiance into the space, the screen was fitted with LED backlighting that creates a glow around its perimeter.
Three custom-fabricated speakers from James Audio anchor the front left, center, and right speakers, while four Origin Acoustics D83DT/SUR speakers supply surround sound from the ceiling (two to the sides and two behind the seating area). Bass duties are handled by two Original Acoustic CSUB10N subwoofers — one in the wall to the right of the screen and one in the back wall on the opposite side of the room.
Everything is powered by a 9.2 channel Sony STR-ZA5000ES AV receiver that kicks out 100-plus watts the system's seven main channels from a concealed location in a mechanical room that houses, among other things, a whole-house Control 4 automation system and Lutron RadioRa 2 lighting system. The subwoofers are powered by separate power amplifiers.
In addition to housing the front speakers, the cabinetry in the front of the room provides a compartment for the Blu-ray player, media storage, and an "HDMI game plate" for connecting one of three gaming consoles: Nintendo Wii U, Xbox One, or Sony PS4.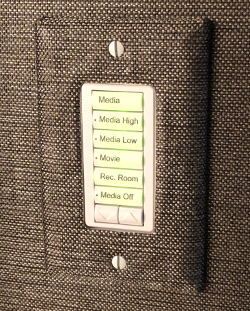 One of the many benefits of home automation is programmable lighting, which in this media room comes in the form of a wall-mounted Lutron RadioRa 2 keypad with quick-action buttons like Movie for signaling show time by gradually fading the lights and Media High/Low for instantly setting room lighting to full or low brightness. The panel also has up/down arrow keys that function as dimmers and a Rec Room button to turn on the lights in the adjacent room.
Thanks to Control 4's SR-260 programmable remote handset, firing up the theater's audio and video gear is a simple matter of pressing one button but the homeowners also have the option of operating the system from an iPad or smartphone.
At around 50 grand, the cost of transforming this once-lowly basement into a comfortable entertainment space was not insubstantial but, as the homeowners will eagerly tell you, the rewards are nothing short of magical.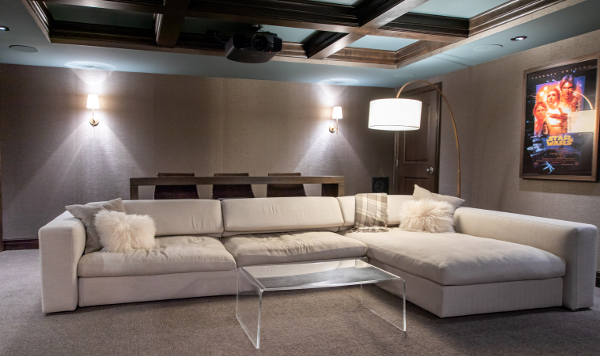 System Design & Installation
Architecture:
Deep River Partners, Ltd., Milwaukee, WI – Nicholas Blavat, AIA, design principal
Interior Design:
Deep River Partners, Ltd. – Natalie Erickson ASID, interior finishes, furniture and furnishings
AV Installation:
Global Sight & Sound, Brown Deer, WI
General Contractor:
RP Custom Homes, Mequon, WI
Lighting Design:
Klein Lighting, Fox Point, WI
Millwork:
A. Fillinger, Inc., Milwaukee, WI
AV Equipment
•
Sony VPL-VW285ES 4K LCOS projector
• Screen Innovations 120-inch (diagonal) 16:9 Zero Edge projection screen with LED backlighting
•
Sony STR-ZA5000ES 9.2 channel AV receiver
• 4K Blu-ray player provided by homeowner
• James Audio custom-fabricated front speakers (3)
• Origin Acoustics Director Collection D83DT/SUR in-ceiling speakers (4)
• Origin Acoustics CSUB10N in-wall subwoofers (2)