Sony STR-ZA5000 ES A/V Receiver Review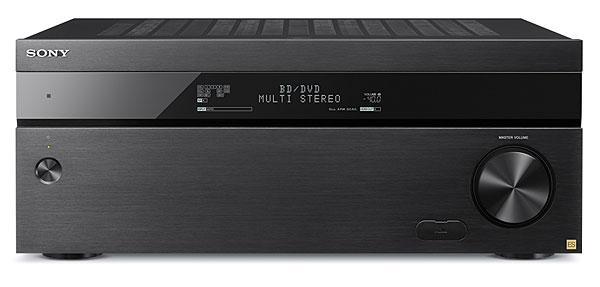 PRICE
$2,800
AT A GLANCE
Plus
CI focus, including eight-port Ethernet hub
9.1 channels for 5.1.4/7.1.2 surround
Redesigned setup mic
Minus
No Bluetooth, AirPlay, Wi-Fi, or DLNA
THE VERDICT
The Sony STR-ZA5000ES combines a hard-kicking amp with custom-install-friendly features.
In Arthur Conan Doyle's short story "Silver Blaze," from The Memoirs of Sherlock Holmes, the great detective has this conversation with a police inspector, who speaks first:
"Is there any point to which you would wish to draw my attention?"
"To the curious incident of the dog in the night-time."
"The dog did nothing in the night-time."
"That was the curious incident," remarked Sherlock Holmes.
Just as the dog that didn't bark enabled Holmes to identify a killer, the features that the Sony STR-ZA5000ES doesn't have are clues to its identity. This $2,800 receiver doesn't have Bluetooth, AirPlay, Wi-Fi, or any other wireless connectivity or network audio option—not even DLNA to work with its Ethernet jacks.
That seems an odd omission today for an AVR. But the Sony does have something unusual: an eight-port Ethernet hub, with two power-over-Ethernet ports, to interface with network-connected devices such as control systems, computers, and media players. A "ping" button offers quick front-panel access to IP addresses and sharing of discovery protocols with third-party controllers. And the unit can be configured via web browser. This is, in short, your professional custom integrator's idea of a dream receiver.
Add performance-enhancing features, notable build quality, and a nine-channel amplifier that supports Dolby Atmos and DTS:X in 5.1.4 or 7.1.2 with no external amp, and you've got an intriguing package with a particular target audience. Sony says it "reflects the specific needs of custom integrators and their most demanding applications and installations."
On the ES Side
The STR-ZA5000ES—not to be confused with the 2003-vintage STR-DA5000ES—is the top model in Sony's ES line. At $2,800 and with nine amp channels, it outranks the seven-channel STR-ZA3000ES ($1,700), STR-ZA2000ES ($1,399), and STR-ZA1000ES ($899). Note that Sony also has a regular receiver line with 10 models, many of which do have Bluetooth, AirPlay, Wi-Fi, and DLNA. To emphasize the distinction, the ES models are detailed at sonypremiumhome.com while the regular models are at sony.com.
The STR-ZA5000ES is power-rated in a couple of different ways by Sony. Web specs say 100 watts into 6 ohms at 0.09 percent THD with two channels driven. A PDF sheet available on the web ups that to 130 watts into 8 ohms with a 1-kilohertz test tone at 0.9 percent THD, with no other conditions of test specified, but verified by Sony as being for two channels driven. In response to a query, Sony also specified 120 watts into 8 ohms from 20 hertz to 20 kHz with two channels driven and 0.09 percent THD (you read it here first). See the Test Bench for our standardized five- and seven-channel test results.
Sony goes the extra mile for build quality, starting with vibration-defeating frame-and-beam construction in the chassis. Under the hood is what Sony calls a linear wideband power amplifier with a hefty power transformer (58 percent larger than in the next model down) and a large extruded aluminum heatsink that reaches across the full width of the chassis. There are localized power supplies and separate grounding for the amp, preamp, and digital sections, lowloss gold bond internal wiring in the preamp section, shorter signal paths for the unit's 32-bit digital brain, capacitors and resistors tirelessly fine-tuned by a golden-eared engineer in Tokyo, and newly designed preamp circuitry intended to maximize accuracy and detail in high-resolution audio (part of a company-wide effort to support hi res).
This top-of-the-line receiver has a highly functional front panel. In fact, what would be a flip-down door in a conventional receiver becomes a totally detachable one in the Sony, just in case you prefer front-panel controls to the remote. Here you'll find a full set of menu navigation controls, listening modes, custom presets, zone controls, and more. Like a good remote, the front panel differentiates controls by size and layout. If you decide to hide the controls after all, the panel magnetically snaps back into place.
The front USB jack is for system updates and can save receiver settings to a flash drive for either backup or transfer to another system. That's in keeping with the CI focus— but considering the lack of wireless connectivity, Sony might have made the front-panel USB jack iOS capable and added a front-panel analog jack to plug in non-Apple phones. The USB jack would also be more useful if it had wider audio-file support; it can play WAV files from an external drive, but not FLAC, MP3, or the Apple-approved formats. Via HDMI, though, it has internal decoding for most hi-res file formats, including DSD.
(In response to our query about the omission of any facility for the end user to easily connect a smartphone or tablet to the receiver for immediate streaming, wired or wirelessly, or to stream from a home network via DLNA, Sony said that the receiver was designed in consult with custom installers, who indicated that they typically provide other solutions—perhaps Sonos or a high-end control system—for app-driven streaming.)
The remote control is relatively simple and decent, accessing the main menu with a prominent blue Home key. In this model, the Home screen took several seconds to appear. An average consumer might have a fancier interface in mind, but this remote has special talents, offering one-button access to audio test tones for on-the-fly adjustment, a color-bar test pattern, the speaker and input setup menus, and the in-ceiling speaker mode. That last feature lowers the perceived positioning of the front (or front plus center) channels closer to screen height. I liked the graphic user interface better every time I used it, with its half-dozen tall vertical panels, nested submenus, and context-sensitive onscreen help.
On the back panel are 11 sets of binding posts, with the extra set supporting biamping of the front left and right channels or use with the second of the receiver's three zones. HDMI and legacy jacks are what you'd expect. What stands out are the eight jacks that form the Ethernet hub. Besides your smart TV, Blu-ray player, and wireless access point, you might devote one of them to the Sony HAP-Z1ES music server ($2,000)—in fact, the receiver GUI includes a setup program for it. But the Ethernet jacks also accommodate a host of control systems, including Control4, AMX Beacon, Savant, RTI, or URC. There are also three 12-volt triggers as well as IR remote and RS-232C jacks.