Star Wars: A Home Theater Adventure
Most of us remember the first time as a kid that seeing a movie had a profound impact on our young mind. For plenty of kids who came of age in the 1970s, that movie was the first episode of the original
Star Wars
trilogy, which was released in 1977.
For Kelly Sterne of Flower Mound, Texas, a fascination with Star Wars led to an obsession with action figures based on the movies, his regular trips to the local Toys-R-Us eventually yielding a collection of 200 original, unopened figures. After a rash youthful decision to sell the stash to a local comics shop, the adult Sterne later sought redemption by restoring his original collection and then some, buying up every figure Kenner made, from Star Wars through Return of the Jedi plus Star Wars bootleg collections from Russia, Poland, and Hungary.
Another adult decision by Sterne was to outfit his home with a Star Wars-themed media room so his kids would have happy memories of family movie nights spent viewing in a spaceship. But that was just part one of the plan. Part two was building a dedicated room to house the extensive action figure collection — something accomplished by taking space out of the adjoining attic above the home's garage.
Relying on his own design skills to visualize the project, Sterne turned to custom integrator Steve Withey of Elite Innovations in Dallas to help see it through to completion. In addition to working on the fabrication of the far-out plan, Elite Innovations designed the AV system, which consists of an Epson Pro Cinema 4050 3LCD projector and Seymour AV Premier 2.40:1 aspect ratio screen with Center Stage fabric on the video side, and a 7.1.2 Atmos system with a custom-built infinite baffle subwoofer using 18-inch drivers for audio.
I reached out directly to Steve to get the details on this unique home theater project.
Is this the most elaborate themed home theater you've worked on?
Of the dozens of theaters we've built, this is one of our most detailed rooms. We've created rooms based on Superman, a client's favorite college team, traditional/classic and modern designs, and everything in between. Our installations typically incorporate fiber optic star ceilings, custom LED lighting, room acoustics treatment, and, of course, immersive audio with bass that you can feel in your chest (no artificial bass shakers needed). We can create nearly anything, so it really comes down to what the client loves.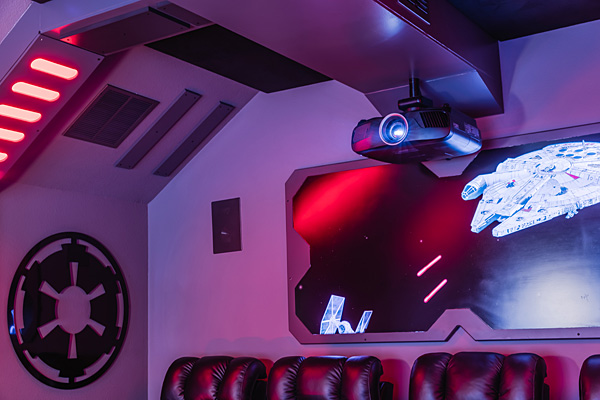 Did you work with any artists or designers to create the lighting and architectural effects?
No, Kelly and I came up with the base room design, including the columns, stadium steps, window placement, and fiber-optic star ceiling panels. We then worked on the wall, window shapes, and doors. The main inspirations for the design came from the Death Star, Star Destroyer Bridges, and Control Rooms in the movies. Kelly also gleamed inspiration from Transformers and GI Joe. We started out with room renders and then free-handed the measurements and designs onto the walls with blue painter's tape. Five hours and ten rolls of blue tape later, we had a complete media room design including the ceiling, hallways, and wall details. The next day, we joined forces with Kelly's best friend, Julian Migues, and the process of creating templates and cutting out over 75 pieces of MDF began.
Kelly specializes in lighting and he spent a ton of time customizing the room's LED lighting. It's all broken up into sections where he was able to create custom scenes such as Jedi vs. Sith, Hoth Rebel Base, and Star Killer. All scenes were programmed using a Control4 system and can be easily accessed via wall keypads or handheld remote. The lighting is what really makes this installation unique compared with any other Star Wars- themed media room out there.