Victorian Meets Modern Tech
Entering the oak-paneled foyer of this Victorian manor in Toronto's prestigious Rosedale neighborhood is like stepping back into the early 20th century. Built in 1901, the expansive estate has been meticulously restored to evoke the grandeur of the period— with a fantastic secret. Hiding behind the magnificent historical façade is a fully automated state-of-the-art smart home created by Moonshot Automation (moonshotautomation.com, formerly Custom Sound and Vision) in nearby Mississauga.
"The home was acquired by our clients in 2014 and underwent an extensive renovation in an effort to modernize it to suit the family's busy lifestyle while preserving the original feel of the residence," explains Carmine Malatesta, Moonshot founder and president. The company was commissioned to discreetly deploy technology throughout the 10,000-square-foot estate that would provide effortless control over lighting, heating and cooling, home security, and an extensive network of audio and video systems, including a glorious theater designed to complement the home's Victorian vibe.
It was a daunting task, made even all the more challenging because a full-on renovation was also underway at the home directly across the street. "The narrow dead-end street was filled with trade vehicles from top to bottom and around the corners," Malatesta recalls. "It became a race to see who could get to the site first in the morning to secure a parking spot. Luckily the neighbors were patient and understanding—for the most part anyway."
A multitude of keypads, touchscreens, sensors, speakers—you name it—had to be tastefully and inconspicuously integrated without (heaven forbid) compromising or competing with the ubiquitous solid-oak panels that give the home its old-world charm. "Everything had to be care- fully selected to fulfill the client's request and honor this heritage home," Malatesta observes.
Moonshot cherry-picked well over 150 components from the custom installation pioneer Crestron to create the backbone of this smart home, all neatly organized in multiple head ends and equipment racks in different parts of the home, including the attic and basement. The extensive programming required by a system of this magnitude was largely carried out by programmers from Zone Automation. A double rack of gear in the back of the home theater (which we'll get to in a moment) houses a central AV distribution hub in addition to the local components needed to bring movies to life.
A small arsenal of Crestron processors preside over internal and external lighting, audio and video distribution, and sensor- based thermostats that can be controlled from touch panels, hand-held remotes, and apps—all of which are integrated with a high-tech security system featuring automated door locks that can be operated remotely and a mix of high-resolution day/night cameras and thermal cameras (with automatic recording) to protect vulnerable areas around the property.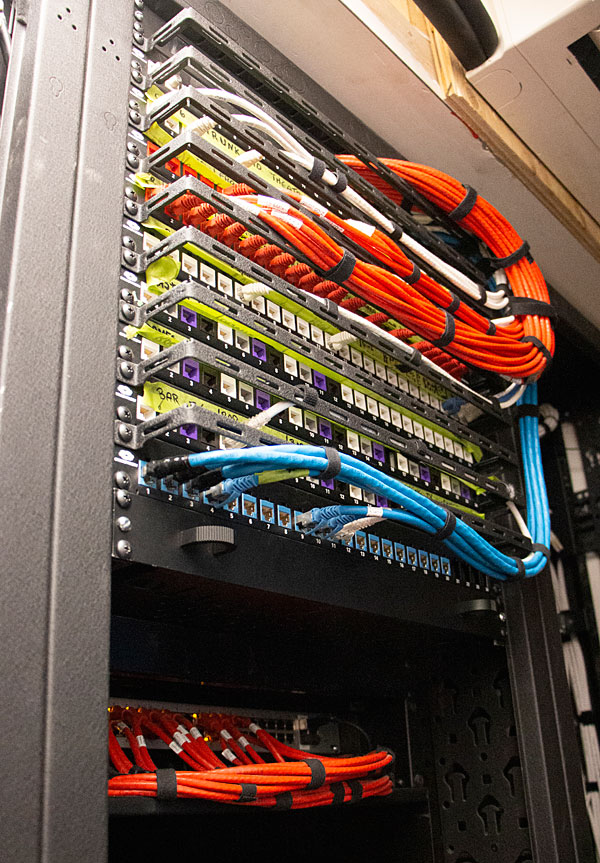 Simplicity and seamless integration were top priorities for the homeowners. The control interface had to be dead simple to use and, in addition to operating the many audio/video systems around the home, provide the ability to monitor and control essential systems from a smartphone when the family is traveling, explains Mike, the Moonshot technician who worked on the project. Examples of remote access include being able to disarm the security system as they're pulling up the driveway (instead of having to race to a keypad to enter a code) and setting up automated lighting routines to create the impression that someone is home even when they're not, providing an extra layer of security.
Two DoorBird video camera/ intercom systems also let the homeowners see (and converse with) who's at the main gate at the foot of the driveway, and assuming they make it past that point, the front door.
A Sound Priority
In keeping with the overall theme of excellence, the homeowners were committed to outfitting their not-so-humble abode with quality sound through and through. "They wanted deep and detailed room filling sound in the bedrooms and common areas," Mike observes, noting that Crestron processors and six SWAMPE-24x8 amplifiers were configured to deliver a generous 2 x 140 watts to something like 40 pairs of James Small Aperture (SA) speakers mounted in walls and ceilings throughout the home. Though each SA speaker is barely visible (its opening is only 3 inches in diameter), it combines a wide-dispersion tweeter module with a compact subwoofer rated to play down to 38 Hz; you don't see the sub because its enclosure sits inside the wall (or ceiling).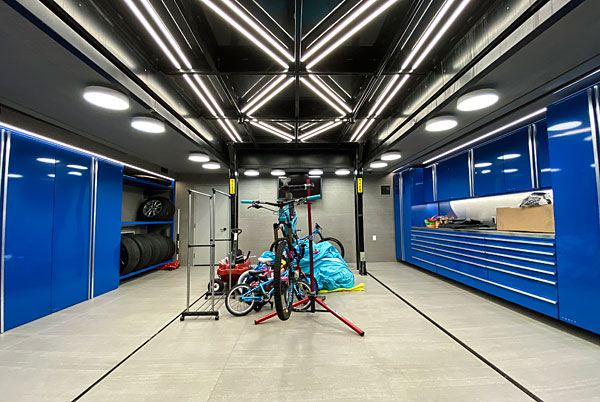 "Whether they are using a wall-mounted [Crestron TS-1542-C] touchpanel, touchscreen remote, or the Crestron app on their phones, the clients can entertain guests or live life day to day with sound that transcends what you would get from a mundane countertop audio system."
Cutting-edge automation extends to every corner of the residence, including a two-level restaurant-caliber wine cellar, featuring an automated drawbridge that provides access to fine bottles stored in the lower level that goes down another 8-10 feet; an ornate Victorian-style bar/game room with a tastefully integrated TV/soundbar combo behind the bar; a garage with three lifts that houses a small fleet of exotic cars (one of the lifts is actually an elevator for moving cars to a lower-level shop for service or detailing); and a spacious gym above the garage that's equipped with a pair of MartinLogan hybrid electrostatic speakers and two wall-mounted displays (Sony TVs are used throughout the home).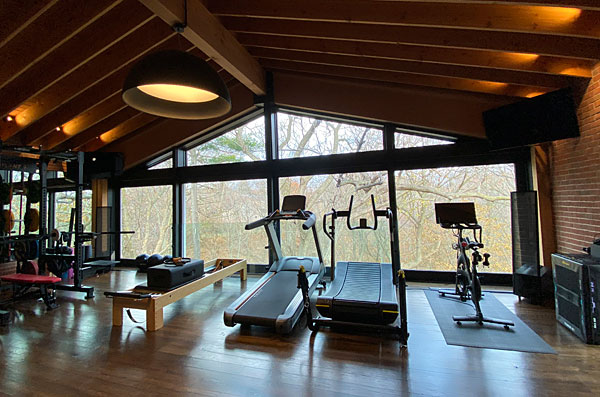 The spaces all accommodate sound and video from a variety of sources, including a Kaleidescape movie server, Apple TV box, a personal hard drive with hundreds of terabytes (TBs) of storage space, and good old-fashioned cable TV.