Hollywood with a Twist in Greensboro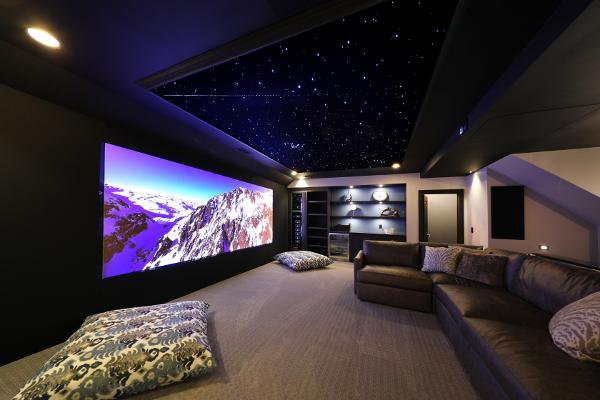 Do you want to walk into the picture above? We do. In our humble opinion, the latest home theater project from
Cobb Home Innovations
is hands down one of the most inviting media room spaces we've seen. Unlike a traditional home theater with rows of theater-like seating, this room screams "kick off your shoes and get comfortable because your mind is about to be blown."
The owners of this simple yet elegant space were very clear in what they wanted: A luxury home theater and top-shelf tube-based audio system in a sound-proofed space with its own concession area, complete with a bathroom. Oh, and the system had to be invisible and dead easy to operate using a single remote control or app. No futzing around with multiple remotes.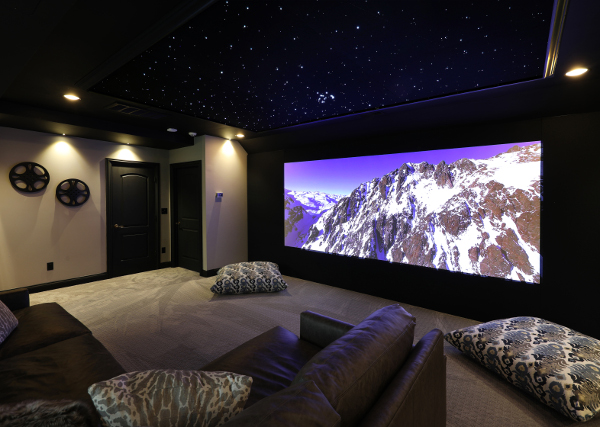 As intimidating as it might seem, building this magnificent space was a walk in the park for Cobb, which has been providing AV/home automation solutions to homeowners from Florida to Tennessee for more than 20 years. In this case, the installation wizards at Cobb — led by Hugh and Joyce Cobb — brought their AV magic to a stately home in the historic city of Greensboro, NC, site of a pivotal Revolutionary War battle and home of the International Civil Rights Center & Museum. The Cobbs knew right away that the only way to meet their client's high expectations was to create a system using the "absolute best products available."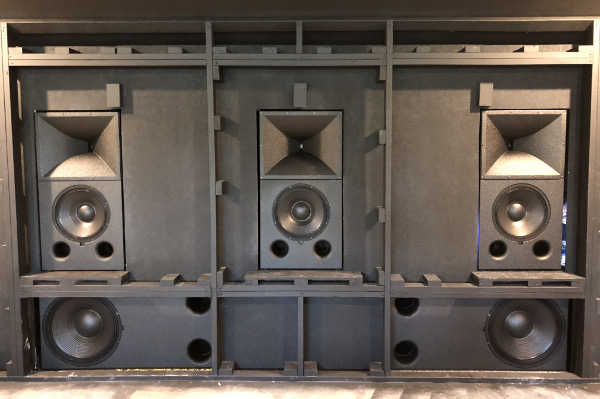 To achieve "unrivalled audio quality," the space was outfitted with a dozen high-end home cinema speakers from Pro Audio Technology out of Lake Forest, California and a pair of ultra-high-end Kyara speakers, designed in the U.K. and Switzerland by the Lumen White Research Group and built in Europe. (See the equipment list for a complete rundown of all gear.) Everything is powered by an impressive arsenal of amplifiers and processors from Pro Technology and Acurus — or Ayon tube amps, in the case of the two-channel stereo setup.
Video from a Kaleidescape movie server is delivered in breathtaking detail to a 12-foot Contempo screen from Display Technologies by way of one of the most refined home cinema projectors on the planet: the Barco Balder CinemaScope, a laser-lighted 4K/high-dynamic range (HDR) model.
As important as all of the sophisticated technology is to the enjoyment of movies and music, the installation team at Cobb was careful to honor the client's wish for simplicity of control.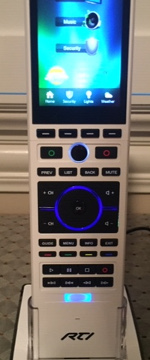 "When it came to system control, ease of use and reliability were must-haves for the homeowner; they wanted intuitive, one-touch operation over all equipment," said Hugh Cobb, owner of Cobb Home Innovations. "RTI was our first choice to meet these needs. The company's platform makes it simple for us to integrate all components into one unified system for effortless control, while their sleek interfaces make a stylish addition to any setting."
The theater's control system is powered by an RTI XP-8V processor, which provides one-touch control over the system amplifiers, Kaleidescape movie server, and Barco projector, not to mention Lutron lighting and shading and Epic's star-lit ceiling. To interact with the system, the homeowners can choose between an RTI T3x handheld controller, an iPad running the RTiPanel app, or Alexa voice control — all programmed to make the system a cinch to operate.
To create a whimsical — or perhaps cosmic — environment, Cobb asked Epic Sky Technology to create a custom Star Panel ceiling that would, in effect, replace the roof of the theater with a vast array of twinkling stars, complete with fireworks, shooting stars, and other special effects.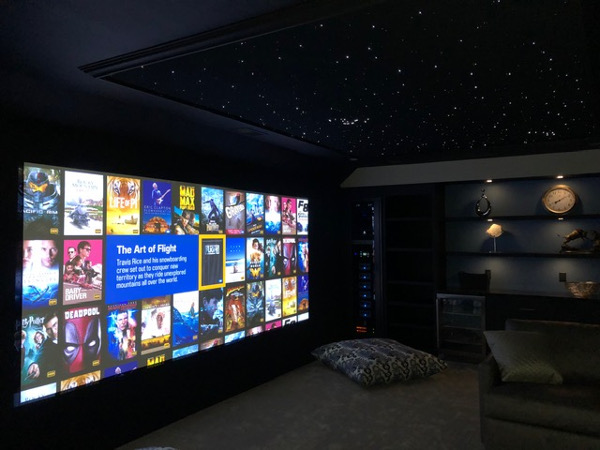 "This home theater has exceeded our client's expectations on every level — from the sound and video quality and star ceiling to the intuitive control experience," Cobb concluded. "They are completely blown away with how simple it is to operate such sophisticated equipment and launch activities and scenes with a single button tap."
If you're wondering what a project of this magnitude costs, let's just say you could buy a very nice home in many parts of the country for what it cost to build this theater from start to finish.
Equipment List
DISPLAY/SCREEN
• Barco Balder CinemaScope projector
• Display Technologies Contempo 12-foot screen with micro bezel

SOURCE
• Kaleidescape media server
SPEAKERS
Home Theater:
Pro Audio Technology speakers for home theater sound (12 total)
• (3) SCR-15sm "screen channel" speakers (front left, center, right channels)
• (2) SCRS-12ai "architectural installation" cabinet speakers (side effects)
• (2) SCRS-6iw in-wall speakers (rear effects)
• (2) SCRS-6c-ica in-ceiling speakers (Dolby Atmos height effects)
• (2) SCRS-6c-iw in-ceiling/in-wall speakers (used in ceiling for Dolby Atmos effects)
• (2) LFC-21CS subwoofers
Two-Channel Stereo:
• (2) Lumenwhite Kyara floorstanding speakers (French Nut finish) for two-channel listening
PROCESSING, AMPLIFICATION
Home Theater
• Pro Audio Technology power amplifiers (5 total) • (3) PRO PMA-9942 2 x 1,000 + 1 x 450 + 1 x 200-watt amplifier/processors (front channels and subwoofers)
• (1) PRO PMA-4242 2 x 450 + 2 x 200-watt amplifier/processor (side effects)
• (1) PRO PMA-2222 4 x 200-watt amplifier/processor (rear effects and Dolby Atmos height channels)
• (1) Acurus Power Amp (model not specified)
Two-Channel Stereo
• (1) Ayon Spheris Class A tube preamplifier
• (2) Ayon Orthos II XS Class A 300-watt mono amplifiers
• (1) Ayon S-10 vacuum-tube-based network streamer
• (1) USA Tube Audio RC-35 vacuum-tube based analog room-correction device
AUTOMATION & CONTROL
• (1) RTI T3X remote control (white)
• (1) RTI XP-8V control processor
• RTiPanel app • Lutron (lighting and shade control)
• Amazon Alexa-powered device (model not specified)

POWER PROTECTION
• SurgeX (model not specified)
SYSTEM CABLES
• Tributaries Cable
THEATER ACCESSORIES
• Epic Sky Technology custom Star Panel ceiling
Don't miss the Work in Progress Photo Gallery on page 2.