AV Industry Makes a Home Theater Wish Come True
ProSource was busy making plans for a fundraising event to support the Make-a-Wish Foundation (MaW) last year when the pandemic struck. The buying group, which represents hundreds of A/V specialty retailers and custom integrators around the country, was hoping to top the $110,000 it raised in 2019 but was forced to regroup. Then they received a fortuitous call: MaW's Central and South Texas Chapter wanted to know if ProSource would be interested in making a donation to help make an 8-year-old's wish come true. Turns out, Miles, who had been diagnosed with a semi-rare liver disorder known as portal vein thrombosis, thought it would be cool to have a home theater.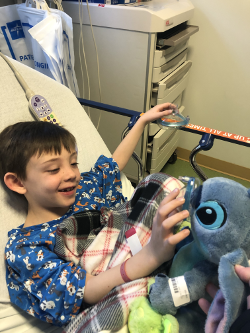 It was a perfect match, even if creating a home theater was actually Miles' second wish. COVID-19 restrictions put the kibosh on his first choice — a trip to Walt Disney World — so when asked to make another wish, Miles didn't flinch: A home theater with a huge screen and big speakers, comfy chairs, colorful lighting with stars on the ceiling, and a concession stand with candy and popcorn He wanted a place where he could watch movies with his mom and dad, twin brother Graham, and friends.
ProSource had already made a $10,000 donation to help make Miles' wish come true when MaW asked if they wanted to sponsor the entire wish. "It all snowballed from there," recalls ProSource vice president Jessica Paskon. "I reached out to Bryan Arnold at Macauley [Technologies in Austin] to see if he would be interested in doing the specs and install. The Make-A-Wish folks were going to pay them to do the work but Bryan, being who he is, decided to donate their time and some products to get the job done. I then reached out to some of our vendor partners and asked if they would donate equipment to complete the project and every single one of them stood up and came through with the products Macauley specified for the job."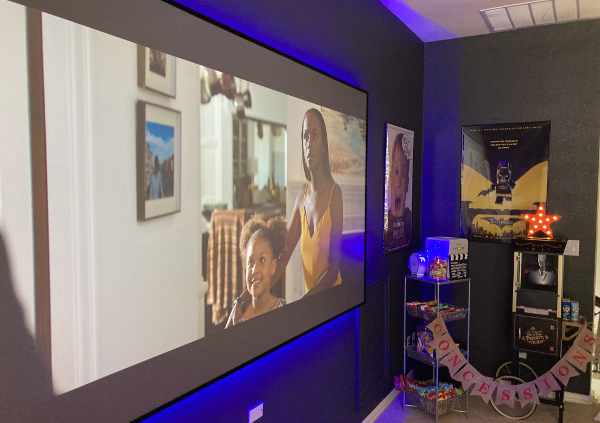 Going above and beyond, most of the companies delivered upgraded equipment so Miles could enjoy a topnotch theater experience. "Jason Russell, vice president of residential sales at Austin-based Screen Innovations (SI), even went out of his way and purchased a popcorn machine when he learned Miles wanted to 'sell free popcorn,'" Paskon says. Paid for by SI employees, it was a thoughtful gesture on top of the video-projection screen the company had already donated.
"Early on in the process, Make A Wish gave Macauley a budget but none of it was used," says Macauley's Bryan Arnold. "I was absolutely amazed how our industry pulled together to make this happen."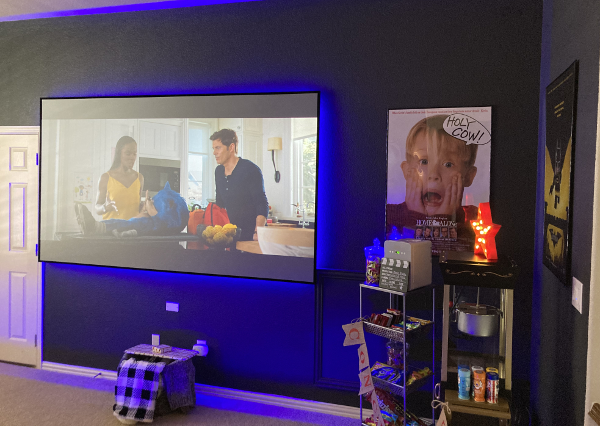 A Home Theater Wish Fulfilled
Tasked with the job of designing a theater with "the biggest screen possible," Arnold took some measurements and specified an 8-foot-wide screen for the space, which is roughly 19 x 14 feet with a 10-foot ceiling and doorway on the wall where the screen would go. "Given the distance from the seating to the screen and the doorway, a 110-inch (diagonal) screen was the largest we could squeeze in," he explains.
Miles did not complain.
The room has a large window on one side and opens to a stairway on the other, so the pros at Screen Innovations delivered a Zero Edge Pro ambient-light rejecting screen with a gray Slate 1.2 projection surface. The screen is also acoustically transparent to accommodate the speakers hidden behind it and fitted with LED backlighting to meet Mile's request for colorful lighting, which in this case can be adjusted using system's remote control. To add twinkle to the experience, the team at Lauren Allyn Designs provided a simple projector that shines stars onto the ceiling.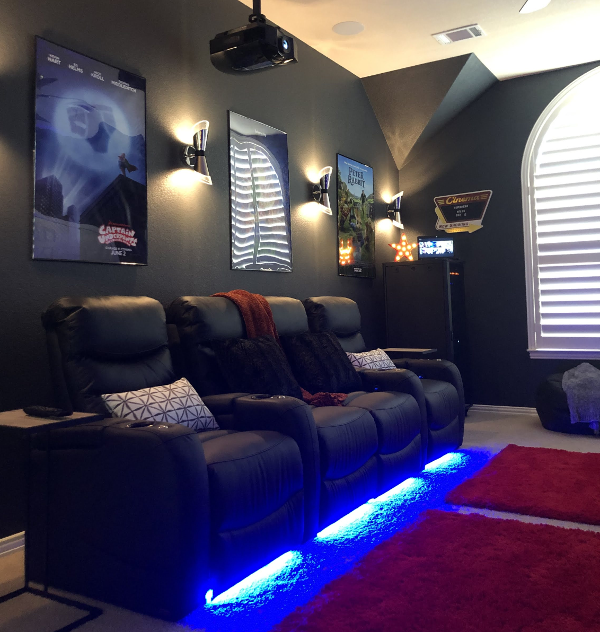 To bring the big screen to life, Sony donated the excellent VPL-HW45ES — a 1080p projector on Sound & Vision's Top Pick list. The projector is suspended from the ceiling on a Strong universal mount centered over the seating area.
A true home theater demands enveloping surround sound so Origin Acoustics contributed five speakers from its Composer and Producer collections plus a subwoofer allowing Macauley to install a stealth 5.1-channel system. Three CIW61 in-wall speakers concealed behind the screen convey the front left, center, and right channels; each combines a 1-inch silk-dome tweeter with a 6.5-inch woofer in a low-profile frame 12.5 inches tall, 8.7 inches wide, and only 3 inches deep. A pair of Producer 60 in-ceiling speakers, each with the same drivers arranged concentrically in a 9-inch-round frame, complete the surround presentation. An Origin SUBV10P subwoofer in the right front corner of the room delivers deep bass and plenty of Hollywood punch. Rated down to 28 Hz, the sub packs a 10-inch woofer, 10-inch down firing passive radiator, and 200-watt (RMS) Class D amplifier in a 13 x 14 x 15-inch cube.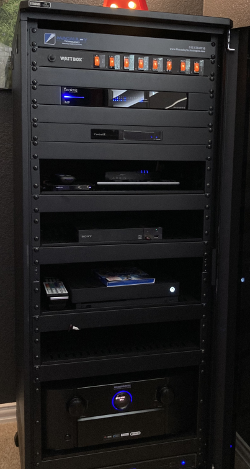 Marantz was kind enough to donate a SR7015 A/V receiver featuring the latest surround-sound processing and a bevy of high-end capabilities, including compatibility with next-generation 8K content and Dolby Vision high-dynamic range (HDR). With nine 125-watt channels, the receiver powers the five Origin speakers with channels to spare if Miles and family decide they want to upgrade to a full-blown Dolby Atmos surround experience at some point.
Topping the list of sources, of course, is Miles' coveted Xbox game console, which is supplemented by a Sony BDP-S1700 Blu-ray player and Roku Ultra 4K streaming media player. Control4 contributed an EA-1 controller and SR-260 remote handset to make it super simple to control the home theater gear as well as lighting in the room. Macauley's expert programmers created a "play movie" preset that turns on all of the A/V gear and dims the lights at the touch of a button.
All of the A/V hardware runs through a SurgeX XR 315 surge protector and is housed in a SnapAV Strong equipment rack with built-in fans to keep all of the gear running cool.
ICE Cable Systems 16-gauge wire connects the main and surround speakers to the AVR while ICE RG-6 cable is used to make the subwoofer connection. Everything else is wired up with AudioQuest HDMI cables, including two 6.5-foot Pearl Series cables featuring an Ethernet connection. In all, there are seven cables with a combined length of about 161 feet.
All wiring is concealed in the attic above the theater. "We were able to get into the attic space through a small access panel behind the screen and run all of the necessary wires without having to punch any holes in (and later patch) the Sheetrock," Arnold says.
When all was said and done, all parties involved in making Miles' dream come true felt a great sense of pride and accomplishment. "We all needed a little sunshine in our lives and, as I kept saying throughout the process, it feels good to do good," Paskon says.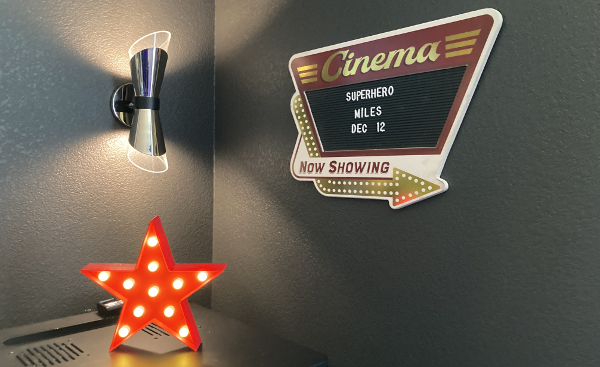 "The feeling was and still is overwhelming and emotional," Arnold adds. "This is something that will live with us forever and we would do again in a heartbeat.
Most important, Miles and family love their new theater. "They had never had a home theater so their expectations weren't all that high," Arnold says. "To say they were stunned at the reveal would be an understatement — they were speechless. After watching a quick demo, Miles immediately logged into his Xbox — more specifically Madden Football — and asked if he could have his friends over to play."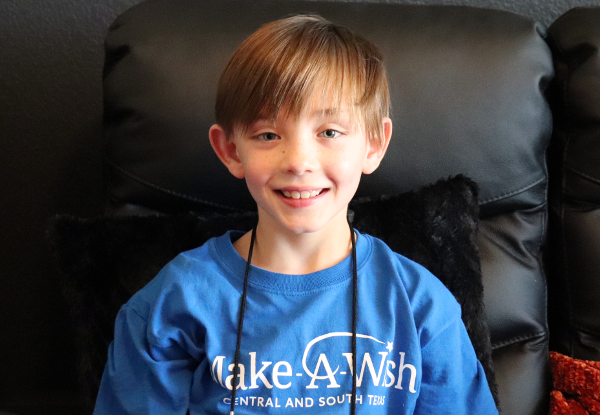 With the pandemic largely behind us, ProSource is making plans for an in-person fundraiser in San Antonio in early August. You can make a donation to the Make-A-Wish Foundation here.
Miles' Make-A Wish-Home Theater at a Glance
Project Leader:
Jessica Paskon, ProSource of Southlake, TX
Interior Design: Lauren Allyn Interiors of Austin, TX
A/V System Design and Installation: Mccauley Technologies of Austin, TX
Sony BDPS1700 Blu-ray player
Roku Ultra 4K streaming media player
Xbox game console (supplied by Miles)
Sony VPLHW45ES 4K LCoS video projector
Strong by Snap AV projector mount (SM-PROJ-L-BLK)
Screen Innovations Zero Edge Pro 110-inch video projection screen (ZPT110SL12AT)
Marantz SR7015 A/V receiver
Origin Acoustics CIW61 in-wall speakers (3)
Origin Acoustics Producer P60 in-ceiling speakers (2)
Origin Acoustics SUBV10P powered subwoofer
Control4 EA1 V2 entertainment and automation controller
Control4 SR260 remote control
Araknis Networks 110 Series Unmanaged+ Gigabit Switch (AN-110-SW-R-8)
ICE 16-gauge speaker wire
ICE RG-6 subwoofer wire
AudioQuest Cinnamon and Pearl Series HDMI cables
SnapAV Strong FS Series equipment rack with dual cooling fans (SR-FS-SYSTEM-DC-27U)
WattBox by SnapAV RSW-8 rack-mount power strip
SurgeX XR315 surge protector
Orren Ellis reclining home theater seats (4)