A Basement Theater Like No Other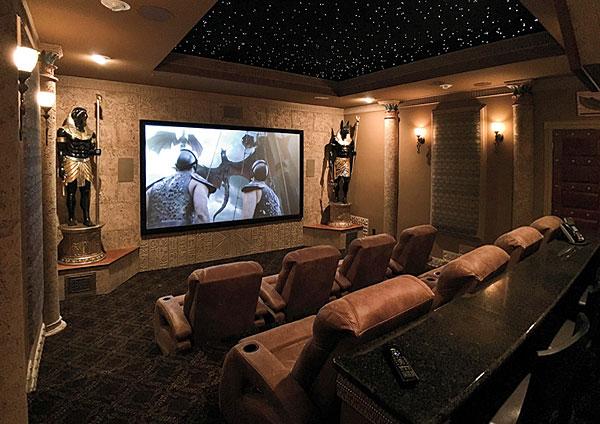 Back in 2010, when the Duffy family began planning a move from South Florida to a new custom-designed home in the suburbs of Charlotte, North Carolina, they became fixated on one portion of the house that, for many people, is just an afterthought. But in this case, moving north meant finally being able to add a basement—a rarity in Florida, due to the state's high water table.
That said, the Duffys weren't just imagining what it would be like to finally have some extra room for storage, or a little playroom, or even a home theater. "The wish list of activities and play spaces continued to grow and soon evolved into a street concept, where each space would occupy its own storefront on the street," Jim Duffy explains. "We sketched out a 4,000-square-foot layout, then designed the rest of our house around the footprint of the future basement."
What eventually emerged is the remarkable "super-basement" featured here, which, with some exotic departures, mimics the North Bronx neighborhood where Jim grew up in the mid-1950s through early 1960s. The stores on the subterranean street are constructed from actual brick, stone, and wood, and all of the design, decorating, and specialized paintwork was done by the Duffys.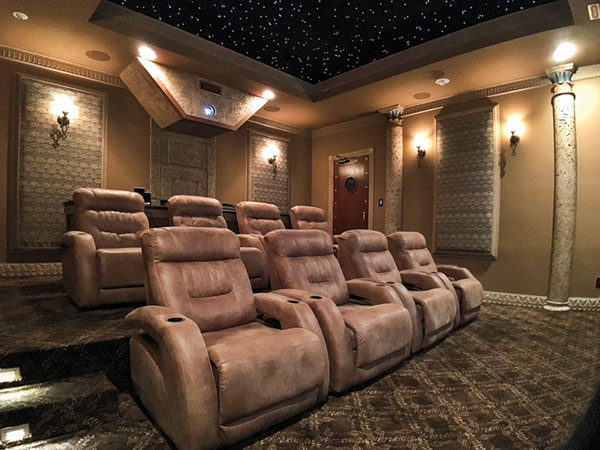 The family members brought their own special skills and experience to the project. Jim and his wife, Kris, are both longtime video and television producers with a well-developed eye for dressing a set. His son and daughter-in-law are professional artists who make and sell full-size sci-fi and horror figures and masks for their own shop and studio. And Jim's parents contributed vivid recollections of their life in the Bronx from the '40s through the '60s.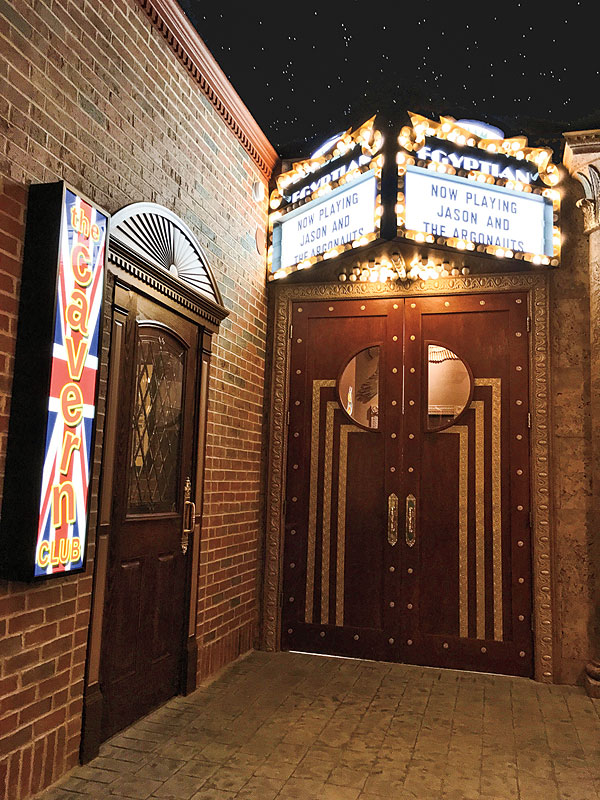 Obsessive attention to detail was paramount in bringing to life a 1966 Bronx neighborhood: No decoration, fixture, or architectural detail beckons beyond that year. "The original spark came from a desire to do more than just 'think back' on my great childhood," says Jim. "I wanted to literally re-create my childhood in this basement." Building out and finishing that dream took from the fall of 2015 through the spring of 2016.
If you're lucky enough to be a visitor to this super-basement, the adventure begins when you take an elevator down from the home's upper floors; it opens up into a faux apartment-building foyer. Step out, and you're standing on a 52-foot-long path. Cobblestones were created from stamped concrete with dark gray coloring and a black wash to age them. There's even a real manhole cover cut flush into the foundation. The 12-foot ceiling allows for realistic scale for the storefronts, and an end-to-end fiber-optic starfield, complete with shooting stars, evokes the night sky above the eight different façades.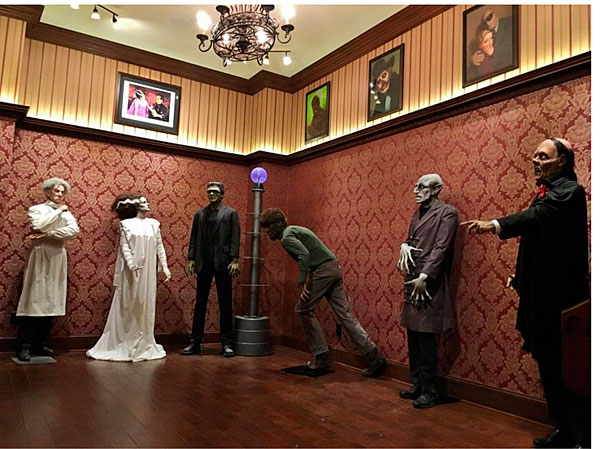 Some of the façades, such as Arnold's Toyland and the Campano Brothers Grocery, are merely mock storefronts with windows and props. They're based on real stores that Jim favored as a kid. The toy-store display window shows off the family's collection of '60s vintage toys, while the grocery, modeled after his great-uncle's own shop, features classic fruit and vegetable stands out front.
The rest of the street takes you to fully functional play areas. Sam's Soda Shop resembles a '50s/'60s diner-style hangout, with a working kitchen, a soda fountain counter, and a comic book rack. There's also a Coney Island–style funhouse, called simply the Arcade, with pinball games, a carousel horse, and a classic mechanical shooting gallery. Down the street, the doors to Tony's Cafe open up to an actual outdoor patio space that's part of the Bronx Italian-American Club.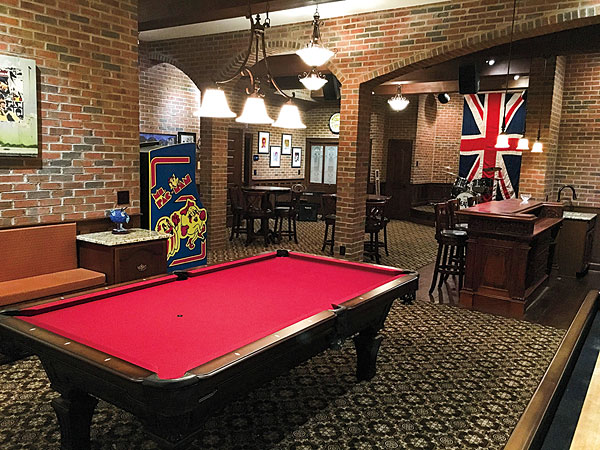 Head off in either direction, though, and you'll know you're not in the Bronx anymore. McDougal's House of Horrors, anchoring one end of the strip, is a knockoff of a wax museum and chamber of horrors, featuring life-size figures of classic monsters created by Jim's son, Greg, and his wife, Jenn. At the opposite end of the street is the Cavern Club, named after the cellar in Liverpool, England, where the Beatles became regulars and were first seen by Brian Epstein in 1961. Here, it has been re-imagined as a comfy British pub, featuring a band stage (with an authentic-looking Beatles drum kit), a bar, pool and shuffleboard tables, and a darts area.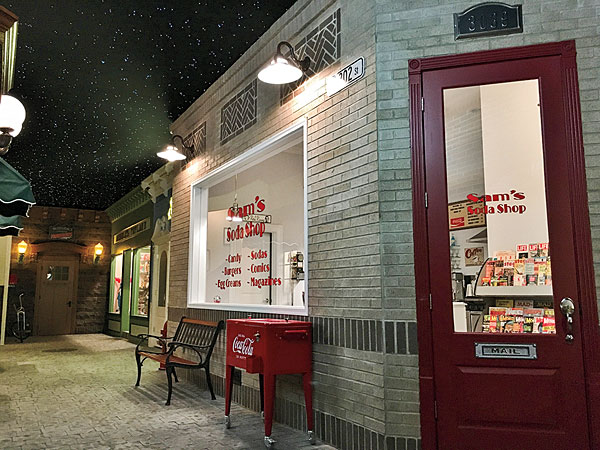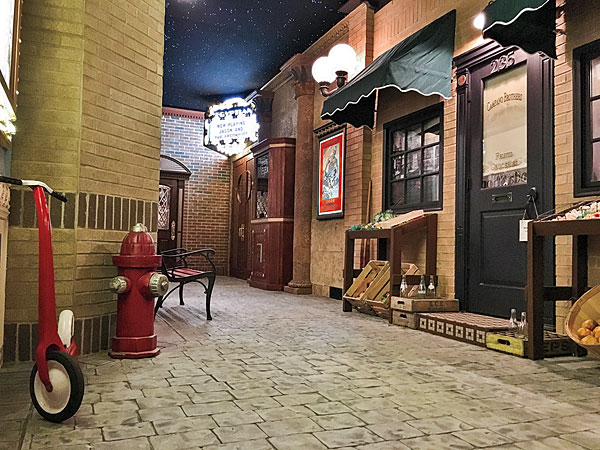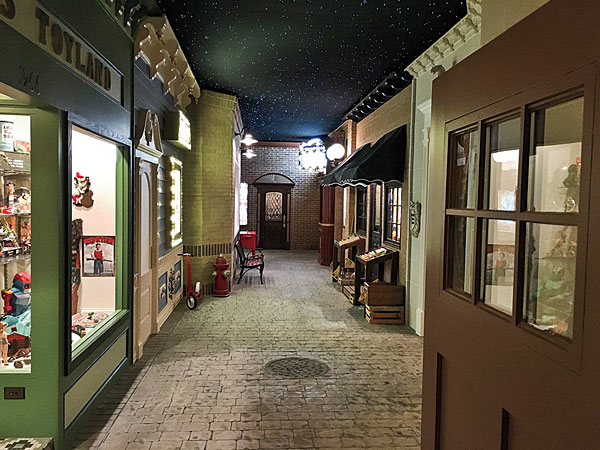 Which brings us to the room of greatest interest to Sound & Vision readers: the Egyptian Theater, meant to evoke the famous Grauman's Egyptian Theatre on Hollywood Boulevard in Los Angeles. Basic construction and carpentry was handled by the general contractor on the full basement project, Holevas & Holton Custom Home Builders, while the A/V contractor was The Integrated Home, both based in Charlotte.
"Patrons" enter the theater by walking past the classic ticket booth and beneath the lit- up marquee through elaborate movie-palace double doors. Once inside, you find yourself in a small lobby complete with a candy counter, a popcorn machine, and Egyptian artifacts that include a mummy display. There's a dedicated restroom off the lobby; should you need to use it during a screening, it's equipped with a 40-inch Ultra HDTV that plays along with the movie inside so you won't miss a key plot point.