Sony VPL-HW45ES 3D SXRD Projector Review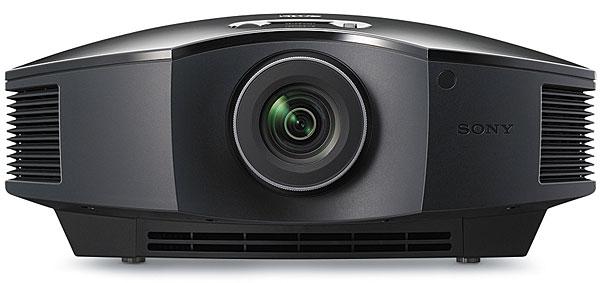 PRICE
$2,000
AT A GLANCE
Plus
Excellent color and detail
Bright, punchy picture
That price!
Minus
Middling blacks and shadow detail
THE VERDICT
With all of today's hullabaloo about 4K and HDR, it's easy to forget that there's something special about a theater-like image on a big projection screen—even if it's plain vanilla, standard dynamic range, and 1080p. One look at the Sony VPL-HW45ES will remind you of that fact.
I've been projector-less for a good two years. It began with a 2015 move across the country from California to Florida. Then came a steady stream of flat-screen TVs as that technology progressed from the 2K era to the age of Ultra HD with 4K resolution, advanced color, and high dynamic range (HDR). Still, it's not like I've been exiled to the proverbial desert island. Those top-of-the-line TVs have been a treat, and there'll be more to come. I've missed having a big screen, however, with the sense of image immersion that only a frontprojection setup can provide.
The arrival of a not exactly cheap but still surprisingly affordable projector from Sony forced my hand, so I finally installed my two retractable projection screens, a 96-inch-wide, 2.35:1 Stewart Filmscreen StudioTek 130 (gain 1.3) and an 87-inch-wide, 1.78:1 (16:9) Elite Screen (gain 1.1). It was the Elite that I used for much of this review. Its price makes it a much more likely match for the Sony; the Stewart retails for more than twice the cost of the projector!
Considering that we're surrounded by talk of 4K, it's probably necessary to emphasize up front that the capability of the Sony VPL-HW45ES projector stops at 1080p (Full HD). It does not offer Ultra HD: This means that 4K resolution (3840 x 2160), advanced color, and HDR are not, either entirely or individually, part of its feature set. But you won't find these in any other projector we know of at this price.
Walkabout
The VPL-HW45ES is cosmetically indistinguishable from most of Sony's earlier VPL-HWES projectors. But it has one immediately obvious advantage over the others: an attractively lower cost. Its predecessor, the VPL-HW40ES, was initially priced $500 higher than this projector. The 45ES also claims slightly increased brightness (1,800 lumens versus 1,700 for the 40ES).
In addition, it offers a three-year warranty and a specified lamp life of 6,000 hours—though I suspect a video perfectionist will install a replacement lamp much sooner than that.
The Sony has just two inputs, both HDMI with HDCP compliance. There's also a USB port that's strictly for firmware updates, and both an IR input and RS-232 connector for externally wired remote control as needed. All of these, together with the AC power connector, are located on the left side of the chassis (as you face the front). The exhaust ports for the heat from the lamp are in the front, offering increased setup flexibility.
All of the lens controls are manual, including focus, zoom, and horizontal/vertical lens shift. The last provides +/–71 percent vertical offset and +/–25 percent horizontal—though these ranges are reduced somewhat if both are used together. In my setup, the front of the projector's lens was located just a few inches more than 15 feet from my 96-inch-wide Stewart screen. At the maximum lens-zoom setting, the image extended about 4 inches beyond the width of the screen on both sides, for a maximum usable image width of 104 inches at this distance. You can check the table in Sony's manual or use Sony's Projection Simulator app (for Android and iOS) to ensure that the projector's capabilities are compatible with your intended screen size and available throw distance. (Helpful conversion factors: The width of a 16:9 screen is 0.87 times its diagonal. The width of a 2.35:1 screen is 0.92 times its diagonal.)
Unlike some of its earlier siblings costing twice the price, the VPL-HW45ES doesn't have a dynamic iris. In fact, it has no iris of any kind, either dynamic or manual. The only controls that let you significantly adjust the peak brightness of the image are Lamp Control (Low or High) and Contrast. Yes, there's a Contrast Enhancer feature, as well as six Gamma Correction settings, plus Off. (As is typical of many home projectors, the Sony has only fixed Gamma Correction settings and no controls to fine-tune/calibrate the gamma). But neither of those features offers specific control over peak brightness (or it shouldn't, anyway—Gamma Correction, for example, affects the mid-level brightness, not the peak white).
There are nine Calibrated Presets (picture modes). For most of this review, I stuck with the Reference option, tweaked as needed. The Color Temp. setting affords a range of options, all of which can be calibrated past their default (with the usual two-point controls). There's also a Color Correction feature (Sony's name for their color management system, or CMS), which offers Hue, Saturation, and Brightness adjustments for the three primary and three secondary colors.
Apart from the above controls and other standard video adjustments, the VPL-HW45ES gives you Sony's ubiquitous Reality Creation feature, along with Motionflow (motion smoothing), Noise Reduction and MPEG Noise Reduction, Smooth Gradation, Clear White, Color Space, and Input Lag Reduction. Gamers might find that last one useful, but I left it off. I did find that a touch of Reality Creation (more on this later) was useful on most source material, and I selected the BT.709 Color Space. But I left these other controls off.
As with most of today's displays, a number of the picture presets automatically default to an active Motionflow setting. Watch out for this—and turn it off if, like me, you don't like the too-slick soap-opera effect on your movies. Interestingly, two Motionflow options, Impulse and Combination, were less prone to this. But not only did they reduce the brightness level (Impulse more so, and I suspect that both of them incorporate a technique called dark- or black-frame insertion), they were available only with a 1080i input, which renders them useless for Blu-ray sources or scaled 1080p signals from an AVR.
An additional selection, x.v.Color (a Sony trademark), is a specialized format that's been little used in commercial source material. You'll likely want to leave it off as well. A few years back, Sony issued several Blu-ray Discs from 4K masters, downconverted to 1080p for Blu-ray but prominently labeled as "Mastered in 4K." These releases included x.v.Color that was viewable on any display offering it (primarily Sony's). But there were no subsequent releases, and the Mastered in 4K "format" went nowhere. In actuality, many of today's 1080p sources are mastered in 4K (or even higher) and then downconverted without fanfare to 1080p for commercial purposes, but without x.v.Color. The advanced color in some of today's Ultra HD sources and displays, referred to more commonly as "wide color gamut," is totally unrelated to x.v.Color.
Another important feature, Panel Alignment, is located in an Installation menu, where it's easily accessible. It lets you precisely align the red and blue images with the green, thus ensuring that all three colors are properly converged. It can be done either globally across the entire screen or by zones. Some argue that such manipulation can have detrimental effects on the picture. (It's performed electronically; the red and blue imaging panels aren't actually moved.) I've used this feature on earlier Sony projectors, and while the effect is often subtle from a normal viewing distance, I've always found the result to be more positive than negative.
The VPL-HW45ES is also 3D capable. The trigger that engages Sony's TDG-BT500A active 3D glasses is built into the projector. No glasses are provided, however; they're separately available at $50 each.