LG PF 1000U 3D DLP Projector Review
PRICE
$1,400
AT A GLANCE
Plus
Ultra short throw design
Accurate color
Built-in smart/streaming features
Minus
Mediocre picture contrast
Limited brightness
Poor picture uniformity
THE VERDICT
LG's PF1000U has a number of compelling convenience features, but its performance is well below that of other comparably priced 1080p projectors.
A compact, portable projector makes sense for a rec room or vacation home where a full-scale, full-time home theater isn't possible—or even wanted. LG isn't well known as a projector company, but they've been steadily building a portfolio of compact projector options over the past few years. Last year, I checked out the PF85U (soundandvision.com), a 1080p model with an array of smart features, including Web browsing and Netflix streaming. This time around, I'm looking at LG's PF1000U, another 1080p DLP model packed with an array of smart/streaming features.
A key difference between the PF1000U and its predecessor is that the new model is an ultra short throw projector designed for close placement to a screen rather than on a tabletop 10 feet away. This type of setup offers several advantages. The most obvious one is that you don't have to worry about blocking the beam—a big plus if you want to use the projector for a motion-tracking gaming platform like Xbox Kinect or Nintendo Wii. You also don't have to run long wires to hook up sources; all gear can be located close to the screen, too, where it's out of the way.
While ultra short throw projectors have been more common for business presentations, a few models designed for home theater use are starting to turn up. A main one is Sony's LSPX-W1S, which lists for $50,000! [Ed. Note: See our write-up in the February/March issue, Premiere Design, and at soundandvision.com.] LG's model lacks the Sony's elegant cabinet (approved by interior designers), 4K resolution, and galloping 2,000-lumen light output, but it has the advantage of being priced at an affordable $1,400.
What does the PF1000U offer alongside its unique installation capability and palatable price tag? It uses an LED light source spec'd for a 1,000-lumen light output and a 30,000-hour lifespan—so it'll never require a lamp replacement. It's also 3D-ready. (DLP-Link active shutter glasses are available only through third-party suppliers; search Amazon for 144-Hz models in multipacks priced under $25 per pair.) A major convenience feature is the Bluetooth audio output, which lets you wirelessly route audio from streamed or connected sources to a Bluetooth-capable soundbar, speaker system, or headphone. The LG also has its own built-in convenience speaker, but you'll likely get much better sound by using even a cheap external audio option.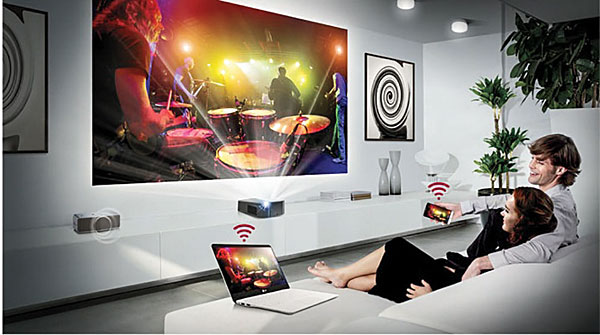 The projector's integrated streaming selections include Netflix, Vudu, YouTube, and Spotify. You can also tap its Web-browsing capability to visit the LG SmartWorld Website and download other apps such as Amazon Instant Video and Hulu. Along with its built-in streaming, the LG can wirelessly connect to content from PCs and portable devices via Miracast, WiDi, and DLNA. Its SmartShare feature, meanwhile, lets you play videos and music and view photos from a storage device connected to one of its USB ports.
It isn't hideous, but the PF1000U isn't much to look at; the folks at LG didn't exactly knock themselves out on the projector's industrial design; with its black rectangular casing, it's about as nondescript as they could make it (and perhaps that was the intention). Side-panel connections include HDMI (with ARC), Ethernet, USB, and ports for component/composite video and analog stereo audio (via included breakout cables). There are also outputs for optical digital audio and earphones. Rear-panel connections add a second HDMI port and an RF antenna input.