Epson Pro Cinema 6040UB 3D LCD Projector Review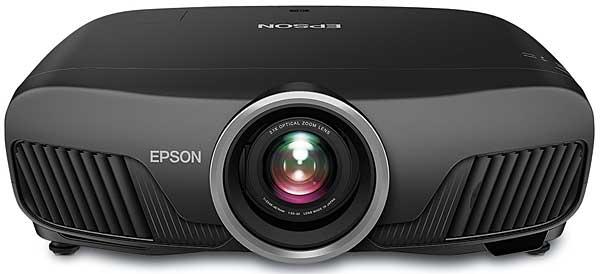 PRICE
$3,999
AT A GLANCE
Plus
Crisp "4K Enhanced" picture
Ultra HD and HDR compatible
Impressive 3D performance
Minus
Some motor noise with Auto Iris active
High fan noise in certain picture modes
THE VERDICT
Epson's Ultra HD and HDR-compatible 3D LCD projector delivers a compelling mix of performance and features for its $3,999 price.
With 4K/Ultra HD quickly taking over as the default resolution for new TVs, it seems ironic that projectors, the display type that would most benefit from 4K resolution, have been slower to transition to the new format. Sony is the only manufacturer to introduce 4K-res projectors aimed at the general home theater market, and with the cost of entry for those models stuck in the $10,000-plus range, it's clear that 4K projection has a way to go before it becomes mainstream.
The 4K transition may be lagging among projectors, but one trend has been on the upswing: faux-K. Projector-maker JVC was the first to introduce models that took advantage of pixel-shifting technology (JVC calls its latest version e-shift3) to deliver a derived 4K-res image from native 1080p-res display chips. Epson followed with their own take on the technology, 4K Enhancement, for its $8,000 LS10000 laser-driven reflective LCD model and is now bringing that tech to a new line of more reasonably priced regular 3LCD projectors (see sidebar for details).
Epson's new lineup is led by the Pro Cinema 6040UB ($3,999), a model aimed at the professional installation market, that comes with a ceiling mount, spare lamp, and an extended warranty. It's also ISF certified, with lockable memories that video calibration pros can use to store their adjustments. Otherwise, the 6040UB shares the same specs and feature set as the company's new 5040UB ($2,999). Full disclosure: Our 6040UB sample evaluated here was an advanced engineering sample supplied to make our deadline but should be reflective of final production in its key performance parameters.
Here are the details: Both the 6040UB and 5040UB have a claimed 2,500 lumens of brightness and 1,000,000:1 contrast. They accept 4K signals from an Ultra HD Blu-ray player or Roku UHD streaming player and are compatible with high dynamic range (HDR) content in the HDR10 format. The new projectors are also 3D compatible (unlike TV manufacturers, projector makers seem to be in no hurry to ditch 3D), though you'll have to buy Epson's optional $99/pair RF active shutter glasses if you want to watch Blu-ray 3D discs.
After recently reviewing a string of budget-priced, semi-portable projectors, I found it gratifying to hoist the large, well-built 6040UB out of its box. With a sleek black case offset by a metal-toned ring around the lens, the 6040UB has a more distinctive look than other Epson projectors I've encountered in the past. Jacks on its back panel include two HDMI ports (one HDMI 2.0a/HDCP 2.2 compatible with UHD/HDR10 content and one HDMI 1.4), a VGA computer input, LAN and RS-232C control ports, and a 12-volt trigger output.
Another thing I found gratifying about the 6040UB was Epson's remote control. Although it's likely to be replaced with a control system in custom installations, this handset is clearly designed for home theater use, with large, well-spaced buttons and a fully backlit keypad. A trio of buttons located directly above the center navigation cursor provide quick access to the Lens, Color Mode, and Image Enhancement menus. A Memory button located directly below the cursor control lets you conveniently call up the Memory menu, which holds up to 10 custom picture adjustment and lens position presets for switching between 16:9 and widescreen content.
Setup
To test the 6040UB, I set it up on a high shelf on the back wall of my home theater with the lens 12 feet away from a 90-inch-diagonal, 1.1-gain Stewart Filmscreen Cima Neve projection screen. The 6040UB's 2.1x zoom and +/– 96 percent vertical, +/– 47 percent horizontal lens shift provides plenty of range to accommodate a variety of installation scenarios. Zoom, focus, and lens shift are all pow- ered and remote-controlled on the 6040UB, a new feature for Epson at this low price point.
Epson provides a range of picture presets, including Cinema, Bright Cinema, and Digital Cinema modes. You can also create up to 10 custom picture presets. There are three Power Consumption (lamp) settings, Eco, Medium, and High, and the projector's Auto Iris feature, which can be used for both 2D and 3D display, provides Normal and High Speed modes.
For my setup, I made custom adjustments in the Cinema mode for high-definition sources and in the Digital Cinema mode for Ultra HD/HDR using a UHD/HDR setup disc recently provided to reviewers by Samsung (but not yet commercially available). While the 6040UB is capable of high light output, I ended up limiting peak brightness to the 17-to-20-foot-lambert range to maintain grayscale and gamma linearity and to avoid the relatively high fan noise that accompanied both the Medium and High Power Consumption modes. (Note that this was with my ears situated about 6 feet away from the projector, and without the benefit of an audio track to help mask the noise.) The pro- jector's black level also turned out to be somewhat elevated in Digital Cinema mode, forcing me to knock back the Lens Iris control a few stops to achieve the shadow depth and detail necessary for optimal viewing of HDR content.