InFocus ScreenPlay SP1080 3D DLP Projector Review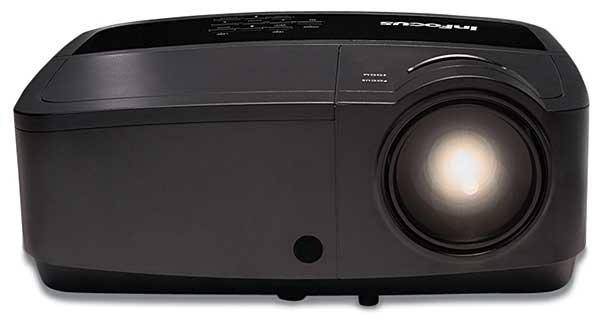 PRICE
$549
AT A GLANCE
Plus
Good value
Decent overall performance
Capable of high brightness
Minus
Brightness limits color accuracy
So-so contrast
THE VERDICT
While it's not without compromises, the SP1080 delivers good overall home theater image quality for its very low price.
A home theater projector is designed for permanent installation in a light-controlled environment. A mini projector is meant for giving business presentations or toting to a vacation home. What is the line that separates the two categories? Until recently, it was price: A typical home theater model started at around $1,000 and shot up from there. But the InFocus ScreenPlay SP1080 seems intended to blur that line: It's priced at a mere $549, or the same amount you'd pay for a high-quality mini projector. Consequently, home theater projection has now become almost absurdly cheap. But is this new InFocus any good? Let's take a look.
There are several differences between the SP1080, a single-chip DLP model, and a mini projector such as the Optoma ML750ST (another single-chip DLP priced at around $549), which earned Top Pick status in our July/August mini projector roundup. The key differences are in resolution and brightness: While Optoma's mini maxes out at 720p resolution and 700 lumens, the InFocus is a 1080pres model spec'd at 3,500 lumens.
It also has an optical zoom and can accommodate much larger screen sizes while retaining sufficient brightness. Of course, delivering a bright picture means that the InFocus relies on a regular UHP lamp instead of the long-lasting LED type used in mini projectors, though the company does spec the SP1080's lamp life for up to 10,000 hours—an unusually high rating.
Outside of having optical zoom, the SP1080's feature set is slim. It's 3D-ready—just add the active-shutter glasses from Xpand ($69/each, available on the InFocus website) or other 144-hertz DLP 3D glasses sold on outlets like Amazon. But that's about it. There are no vertical or horizontal shift controls to ease setup; nor is there a neat hidden compartment to connect a Roku or Amazon Fire TV streaming stick, such as that found on the ViewSonic LightStream Pro7827HD DLP projector ($799) I reviewed in the September issue.
While not exactly mini, the SP1080 is compact and light enough to make it portable. Manual dials for Zoom and Focus are located on the projector's top surface, along with an array of control buttons. The back panel provides a single HDMI input, a VGA port for a computer, minijack audio inputs and output, and an RS-232C port for connecting to a control system. There's also a USB port for firmware upgrades. The remote control is a tiny thing. I could easily imagine it getting lodged in and lost between sofa cushions. While that didn't happen during my time with the projector, I did find it difficult to locate specific buttons on the remote's densely packed, non-backlit keypad after I had dimmed the lights in my room. Fortunately, the Menu button, which is the main one you'd want to use, is located near the top, next to the arrow navigation controls.
Setup
I placed the SP1080 on a low table approximately 9.5 feet away from a 90-inch-diagonal, 1.1-gain Stewart Filmscreen Cima Neve projection screen. With a screen that size, the projector's 1.22x zoom permits enough range for you to install the projector overhead and behind the seating area, as opposed to directly overhead or in front of the seat. The lack of a vertical lens shift control proved to be a hassle during installation (I can't remember the last time I tested a projector without that amenity), though the adjustable feet on the bottom did help a bit with proper image positioning.

The InFocus has a number of different picture presets, most designed for presentation use. There's also a User memory that provides basic settings (such as brightness and contrast), as well as an Advanced menu with Color Temperature presets, multiple gamma modes, Color Space presets, and red, green, and blue gain and cutoff adjustments to calibrate the projector's grayscale. No color management system controls are provided—not that I expected to see them on a basic, budgetpriced projector.
One thing that was immediately apparent when I started calibrating the SP1080 was its high light output. This projector is bright! With its Bright picture preset selected, peak white measured 102 foot-lamberts—enough to deliver the goods in a well-lit boardroom. Here's some background to explain why. Unlike other DLP projectors we've tested that use a color wheel with two sets of RGB segments (RGBRGB), the SP1080 has a color wheel that employs what InFocus calls a "minimalist" white segment to enhance brightness—an arrangement commonly used for presentation projectors.
The SP1080's picture adjustments include a Lamp Low Power mode that reins in the projector's substantial light output and also reduces fan noise. With this selected, peak white was a more reasonable (though still bright) 37 ft-L. Other settings I selected during setup included Film gamma and Auto color space.
While InFocus says that the SP1080 supports the BrilliantColor technology typically offered in home theater DLP projectors, I found no adjustment in the setup menu to switch that feature on or off. After a quick flurry of e-mails, I was told this: BrilliantColor is enabled by default in the SP1080 and can only be fully switched off by reducing the White Intensity adjustment in the Advanced menu to zero. After making that adjustment and recalibrating the projector from scratch, I was rewarded with a more linear grayscale and, ironically, more brilliant, natural-looking color. The trade-off was that peak brightness dropped by around 50 percent, though the color accuracy benefits made the compromise worth it.
2D Performance
Being a fan of the 2010 comedy/action film Kick-Ass, I was psyched to get a Blu-ray of director Matthew Vaughn's most recent effort, Kingsman: The Secret Service, to watch on the InFocus. During the fight scene in the Black Prince, the projector did a decent job rendering the shadowy mid-afternoon interior of the London pub. Skintones of the gang that is ultimately laid waste by Galahad (Colin Firth) displayed a good degree of differentiation. In a later scene that takes place in the Kingsman tailor shop, the warm light was similarly well rendered, with the dark green of the walls looking suitably rich and the hues of the wood-finished interior appearing completely natural.
The underground facility where the sleeping recruits are given their first test—escape from drowning as the dormitory fills to the ceiling with water—provided a gauge of the SP1080's contrast capabilities. Shadows in this sequence looked relatively solid, though detail was lacking. Still, contrast was good overall as fluorescent lights in the background illuminated the rippling surface of the rising black water.
While the SP1080 generally failed to deliver the visual punch I'm used to seeing with LCOS projectors from Sony and JVC—models that at $4K and up cost a helluva lot more than the InFocus—its image managed to look striking with certain content. In another scene from Kingsman, where Richmond Valentine (Samuel L. Jackson) is briefed by his assistant, the contrast between his orange-hued getup and her simple blackand-white outfit came across loud and clear. Detail in this and other scenes was also very good, though I did regularly notice rainbow artifacts—definitely more so than with the last DLP projector I tested.
3D Performance
The SP1080's picture adjustments for 3D are limited to a Sync Invert control, and the projector doesn't store separate settings for 2D and 3D. For this reason, I needed to make any 3D adjustments in the regular User memory that I had set up for 2D sources—a hassle. While 3D images initially looked dim enough on the InFocus that I was forced to turn off the Lamp Low Power mode, performance was quite good overall once that adjustment was made.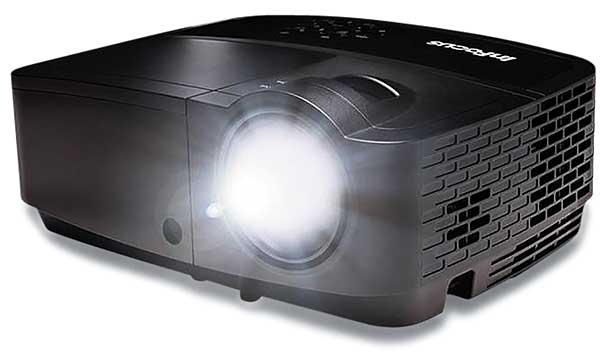 I watched a Blu-ray 3D disc of the IMAX documentary Born to Be Wild. In a shot where baby orangutans are wheeled down a tree-lined path, there was a good sense of depth between the wheelbarrow in the foreground and the layers of trees that extended far back into space. And in a scene where baby elephants are walked by their human minders through a field, the tall grass in the foreground actually seemed to poke out through the screen and into the viewing space. Here as well, clumps of trees in the background displayed distinct layering, creating a convincing sense of 3D depth.
Conclusion
The main thing I have to say about the InFocus ScreenPlay SP1080 is that it delivers a decent-looking home theater image at an incredibly low price. Are there compromises? Sure. Adjusting the projector for accurate color reproduction means you'll have to throttle back its considerable light output to a dramatic degree. And that, in turn, means you'll need to install the SP1080 in a carefully light-controlled environment to optimize contrast and overall picture quality. Also, the projector's setup and picture adjustment features are limited, though that's usually taken for granted at this price. Speaking of price, did I mention that the SP1080 costs only $549? In the past, that kind of dough would only get you a mini projector, not a model capable of adequately filling a 90-inch or larger screen—something that the SP1080 easily does.