BenQ HT1075 DLP Projector Review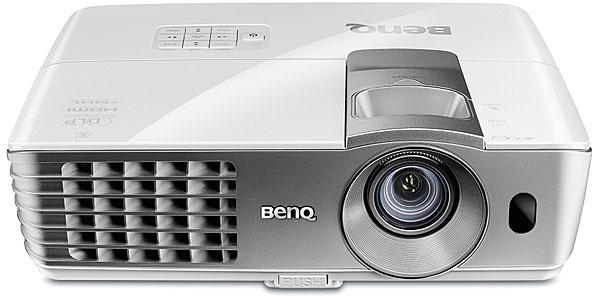 PRICE
$1,199
AT A GLANCE
Plus
Bright, punchy picture
Excellent color
Compact size
Minus
Mediocre blacks
High vertical offset with limited lens shift
THE VERDICT
You wouldn't expect the type of performance this BenQ delivers for the price, but it will impress even a fussy videophile and blow away the newbie.
Flat-screen 1080p HDTVs have been dropping in price. Nonetheless, short of a blowout sale, a really big-screen set—say, 70 inches diagonal or larger, even in plain old 1080p, will probably set you back a minimum of $1,500. Compared with prices even two years ago, that's cheap, but for most buyers it's still significant cash.
What if you discovered that for less money you could get a picture that's three or more times the size (by area) of that 70-inch flat-screen set? How does $1,200 sound?
That's the price of this 1080p BenQ projector. You'll have to deal with a few caveats, of course. Projectors can be used in modest ambient light, though they invariably work best in the dark and you'll want to control the lighting if you can. You'll also need a screen, though you can buy a fixed-frame, 96-inch-wide screen from value-oriented companies such as Elite, Carada, and Grandview for not much more than $500. Installation for a projector is more complicated than simply plunking down a flat screen on a table. But if you're handy, it's only slightly more intimidating than mounting a flat screen on a wall.
Then there's periodic lamp replacement. BenQ's specs state that the lamp should last between 3,500 and 6,000 hours, depending on the lamp mode used, and the current replacement price is $249. That stated lamp life is more generous than most, though it may be optimistic if your goal is to maintain like-new performance.
All that said, however (and as we've written in the past), there's nothing quite like having the impact of entering a true mini-movie theater in your home. And this affordable projector just might be your best path.
Description and Setup
Since BenQ is a major player in the business projector market, it isn't surprising that (case color excepted) the HT1075 single-chip DLP projector appears physically similar to the company's business-centric MH680, but with a modified input set. The genesis of the HT1075 is also obvious from its built-in mono speaker and modest, 10-watt (specified) amp. BenQ's Website speaks of the "immersive audio" offered by this system, but that sounds (and is) a bit over the top. The audio was more reminiscent of a mono FM radio than of Dolby Atmos. But it's there in a pinch if you're plopping the projector down temporarily.
The focus and zoom are both manual, and they're accessible on the top of the chassis. The other controls are there as well, but you'll communicate with the projector mostly from the excellent, backlit remote. The available settings include full color-calibration controls and a color management system (CMS). Unfortunately, two of the calibration Gain controls, red and blue, didn't work on my sample, but I was able to perform a more than acceptable calibration using the other adjustments (see Test Bench). The HT1075 is ISFccc certified. The two ISF calibration modes, Day and Night, are accessible to an ISF calibrator. There's also an unusually flexible range of gammas offered, with eight fixed settings from 1.6 to 2.8, plus a "BenQ" setting. I used 2.4 for most of the review but did find some source material that worked better in 2.2.
The projector has a rather steep vertical offset, which elevates the image well above the level of the lens in a tabletop installation. This means that for best results, you must position it either lower than the bottom of the screen or (inverted) above it. The HT1075 does have vertical lens shift, a rare feature in a home theater projector with business genes in its DNA. But this control doesn't offer much adjustment—less than a foot on my 96-inch-wide screen. If you still have to tilt the projector sharply to position the image on the screen, you'll risk keystone distortion, which produces a trapezoidal picture rather than a crisp rectangle. To correct for this, the BenQ also has both vertical and horizontal keystone controls. These might be handy for squaring up the picture for that summer movie night projected on your garage or barn, but we recommend against using keystone adjustment for a serious, permanent setup. It can degrade resolution.
The manual lens controls are also highly interactive. Altering the zoom by only a small amount throws the focus off, and vice versa. It took me several tries, going back and forth between focus and zoom, to produce a good result. If you use the projector intermittently—bringing it out of the closet just once a week to set it up for movie night—this might be a nuisance. For a permanent setup, however, you'll only have to do it once.
So, while setup was a bit tedious, I was finally able to achieve a good result by using the projector on a low table. The BenQ then easily filled my 96-inch-wide Stewart Filmscreen StudioTek 130 G3 projection screen (2.35:1, gain 1.3), located about 10 feet away.
Like most all projectors, the BenQ lacks the gee-whiz streaming apps accessible on almost any modern flat-screen HDTV. But you can easily add them via an appropriately featured Blu-ray player with Smart TV features or an inexpensive streaming media player such as an Apple TV or Roku. The projector does offer streaming and mirroring from devices having MHL (Mobile High-definition Link) capabilities (not tested).
One of the BenQ's unique features is wireless reception using a $349 connectivity kit. The sources can be separated from the projector by up to 100 feet, though this may be limited by obstructions such as walls. We were unable to test this because the kit wasn't available yet at the time of our evaluation, but if it functions as claimed, this is an appealing option. (Of course, one could always purchase a third-party wireless HDMI transmitter/receiver kit for the same amount or less.)
Viewing
I began as I usually do by running the projector for at least 100 hours to let the lamp settle in before I performed measurements and undertook serious viewing. Since the burn-in was done in a den prior to my moving the BenQ into my main home theater, I simply shined the projector onto a wall, generating an image roughly 4 feet wide. Moreover, the wall wasn't a smooth white surface but was actually textured and beige! I mention this because, even with this non-optimum setup and "screen," the picture was highly watchable, and I used it as my go-to TV for several days.
That said, I suspect that more than a few video calibrators and serious videophile readers have now crumpled to the floor, foaming at the mouth and writhing in agony. Keep in mind, however, that more than a few buyers of a projector such as this will start out using it in just this way (though a smooth white wall would be nice!) while they save up for the decent screen that any projector deserves. They won't be disappointed, and some might wonder if a proper screen will be a worthwhile future investment. (Trust me—it will.)