Epson PowerLite Home Cinema 2045 3D LCD Projector Review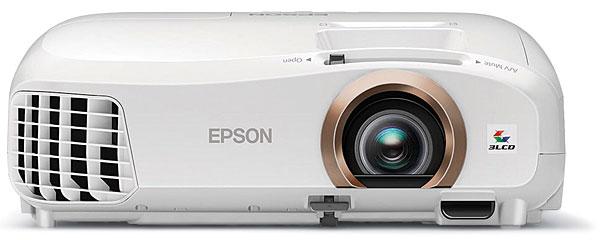 PRICE
$850
AT A GLANCE
Plus
Fantastic portability
Super bright
High-end features at a low-end price
Minus
No lens shift
Focus uniformity less than stellar
A bit noisy
THE VERDICT
What it lacks in size, it makes up for in features. The Home Cinema 2045 packs a wallop for the dollar, delivering a bright and accurate image from a wonderfully portable unit.
I'll be the first to admit it: I have become very jaded in my view of home theater projectors. Looking at my history with Sound & Vision (and previously Home Theater), I have always had the privilege of reviewing the upper crop of projectors; rarely do I get to evaluate more value-tier options. This wasn't always the case, though. There was a time in my life when most of the projectors I used personally or reviewed for other publications were priced for a consumer on a much tighter budget. And so today, I'm intrigued to take a look at a more budget-conscious model. Enter the Epson PowerLite Home Cinema 2045, a three-LCD 1080p 3D projector that, while low in cost ($850), boasts a feature-rich spec sheet.
Little Big Man
The first thing that struck me about the Home Cinema 2045 was something I noticed when I opened my door to find it on my porch. How could a projector be in a box that small? My last report was on Epson's flagship PowerLite Pro Cinema LS10000 (November 2015 issue and at soundandvision.com), which is like a Hummer compared with the Home Cinema 2045's VW Golf. But that's probably one of the main selling points of this projector: Its compact chassis makes it a snap to pick up and take wherever you might need it. This opens up options like kids' bedrooms for sleepovers and even the backyard for a movie under the stars. Try doing that with the big boys!
The compact chassis (in glossy white) allows for easy operation and setup, with all the main controls accessible from the top panel and a wealth of connectivity options on the back. Two HDMI (1.4a) ports are included, with the first supporting MHL for connectivity to portable devices and streaming stick solutions like a Roku or Amazon Fire TV Stick. A PC VGA connection and even a composite video connection are also included. There's a small installed speaker for audio you can use if needed, but the projector has both a stereo RCA analog input and a 3.5mm audio output jack to feed at least a small powered speaker setup if you want more solid audio playback.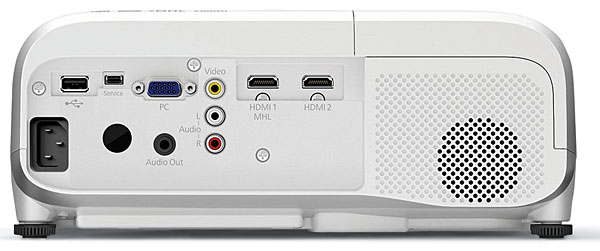 A surprise feature is support for WiDi wireless streaming. This allows you to stream content directly from Miracast and Intel support devices like Android phones and Windows laptops. I wasn't able to try this out as I didn't have any Android devices or Windows laptops handy, but I was surprised to see this feature at this price point—you rarely see this kind of connectivity even in flagship models.
The Home Cinema 2045 offers the standard lens-setup options I'd expect at this price point. Zoom and focus are handled by smaller levers accessed on the top panel, and there's a manual slider to adjust for keystone correction. Indents on the keystone slider make it easy to find the off position, which is what I typically suggest. The lens has a somewhat limited zoom range of 1.22 to 1.47, which may make placement difficult, depending on your screen size and room length. The lens has a fixed offset with no lens-shift adjustment, so if you're thinking about a fixed install, measure twice! The 2045's mute feature allows you to slide a lens cap into place while muting the built-in speaker.
Last but not least, the Home Cinema 2045 offers full 3D support using RF glasses. Unfortunately, the projector doesn't come with any 3D glasses, which cost $99 each on Epson's Website. But we see that frequently these days even with higher-end projectors, and it's an understandable omission for an $850 projector. My comments on 3D viewing are below.
All the Fixins
Setup was a snap with the Home Cinema 2045. I connected a Roku streaming stick to HDMI 1 and my Oppo BDP-105D universal disc player to HDMI 2. This allowed me to try out the MHL connectivity of the Roku stick with the projector and watch some Blu-rays from the player. Epson's setup menus are nearly identical to those of the LS10000 that I recently reviewed, which made my job even easier. Despite its much lower price point, the Home Cinema 2045 has a lot of the same advanced features as its flagship brother, including a full color management system, frame interpolation, and a dynamic iris! (That last item is a critically important feature for extracting the best possible black level out of such an inexpensive projector.) The menu system is laid out nicely and offers several presets, including some cinema modes. The only thing I found missing was an option to adjust gamma, though the out-of-box gamma curve was nearly spot on for a 2.2 gamma curve, which is what I'd recommend for a projector with this one's contrast performance.
The first thing I tackled was the basic setup adjustments. Using my small collection of Blu-ray calibration discs, I found that the lens was an area where Epson made some compromises. Focus uniformity was a bit lacking; I was able to dial in the focus nicely on the center of the image, but it was less than perfect on the bottom and top. I had to go back and forth to find a fair compromise that I could live with and that allowed the best focus uniformity overall. I should note, though, that while this was readily apparent using test patterns, it wasn't nearly as visible with real-world material. And although the 2045 wasn't as razor-sharp as the higher-end projectors I'm used to looking at, it still delivered a crisp image. Panel convergence, which can also be a problem with 3LCD or three-panel LCOS projectors, wasn't an issue, though some minor color fringing was apparent. Overall uniformity was decent, but it was obvious that the lens represented the primary weakness.