Epson PowerLite Home Cinema 2045 3D LCD Projector Review Page 2
After my cursory setup was complete, I moved on to advanced calibration. I fired up my latest copy of CalMAN and did some initial measurements to get an idea of accuracy out of the box. I started out by capturing all the different presets the Epson had to offer. I found that the Natural preset gave me the best starting point. The color points were slightly outside the Rec. 709 gamut, but since the 2045 has a full CMS, I figured I could bring them in and get them close. Overall, the color point Delta E values ranged from about 5 to 11 initially, but I was able to dial in all the colors to below 3, with luminance levels that were nearly spot on.
A two-point grayscale adjustment is also available, but it was difficult to get the grayscale as linear as I prefer. While it was fairly easy to get the top and bottom dialed in nicely, the middle brightness range wouldn't quite fall into line. Initially, Delta E values were higher than 8 in that range, but I got them down below 5, with most values below 3. Not as perfect as I'd prefer, but not bad for a display at this price point. Meanwhile, my overall gamma ended up measuring about 2.18.
The biggest things I had to deal with in calibration were adjusting brightness and contrast. This projector is an absolute light cannon! After calibration on my 120-inch-diagonal Stewart Filmscreen StudioTek 100 screen (1.0 gain), I was getting about 54 foot-lamberts in Normal lamp mode and 38 ft-L in Eco mode! I had to bring down the contrast control quite a bit just to get the projector down to about 30 ft-L, which is twice as bright as my reference projector in typical use. Clearly, the 2045 is intended to perform well in high ambient light conditions, which is an increasingly common application today.
That said, this kind of brightness obviously comes at the cost of contrast, and to say the black level was a bit more elevated than what I'm used to is an understatement. I measured the projector's contrast capability with my Minolta T-10 meter, which gave me a native contrast (no dynamic iris) of about 600:1 and a dynamic contrast of 5,600:1 (all calibrated contrast ratios). That's a far cry from my reference projector but about what I'd expect from an LCD-based projector at this price point. I don't think anyone would be considering this kind of projector for reference contrast performance. If you're really concerned about it, you could always add one or multiple neutral density filters to bring the black level down without hurting the overall contrast performance.
The Picture's So Bright, I Gotta Wear Shades
I spent about two weeks with the Home Cinema 2045, and overall I had a great time. It isn't every day I get a projector that makes my 120-inch screen look bright like a flat-panel TV. Sure, I wasn't as enamored with the projector's blacks and contrast, but after some brief time with the Epson—well,
let's just say it's amazing what we can get used to. While I was pretty impressed by the extreme brightness of the image, fatigue did set in on occasion. I am simply not accustomed to an image that big with that much average brightness all the time.
Still, even outside of a high ambient light application, I can fully understand why some users might want to up their brightness for a home theater system. Everything looks much more vibrant and punchy when you're staring at a screen that's pumping out 30-plus ft-L. Animation, in particular, excelled with the Epson, and recent Blu-ray releases like Shaun the Sheep and Inside Out provided great examples of what a bright image can bring to the table. Colors take on a whole new level of realism and pop, and fine detail shines through even more. I can only imagine what this level of brightness looks like on a projector with a state-of-the-art lens.
And, speaking of the lens, it's worth noting again that while this was my main misgiving in the initial setup, it was rarely a problem with actual program material. Motion resolution at 1080p gives you some wiggle room when it comes to overall sharpness, and the Epson never appeared dull or blurry. The best Blu-rays in my collection still looked fantastic.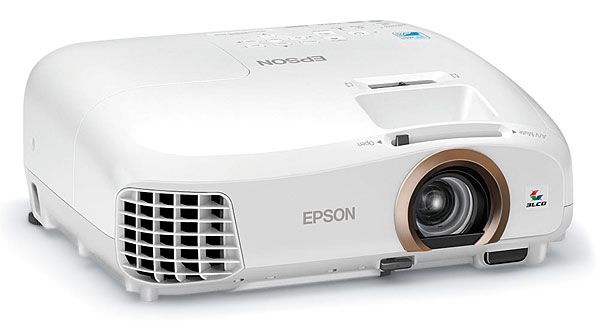 Having the MHL HDMI input was also a treat. Being able to control my Roku streaming stick directly made browsing with my streaming library a breeze. But there was also a down side: With such a bright image, all of the inherent limitations of streaming source material were even more obvious, from banding in the dark parts of the image to compression artifacts around fine details in the bright spots. There's honestly no room for error at this level of light output. That said, less picky eyes won't have an issue, and not everyone is throwing an image of this 10-foot-diagonal size.
But where high brightness might not work well with lower-quality content, 3D is another matter. Typically, the biggest gripe we see with 3D reproduction on any projector is a lack of image brightness. But this projector's high lumen output is a true blessing for 3D aficianados. This is the first projector that gave me a very comfortable viewing experience even in low lamp mode. Like most LCD-based displays I've seen, there was some minor ghosting in difficult 3D images, but no more than what I typically see from non-DLP displays. Because of the display's relatively lower contrast, darker 3D images didn't fare as well as on higher-end projectors that I've tested. But bright and colorful animation looked fantastic.
Finally, I'd be remiss if I didn't point out some of the other lifestyle applications this projector brings to the table. After a couple of weeks with it, I couldn't help but wish I had it at a younger age so I could connect my game console to it and throw a massive image on the wall to enjoy. With its shorter throw and insane light output, this thing gives you tremendous flexibility and an image that looks way better than what you'd expect for the price. I would also love something like this for summer nights in the backyard, watching movies from a sheet hung on the house or on a cheap outdoor screen. The built-in audio output (or speaker) makes it pretty easy to get something up and going.
Serious Bang for the Buck
The Epson PowerLite Home Cinema 2045 is one of the better values I've seen in projection in some time. It connects to a wide range of sources; coupled with its portability, this makes for some exciting projection possibilities I rarely consider. While it may not be the best projector for delivering plummeting black levels in a black-pit home theater, it will light up a large screen without blinking an eye, even with modest ambient room light. The Epson would be on my short list for an inexpensive projector for allaround family use—and it has given me a lot to think about as my young ones get older and start pleading for sleepovers, video games, and more. If you're on a budget or just need something that might be able to do it all, give this one a look.