ViewSonic LightStream Pro7827HD 3D DLP Projector Review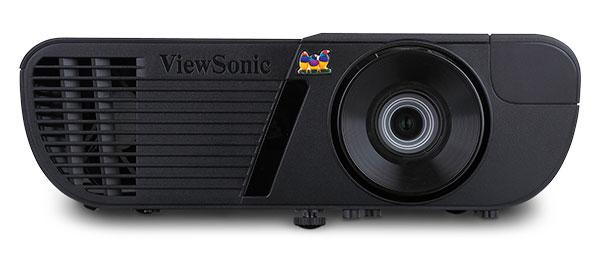 PRICE
$890
AT A GLANCE
Plus
Impressive brightness
Clean, detailed picture
Good overall 3D performance
Minus
So-so contrast
Relatively high fan noise
THE VERDICT
ViewSonic's low-budget Pro7827HD home theater projector has its compromises but delivers impressive performance for the price.
When you consider the benefits of buying a 1080p projector, the main one that should come to mind is price. There are a few native 4K models, including ones with high dynamic range capability, but they still remain costly, with the cheapest being Sony's VPL-VW350ES at $8,000. Even those that accept 4K signals and deliver a faux 4K picture, such as JVC's e-shift models, remain in the several thousand dollar range. Survey the plain ol' 1080p field, on the other hand, and you'll find plenty of bargains, including ViewSonic's LightStream Pro7827HD DLP projector, with a list price of $890 and an online street price of just $799.
What makes the Pro7827HD worth discussing? Along with having a robust (for the price) brightness spec of 2,200 lumens, it's ISF certified, with ISF Day and Night modes that a pro calibrator can use to store optimized settings. It's also 3D capable—a swell perk in an under-$1,000 projector. (ViewSonic's PGD-350 DLP-Link glasses sell for $66 retail, though you can buy generic DLP-Link glasses from Amazon or Monoprice for half that amount.) Another cool feature is a concealed compartment designed for plugging in an Amazon Fire TV or Roku streaming stick to give the projector instant smart-TV/streaming capability.

The black-clad Pro7827HD is compact, light, and portable, making it a good option for tabletop installation or for toting to a vacation home. A full set of control buttons is located on top, along with a knob to manually adjust the projector's vertical lens shift. The hidden streaming-stick compartment is also accessible from the top. Open this up, and you'll find an HDMI input, along with a cable with a micro-USB connection to supply power to your streaming stick of choice.
Connections on the rear panel include a pair of HDMI ports plus VGA and component/composite input jacks. There's even an S-video input—a blast from the past! An RS-232 control port and a 12-volt trigger output are also on tap.
The projector's remote control proved serviceable for making basic menu adjustments (the menu button and navigation controls are located dead center), but it was otherwise challenging to use in a dark room. It's tiny, with small buttons that are almost impossible to locate by touch alone; any time I needed to make tweaks, I found myself reaching for my phone to illuminate the remote's keypad.
Setup
I placed the Pro7827HD on a low table approximately 8 feet from a 90-inch-diagonal, 1.1-gain Stewart Filmscreen Cima Neve projection screen. The projector has a 1.3x zoom range, and its manual controls for adjusting focus, zoom, and vertical lens shift are easily accessible via an exposed compartment on the projector's top. Dialing in geometry was a snap. There's also a digital keystone adjustment that permits general and corner keystone correction for quick and dirty setups, though using such an adjustment will reduce picture resolution.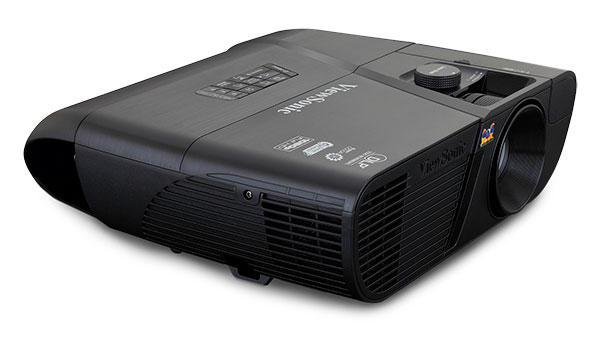 The ViewSonic provides a range of color modes, including a Rec. 709 Movie preset that delivers fairly accurate out-of-box color. But the more important selling point here for videophiles is the inclusion of ISF Day and Night modes. Using the available White Balance and Color Management adjustments in ISF Night, I was able to dial in an improved grayscale and better color-point accuracy than the ViewSonic's Rec. 709 Movie preset offered.
The projector's Normal, Eco, and Dynamic lamp modes give you a range of options for balancing image brightness against lamp-life and fan-noise considerations. Although I did most of my viewing with the Normal lamp setting enabled—to gain that mode's brightness and contrast benefits—Eco also delivered satisfying brightness, measuring 25.5 foot-lamberts, more than enough for dark-room viewing. With Eco enabled, the projector's fairly substantial fan noise also dropped down to a level where I didn't find it too distracting during movie watching.