JVC DLA-X700R 3D D-ILA Projector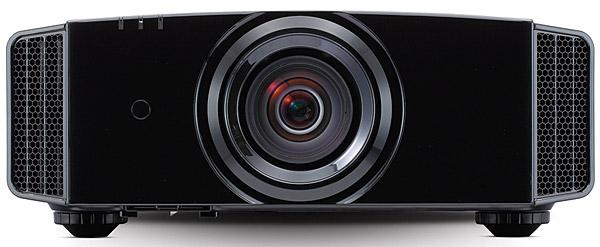 PRICE
$8,000
AT A GLANCE
Plus
Raises the bar for contrast
Excellent dynamic iris performance

Minus
HDMI slow to lock on to signals
THE VERDICT
With the introduction of its first dynamic iris system, JVC has set a new standard for black level and contrast.
My dad worked on helicopters when I was growing up. In our garage was a picture of the latest Army Chinook, with the tag line "Only the Silhouette Remains the Same." When I started my review of the DLA-X700R, JVC's latest 3D LCOS projector, that phrase came back to mind. The projector looks exactly like my reference DLA-X75R—but on the inside, almost everything is new. After about a month of extensive use, I've discovered that JVC has achieved a massive step up in performance, making their new line of projectors the best they've delivered yet.
It's What's Inside That Counts
The DLA-X700R is the same size as last year's DLA-X75R and has the same shape and piano black finish. An auto lens cover opens when you turn on the projector. JVC has eliminated analog video inputs from the back panel, leaving only a pair of HDMI inputs. You'll also find an Ethernet connection for remote operation from an IP-based remote or even JVC's new iOS and Android apps. There's also a standard wireless remote, of course, plus an RS-232 connection for more traditional, custom remote systems. A 12-volt trigger, a 3D sync connection, and basic controls for operation are there as well.
The HDMI inputs on JVC's new 4K-rated projectors now accept native 4K video signals, albeit with some caveats. First, this isn't a native 4K-resolution projector; the new generation of JVCs only implements the company's e-shift technology to increase the number of apparent pixels while still using native 1080p D-ILA display chips.
Second, given the timing of the projector's release late last year, JVC (along with most other manufacturers) had no choice but to use the HDMI 1.4b standard for the HDMI inputs. The full HDMI 2.0 standard that will be starting to appear this year in some products allows for higher resolutions than 1080p, along with more color resolution and bit depth. According to JVC's literature and marketing, the DLA-X700R supports native 4096 x 2160, the full 4K pixel count as defined by digital cinema standards. But that is only true with a refresh rate of 24 hertz. It also supports 3840 x 2160, the resolution promoted as Ultra High Definition, at 24, 25, and 30 Hz. However, in the best-case scenario, the bandwidth of HDMI 1.4b will only support 3840 x 2160 at the higher and more desirable 50- or 60-Hz frame rate at a color resolution of 4:2:0. This is still a common limitation with all of the 4K-capable displays on the market today, but whether it will be enough for whatever 4K content is coming down the pike is anyone's guess at this point.
Furthermore, for the same reason of product timing, these new JVCs (and most competitors' products) have limitations in their implementation of High-Bandwidth Digital Copy Protection. Producers will likely insist on the latest variant for HDMI content protection, HDCP 2.2, for any future 4K content. Sony already uses this with the FMP-X1 4K media server, and compliance may be required for future 4K streaming devices as well. The latest JVC projectors don't support HDCP 2.2, however. At this early stage of 4K content delivery, you would be wise to consider this projector—or any 4K/UHD playback device—based on what it can play back today and not as a long-term 4K device.
Those 4K caveats aside, JVC has made some serious gains here since last year. With the exception of the light engine, the DLA-X700R is an almost completely new design.
The projector features new sixth-generation 1080p D-ILA panels with a claimed 40-percent reduction in pixel gap and improved contrast and brightness. This was obvious right away with my go-to focus pattern: The pixels were much closer together, resulting in a smoother-looking image right up at the screen.
This year's models also feature a new variation of e-shift dubbed "e-shift3." When e-shift is engaged, any signal that doesn't start out at 3840 x 2160 is first scaled to that resolution (using technology JVC calls MPC, for Multi Pixel Control), or cropped to it (for native 4096 x 2160 signals). An A frame and a B frame are created from the 4K data, and, with the projector working at twice the normal speed, the B frame is displayed after the A frame but shifted down and over by a half pixel. The result is four 4K subpixels appearing in the space of one conventional HD pixel, and JVC says it all happens fast enough to trick your eye into seeing 4K resolution.
We've discussed this technology in previous reviews, and this year's version yielded similar results to what I saw last year (see comments below). The biggest changes are the auto modes for content detection and, obviously, the ability to start with a true UHD or 4K input source. The controls for JVC's image enhancement options within e-shift are still here as before, but for some reason they don't appear to have any effect on the image. JVC is aware of this issue and is working on a fix. There are also preset modes designed around the resolution of the content you're viewing.
Gettin' Busy with It
During my time with the DLA-X700R, I looked at a wide variety of content. In some cases, I used the projector's internal scaling for viewing regular HD content with e-shift at quasi-4K resolution. Alternatively, I used my Oppo BDP-103D Blu-ray player or Lumagen Radiance 2041 video processor and fed the projector a native 3840 x 2160 signal to bypass the scaling part of the e-shift process that customarily precedes the frame-doubling. If the DLA-X700R receives a 4K input signal, it simply performs the e-shift process with no scaling. (As noted, full 4K-resolution 4096 x 2160 signals are simply cropped to 3840 x 2160). While the internal MPC scaling used for e-shift was generally good, I did see some occasional moiré patterns in fine detail and even a few jaggies on diagonal lines. A great example of this was the grille on the front of Mack near the beginning of the animated film Cars. With e-shift engaged and receiving a 1080p Blu-ray signal, the grille had noticeable moiré. When I allowed my Lumagen or Oppo to perform the scaling to 3840 x 2160 and fed that to the JVC, the moiré disappeared completely. Artifacts like this didn't appear frequently enough to make it a concern, but I'd suggest that if you use the projector's e-shift functionality, you should test it against your Blu-ray player's or video processor's 4K scaling (if the device has this feature) and judge for yourself.
JVC projectors are known for their native contrast, and the DLA-X700R claims a ratio of 120,000:1, similar to what we saw from the high-end DLA-X95R last year. This is said to be due to improvements in the wire-grid polarizer element in the light engine. But the bigger news is the inclusion of a new Intelligent Aperture, a dynamic iris system that further lowers black level and brings the claimed contrast ratio to more than 1,000,000:1. Just about every projector brand out there now uses a dynamic iris, but this is the first time JVC has brought the technology to their lineup.
In the past, JVC has defended their reluctance to add a dynamic iris system (and the potential for associated problems with image pumping and brightness compression on highlights) by pointing out how good their native contrast has been without it. But I've always hoped they would add one anyway. When you start with high native contrast, you can be less aggressive with your dynamic iris and still get exceptional contrast ratios and deep, deep blacks while reducing the risk of those aforementioned artifacts. We see a lot of LCD-based projectors with extremely low native-contrast numbers using very aggressive dynamic-iris systems that do create a lot of unwanted image artifacts. The only way these projectors can get a really deep black level is to close the iris all the way down, which also requires a massive change in the gamma to make any white or near-white objects look bright and punchy. Unfortunately, this automatic gamma adjustment rarely happens, and what we see instead is an image that is compressed dynamically, with brighter objects looking dim and dull and blacks that are medium-gray at best.
I've experienced only two other projector brands that have done a good implementation with a dynamic iris: Sony and Planar. Sony's iris doesn't do a lot of image pumping or obvious gamma tricks, but it does suffer from brightness compression with dark material like star fields. The Planar 8150 that I reviewed a few years ago had one of the best systems I've seen, but during my time with the projector, I also found a couple of torture tests that showed obvious clipping in the video signal that was a bit harsh.
JVC includes two modes for their Intelligent Aperture system: Auto 1 and Auto 2. Auto 1 uses an S-curve gamma that tries to compensate for both brighter material and darker material with boosts and dips in the gamma. I wasn't a fan of this mode. It didn't seem to help contrast as much with darker material (due to the S-curve gamma), and I noticed more artifacts with the gamma, such as image flicker. On the plus side, this mode has absolutely no brightness compression, even with the darkest material.
Auto 2 doesn't employ an S-curve gamma and instead tries to maintain whatever gamma the projector is set for. It also limits the amount of gain applied to white, based on the position of the lens aperture. This creates fewer artifacts, and it did a far better job with darker images. While I have never seen an absolutely perfect dynamic-iris system (I honestly wonder if one is possible), the JVC's was every bit as good as any system I've reviewed before. Sure, I could trip it up with some torture tests that I've found over the years, but the same thing applies to any system out there. And when it does get tripped up, the JVC system falters more gracefully. There's a great scene in the movie The International that would constantly trip up the Planar 8150's system: You'd get some hard clipping on one of the actors' faces that would create a big white spot on his nose. The JVC also clipped with this scene, but without the color shift to white I saw with the Planar, making the clipping far less obvious and intrusive.
Critically, the DLA-X700R also lets you dial in the manual opening of the lens aperture before you switch to an Auto mode. That's very helpful for viewers who don't need to tap the projector's full brightness, with the lens aperture entirely open. In a completely darkened room, such viewers are likely to be those with a less than gargantuan screen. This means the iris will already be starting out partially closed before its dynamic aperture kicks in, making the iris multiplier in dynamic mode less aggressive. I found that setting the lens aperture to –7 or higher (0 is all the way open, so higher is actually a more negative number) would eliminate the majority of artifacts except those from the most brutal torture tests. But even with the lens aperture all the way open and using Auto 2 mode, I would rarely, if ever, see artifacts in normal viewing. They were limited mainly to brightness compression with white credits on a black screen at the end of movies, abrupt transitions from complete blackouts to high-brightness scenes (usually in trailers), or some mild gamma flicker in mid-brightness scenes.
If I had to make a recommendation for further improvement, it would be to add some modes for even less aggressive use. With this projector's high native contrast, even Auto 2 was more than it probably needed to be, and viewers less sensitive to gamma changes would welcome a less aggressive option. Still, I don't think anyone would be disappointed by the new Intelligent Aperture system. It's one of the most transparent I've seen, and it makes a huge difference in perceived and measured contrast.
In fact, the Intelligent Aperture was so effective, I couldn't even measure the lowest black levels off the screen with the meters I had on hand. I could, however, measure off the lens, and I conducted a series of tests with and without the auto iris. (See Test Bench and the accompanying chart.)
With the lens aperture position fully open, Intelligent Aperture set to Auto 2, and the lamp in high mode, I achieved a maximum contrast ratio of 420,000:1 (measured at the lens), resulting in a peak white level of 20 foot-lamberts when measured off my screen (as taken from a separate measurement). In low lamp mode but otherwise similar conditions (lens aperture open, Intelligent Aperture at Auto 2), I measured 344,000:1, with a resultant 14 ft-L on my screen. Both of these measurements were over 10 times higher than what I measured without the dynamic iris system. Needless to say, the black floor with this system engaged is jaw dropping.
Previous Experts Need Not Apply
I've set up, reviewed, and even owned a good number of JVC projectors over the years. Until now, JVC's menu structure has been like my drive to work: always the same and always predictable. But the company's engineers shook things up this year and almost completely revamped the menu structure. Some key controls are more buried now, but, thankfully, a lot of the new menus are accessible directly from the slightly rearranged remote control. You can access not only the direct setup modes but also the new Advanced menu that contains the bulk of the important setup options.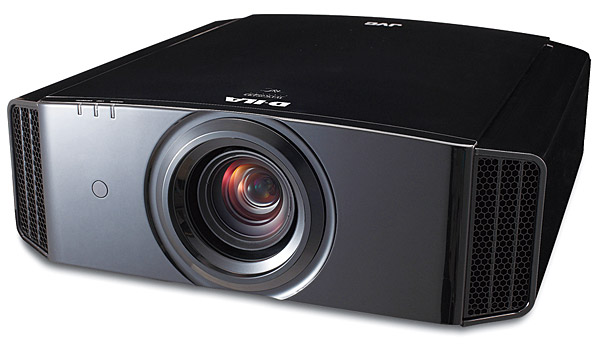 JVC retained a lot of preset options for picture setup, including THX-certified picture modes for both 2D and 3D playback. The THX preset is already about as accurate as one could hope for right out of the box, and I found myself using this for both 2D and 3D playback for the majority of the review. The THX mode does have a few limitations, though. For one, you can only use its preset gamma, which measured in about 2.3, a result that may not be ideal for some people's viewing environment. It also makes the default HDMI mode Super White, which preserves all the digital white values up to 255. The Standard HDMI mode, available to other presets or User setups, clips the white level at digital 235 but gives you about 2 to 3 extra ft-L of brightness if you should need it (along with slightly more contrast). The projector overall was about as bright as last year's DLA-X75R, with the low lamp setting delivering about 14 ft-L (lens aperture all the way open, HDMI mode set to Super White, displaying on a 120-inch-diagonal Stewart StudioTek 130 1.3-gain screen). When I switched over to high lamp mode, the peak white level lifted to 20 ft-L.
JVC has made nice strides in reducing the fan noise of the high lamp mode compared with that of last year's model. While there's still room for improvement, the almost comically loud fan noise heard last year is replaced with more of a rushing air sound typical of quiet fans. It largely disappears at normal listening volume, but it's still detectable in quiet passages or if you actually listen for it. I hope JVC continues to refine this and comes up with a quieter design in line with what we've heard from Sony's projectors.