JVC DLA-X500R 3D D-ILA Projector Review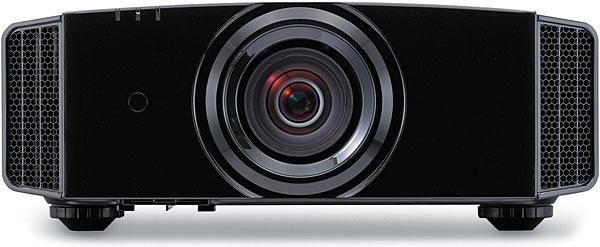 PRICE
$5,000
AT A GLANCE
Plus
Performance close to higher-end models
Excellent dynamic iris
Minus
HDMI slow to lock onto signals
Annoying gamma tracking after 100 hours
THE VERDICT
The combination of the DLA-X500R's performance and value make it a favored pick in JVC's current line.
Last year, I went to the 2014 CEDIA EXPO hoping to see some new native 4K projector options from JVC, but unfortunately, I came away disappointed. For the first time in recent memory, JVC decided to skip the annual model refresh and stick with their already superb 1080p projector offerings. This is understandable, given the embryonic state of the 4K market (and other variables that I'll talk about below). But the line's extra longevity did give me the chance to review what I believe to be the best overall option in JVC's current family, the DLA-X500R. This projector may not have all the bells and whistles of its higher-priced brethren, but it does have what some would call "all the right junk, in all the right places."
A Diamond in the Rough
Last year, I reviewed the DLA-X700R, and I've been using it as my reference projector ever since. It has performed just as solidly as I said in the review and continues to be my favorite projector to date. That aside, I would be more than happy to move to the DLA-X500R, simply because it delivers all the performance of that higher-end model while giving up only a few features that I honestly don't really need. The DLA-X500R looks identical in most regards but lacks the piano black finish, offering a matte finish instead (goodbye, fingerprints!); it also lacks the auto lens cover. Everything else appears to be the same. You'll find the same pair of HDMI inputs (version 1.4b) as well as an Ethernet connection, a link for an RF 3D adapter, and an RS-232 connection. A simple keypad gives you basic operation of onscreen menus if you feel like ditching the remote.
As we saw on the DLA-X700R, the HDMI inputs accept native 4K video signals, but this still isn't a native 4K-resolution projector; the current generation of JVCs only implements the company's e-shift technology to increase the number of apparent pixels while still using native 1080p D-ILA display chips.
Within that limitation, the JVC will accept an Ultra HD input at a resolution of 3840 x 2160 and a frame rate of 24, 25, or 30 hertz. However, at the higher and more desirable 50- or 60-Hz frame rate, HDMI 1.4b can only pass a 3840 x 2160 source at a color resolution of 4:2:0. Ultimately, this may not turn out to be much of a concern because 4:2:0 is rumored to be the likely color resolution for the upcoming UHD Blu-ray format, and it's unlikely that any other UHD consumer delivery system will do better.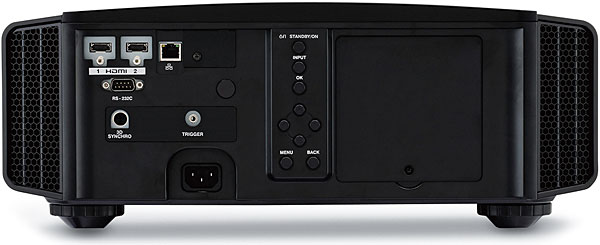 On the other hand, and as we have reported before, the real roadblock to future UHD content will likely be the lack of HDCP 2.2 support, which I suspect is the reason why JVC decided to forgo releasing new projectors at the end of 2014. HDMI chips that support the full bandwidth capability of the HDMI 2.0 spec plus HDCP 2.2 copyright management are only just now appearing on the market, so even product released at the beginning of this year would have been crippled.
The DLA-X500R features the exact same sixth-generation 1080p D-ILA panels that the DLA-X700R does, with a claimed 40-percent reduction in pixel gap and improved contrast and brightness. I saw the same tremendous performance from this review unit as I see with my reference projector, despite the rather sizable $3,000 price difference. In fact, the only difference I saw in the everyday use of the DLA-X500R compared with my reference projector was the lack of a few video presets, most notably the DLA-X700R's excellent THX mode, which is very close to accurate right out of the gate. But even without this feature, I was able to dial the projector in to near perfection out of the box, with only some annoying gamma performance cropping up around the 100-hour mark on the bulb.
Showtime
I got to use the DLA-X500R for about a month before I started writing this review. In that entire time, I never once missed my DLA-X700R. I set up the DLA-X500R to perform every bit as well, with only the most minor hit in native contrast performance—which, I dare say, wasn't even visible while viewing content, despite the numbers.
During the time I had, I took in lots of native 1080p content fed from my Oppo BDP-103D universal disc player and even some gaming on my PS4. All images were viewed on a 120-inch-diagonal Stewart Filmscreen StudioTek 100 screen (measuring 16:9) in a completely light-controlled environment. For the bulk of my viewing, I left the Intelligent Aperture—JVC's name for their dynamic iris—in the manual position with it fully opened. This gave me my desired image brightness of 14 foot-lamberts while still providing more native contrast than any other projector I've ever used, short of my current reference and did use the Auto 2 setting of the Intelligent Aperture's dynamic mode (more on this below) for exceptionally dark material; most of the time, however, the manual mode delivered all the contrast I needed, and I didn't have to worry about the few and far between instances where some color shifting or clipping was seen as a result of the iris.
The highlight audition for me was definitely the Blu-ray Disc of Luc Besson's latest, Lucy. As a whole, the movie is interesting, if a bit hit or miss from a cinematic standpoint. But there was no denying the absolutely stunning photography and reference-quality transfer from Universal, which I would easily rate among my top five for all-time best Blu-ray transfers. Shot with Sony's latest 4K video camera, the movie is absolutely razor-sharp, with incredible color and contrast. And the DLA-X500R was fully up to the task, with some of the sharpest video I've ever seen, and its high native contrast provided a nearly three-dimensional image at times.
Another stunner on the DLA-X500R was Lionsgate's release of John Wick. This was one of last year's guilty pleasures, with incredible action and some great dark humor. It's also a film that has a lot of darker imagery where the ability to reproduce shadow detail and great contrast are imperative. The DLA-X500R was the perfect fit, with exceptional black performance and the same fine detail I saw in Lucy. Maybe I've just been lucky, but it seems like the last few JVC projectors I've reviewed or owned have all delivered crisp imagery with no chromatic aberration issues, fringing, or convergence problems—just tack-sharp images.