KEF Music Lounge Theater: A THX Certified Oasis Page 2
Surround-sound duties are handled by four Ci3160RL-THX in-wall speakers (a shortened version of the Ci5160 with two woofers)—one in the front and one in the rear of each sidewall—and a pair of CI5160RL-THX in-wall speakers in the back wall. The Ci3160s have the same driver layout as the Ci1560s up front but with a 6.5-inch Uni-Q driver. An array of six Ci200RR-THX in-ceiling speakers firing from above convey the Dolby Atmos height channels and (literally) take sonic immersion to the next level.
"The wide off-axis response of our Uni-Q technology gave us some unique flexibility in placing the speakers," Kroll noted. "We were able to put the side and rear speakers higher than normal, which allows direct sound to reach each row without being blocked. Every seat in the house is in the sweet spot—there are no 'king seats.'" The ability of KEF's THX-certified in-wall speakers to play low and loud also made it possible to use lower than usual crossover points: The side and rear channels cross over at 40Hz and the Atmos height channels at 60Hz, while the front channels run full range, allowing for "pinpoint accuracy with precise theatrical steering and Atmos height positioning."
In case you lost count, the theater houses 15 in-wall speakers, powered by five Parasound Halo series amplifiers chosen for their and configuration flexibility and ability to deliver effortless sound at high volumes. A 2 x 400-watt JC5 lights up the front left and right speakers, while an A21+ operating in its 1,000-watt bridged mode brings the center speaker to life. From there, a pair of 5 x 250-watt A51 amps power the six surround speakers and four of the six Atmos height speakers, while a 5 x 180-watt A52+ A52+ drives the two remaining height speakers with three channels to spare. Except for the JC 5, the Parasound amps are all THX Certified, meaning they have passed a battery of rigorous tests to ensure the highest quality audio reproduction.
Classy room aesthetics aside, the most dramatic aspect of the KEF Music Lounge Theater is its 10 subwoofers. You don't see them—all are concealed behind fabric grilles—but you most definitely feel them. (The bass was so powerful at times, that I thought a ButtKicker was attached to the sectional.) The low-frequency assault begins with the 22Hz-capable KUBE 12b, a 16-inch cube housing a 12-inch woofer and 300-watt amplifier. Actually, there are four of them: Two in each of the gently angled walls that join the front and side walls on either side of the video screen. The thunder continues with four 18Hz-capable Ci200QSb-THX in-wall subwoofers, which come packaged in pairs for a total of eight 8-inch woofers, and two KEF Ci3160RLb-THX in-wall subs—boasting three 6.5-inch drivers apiece—in the back wall. All the in-wall subs are driven by three of KEF's KASA500 subwoofer amplifiers, each rated to deliver 2 x 250 watts and bridgeable to 500 watts.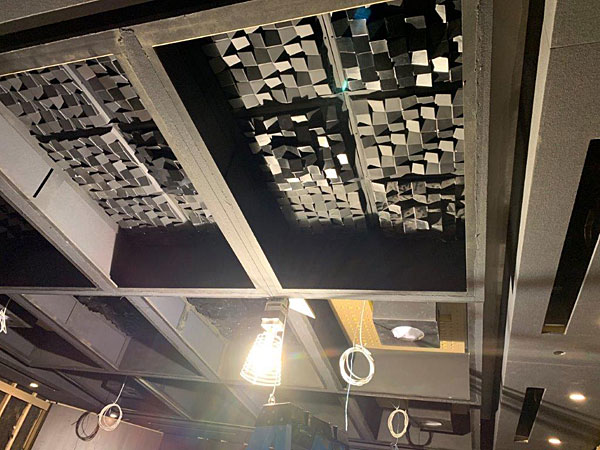 When the AI design team decided to go with six Atmos height channels, they knew they needed a serious A/V preamp/ processor—one that would let them select individual crossover points while managing bass in all channels. They chose the Acurus ACT 4, one of only a few pre/ pros able to meet their demands for flexibility (it has 20 channels), sound quality, and operational simplicity.
As you might imagine, a variety of sources are available for your listening and viewing pleasure in the KEF theater, starting with a NAD CI 580 V2 BluOS network music player and an Innuos ZENith mk3 server on the music side. Movie thrills come courtesy of a Kaleidescape Strato S 4K movie player/server (Sound & Vision Top Pick in 2020), Sony's UBP-X1000ES 4K Ultra HD Blu-ray player, Apple TV 4K, and a Motorola cable box.
Movie viewing in the KEF Music Lounge Theater coalesces around a 13-foot (diagonal) Seymour Screen Excellence Reference Series RF140HD-NEO screen fitted with the company's most advanced acoustically-transparent fabric to ensure sound from the center speaker, located behind the screen, would not be compromised. "We chose a woven screen so there would be no shift in frequency response compared with the front left and right speakers, which were placed just outside of the screen to improve stereo separation," Kroll explained, noting that perfo- rated vinyl screens require equalization to compensate for shifts in tonal balance.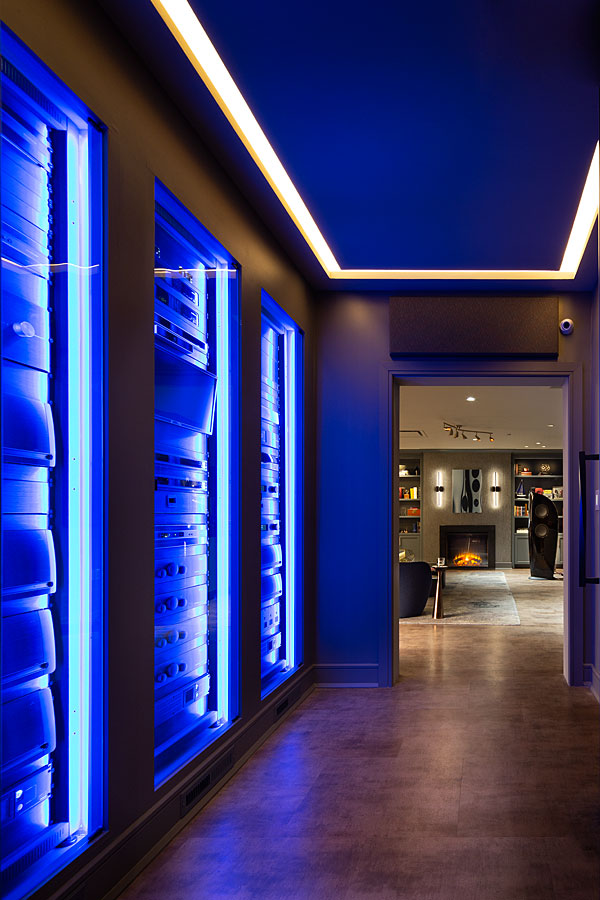 Epson's flagship Pro Cinema 6050UB projector illuminates the screen with stunning 4K images. Kroll would have preferred for it to be enclosed but the 2-foot-thick structural concrete wall at the back of the theater made that impossible, so it had to be mounted on the ceiling. Fortunately, the projector is dead quiet and located at the last row of seating so it's not visible when you're watching a movie.
All the A/V gear is showcased in three Middle Atlantic racks located in an alcove off the hallway between the music lounge and theater, which as it turns out, was not the ideal location. "We had an awkward challenge in positioning the racks," Kroll explained. "We wanted them to be dead center between the theater and music lounge but that exact point happened to be in the restroom!" The solution: Run with it. The installation team ended up creating a space for the equipment between the hallway and bathroom.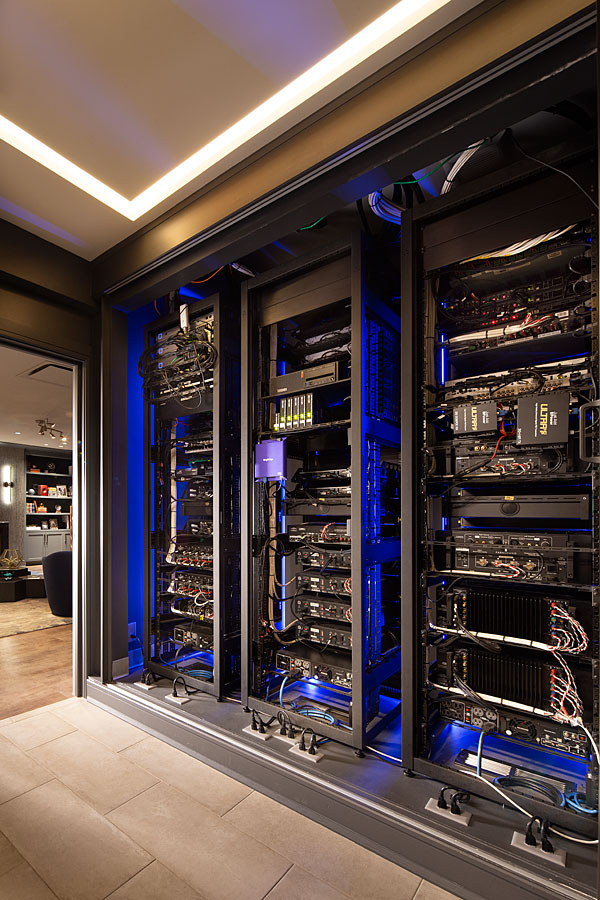 "From the hallway you can pop open the glass doors to access the front of the equipment, which is tight to the wood framing so you can't see through," Kroll said. "But for those of us who want to gawk lovingly at the gorgeous workmanship behind the racks—or really, to have an easy time servicing units when needed—a custom-built oversized sliding wood door system opens in full on the bathroom side to completely reveal the inner artistry of the wiring. It's amusing to get a cluster of people in the bathroom to hear their reaction when we pull the doors back to showcase this."
So, I wanted to know, as I'm sure you do, what it cost to design and build theater of this caliber? Upwards of a half-a-million bucks when you factor in design, engineering, installation, the cost of gear and, of course, start-to-finish construction. Best to start saving now.
"We set out to achieve a theater experience worthy of the THX Certified logo and what we ended up with exceeded even our wildest expectations," Kroll concluded. Raymond Cooke would be proud.
A/V Equipment List
Epson ProCinema 6050UB 4K video projector
Seymour Screen Excellence RF140HD- NEO 160-inch screen (with acoustically transparent Enlightor fabric)
Video sources: Kaleidescape Strato S movie player/server, Apple TV 4K, Sony UBP-X1000ES 4K Ultra HD Blu-ray player, Motorola cable box
Audio sources: NAD CI 580 V2 BluOS network music player, Innuos ZENith mk3 music server
Acurus ACT 4 A/V preamp/processor
Parasound Halo JC 5 2 x 400-watt power amplifier
Parasound Halo A21+ 2 x 250-watt power amplifier (bridged)
Parasound Halo A51 5 x 250-watt power amplifier (2)
Parasound A52+ 5 x 180-watt power amplifier (2 of 5 channels used)
KEF KASA500 subwoofer power amplifier (3, for in-wall subs)
KEF Ci5160REF-THX in-wall speakers (3)
KEF Ci3160REF-THX in-wall speakers (4)
KEF Ci5160RL-THX in-wall speakers (2)
KEF Ci200RR-THX in-ceiling speakers (6)
KEF KUBE 12b powered subwoofer (4)
KEF Ci200QSb-THX in-wall subwoofer (4)
KEF Ci3160RLb-THX in-wall subwoofer (2)
Accessories & Additional Gear
Networking: Ubiquiti (audio) and Luxul (video)
Just Add Power 518AVP 4K over IP receiver
Just Add Power 717HIFI 4K over IP trans- mitter (2)
Just Add Power 717WP2 4K over IP wall- plate transmitter (2)
Zigen ZIG-PAX digital/analog audio extender (2)
Middle Atlantic BGR-4527LRD equipment rack (3)
Middle Atlantic UPS (uninterruptible power supply) (2)
SurgeX PF-420 branch circuit surge eliminator (3)
Pass and Seymour power outlets
Straight Wire speaker wire and XLR, RCA, HDMI cables
All-in cost of KEF Music Lounge Theater: $400,000-$500,000
Photos: Peter Rymwid Photography