Parasound Halo A 52+ Amplifier Review
PRICE
$2,995
AT A GLANCE
Plus
Ample power for all channels
Dynamic sound
Affordable
Minus
Signal-sensing power-on mode can be fussy
THE VERDICT
Parasound's new five-channel amplifier is a versatile performer, delivering clean power with ample headroom for both movies and music.
While attending the 2017 CEDIA Expo in San Diego, I happened upon a small European audio electronics manufacturer that was showing a prototype five-channel amplifier. When I asked why the company was planning to release a multichannel amp after many years of making stereo-only gear, I was told matter-of-factly that home theater was "making a comeback." A comeback? To me, home theater had never gone anywhere, so I found the response surprising.
It was only later in the discussion that the deeper meaning of the statement became clear: Home theater is making a comeback at the entry level. By "entry level," I don't mean $200 soundbars. Instead, the growth of Netflix, Amazon, and Vudu is fueling interest in affordable, high-quality audio gear. How? Streaming services are giving people who maybe wouldn't have partaken in the past an opportunity to experience surround sound. They might not own a collection of Blu-rays, but by simply streaming, they now have access to loads of movies with 5.1 soundtracks, and even some with Dolby Atmos or DTS:X mixes.
Parasound may have been thinking along these lines when they engaged the well-known amplifier designer John Curl to create their new five-channel amp, the Halo A 52+ ($2,995). It fills the hole that was left in 2012 when Parasound discontinued the $2,500 A 52. Since that time, anyone looking for a fivechannel amp from the company had to step up to the A 51, a $4,795 model that, at 250 watts per channel, is more than is needed in many systems.

You don't get a plus sign after your name for nothing, and the Halo A 52+ earns that distinction by delivering a specified 180 watts to each of its five channels (all channels driven, continuous, into 8 ohms), compared with the 125 watts per channel of its predecessor. The new amp also features a larger toroidal transformer to facilitate the boost in power. According to Parasound, multiple secondary windings within the transformer provide each channel with an independent power supply, which lets the amp easily meet performance requirements under a range of conditions. As always, see our Test Bench for measurements.
The input stage uses discrete JFETs arranged in a differential configuration to reduce noise. The driver stage has a matched pair of MOSFETs, which Parasound says were "selected for their tube-like sonic qualities," while three pair of 15-ampere bipolar transistors are employed for each channel's output stage. According to the company, the input and driver stages operate in pure Class A mode, and the output stage is Class A/AB.
Parasound opted to give the A 52+ a basic, black look. (Unlike other products in the Halo line, it doesn't have a silver option.) Still, the slightly curved, anodized front panel lends it a degree of flair. Optional brackets are available for rack mounting. The power button is located at the lower left, and there's a row of five blue LEDs, which light up when the amp is turned on and operating properly. The rear panel provides both gold-plated unbalanced RCA inputs and balanced XLR inputs for all five channels. Speaker outputs are gold-plated five-way binding post connectors. A set of controls located above the main on/off switch and IEC power cord jack offer a variety of power-on options, including manual, Automatically12V trigger, and Automatically-Audio. For that last mode, a trim control lets you dial in a threshold level for incoming audio signals to automatically turn on the amp. After 8 minutes with no input signal above that threshold, the amp then automatically turns off.
Setting Up
I carried out most of my testing of the A 52+ in my home theater with the amp driving a GoldenEar Technology system comprising Triton Two powered towers for the front left/right channels, a SuperSat 50c for the center, and Triton Five towers for the surrounds. Other components included an Anthem AVM 50v preamp/processor and an Oppo UDP-203 Ultra HD Bluray player. I also spent some time listening to music in a two-channel system with the A 52+ driving a pair of MartinLogan Motion 20 tower speakers.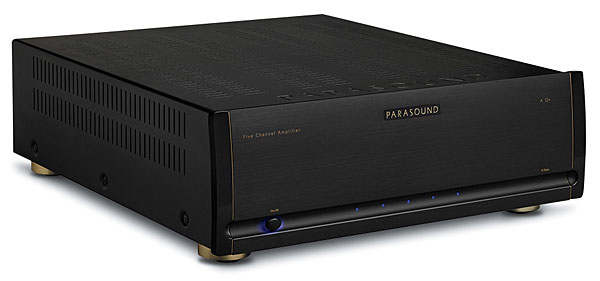 It took some time playing with a number of Automatically-Audio turn-on settings to find one that would reliably power up the amp. Eventually, I fixed on one near the side of the dial, labeled Quieter, which let it turn on consistently from a moderate volume. Once it's on, the color of the blue LED behind the power button changes briefly to red as the amp's internal circuits stabilize. After that's complete (the process takes a few seconds to come out of protection mode), the five blue channel-indicator LEDs light up, and the amp is ready for action.
Performance
Getting the chance to see Christopher Nolan's World War II film Dunkirk in my local IMAX theater was a visual treat. But I found the soundtrack to be just as engaging, mostly due to Hans Zimmer's score, which is equal parts stirring and unsettling. At home, I cued up the film on Ultra HD Blu-ray in DTS-HD Master Audio 5.1. In a scene where a British rescue ship is torpedoed by a German U-boat, the resulting explosion—and the sound of water sloshing from front to rear and back again as the interior cabin floods— ripped across my room, calling all channels into action. The amp's immersive rendering of the pulsing electronic noise in this scene also helped convey the sense of desperation.
The Parasound's ability to effortlessly unleash its reserves served it well in another scene from Dunkirk, where British Spitfires engage in an intense aerial battle with German fighter planes. In this sequence—yet another where the film's soundtrack blends music and effects—eerie layers of strings are punctuated by loud blasts of fire from the planes' guns. The A 52+ served up the intense dynamic contrasts in a manner that literally caused me to sit up straight on my couch.
Multichannel music was also handled well by the Parasound. When I played "Hey Boy Hey Girl" from the Chemical Brothers' live performance Blu-ray, Don't Think, the beats sounded tight and had a powerful envelope. The squelchy synths displayed a solid trajectory as they drifted from the front to the rear of the room, and there was a vivid sense of being surrounded by a cheering festival crowd. I also heard impressive dynamics in the buildups and drops where the song would climax, cut to silence, and then aggressively lurch back into a beat.
Moving the A 52+ over to my stereo system with the MartinLogans, I listened to a Tidal stream of "Guinnevere" by Crosby, Stills & Nash. The vocals came across as intricately layered, and the acoustic guitars had a clean, upfront quality. Although there was some warmth to the midrange, I wouldn't say the sound was tube-like, whatever Parasound meant by that. I mainly heard excellent clarity and image depth.
The control and immediacy of the A 52+ made another track shine: "Good on the Ground" by the Vijay Iyer Sextet. In this freeform jazz cut, the saxophone and piano struggle for dominance over a driving layer of standup bass and drums. When I listened with the Parasound and MartinLogan combination, all instruments were distinctly conveyed, and the drums in particular had a muscular presentation. The standup bass seemed a bit softened in attack compared with the sound put out by my reference amp on this track, but overall I was impressed by the bass control I heard with most music.
Conclusion
Listening with the Halo A 52+ in my system was a pleasure. Parasound's new five-channel amp delivers clear, dynamic sound and has plenty of headroom to handle the explosive effects in movie soundtracks. Stereo and multichannel music also sounded great with the A 52+, making it a versatile all-around performer for entry-level and advanced home theaters alike.