Legacy Audio i·V 7 Seven-Channel Amplifier
PRICE
$7,950
AT A GLANCE
Plus
High power output
Optimized power supply layout
Classy looks
Minus
Pricey
THE VERDICT
Legacy Audio's i·V 7 offers seemingly unlimited multichannel power in a relatively compact, upscale package.
I first encountered the i·V 7 seven-channel amplifier at CEDIA 2019, where Legacy Audio founder and chief engineer Bill Dudleston was displaying it alongside the company's many freestanding and on-wall speaker offerings. Although Legacy Audio is best known for those real wood-finished speakers that it designs for the high-end home and pro audio markets, the company also has an impressive portfolio of electronics, including the Powerbloc2 and Powerbloc4 Amplifiers that Sound & Vision reviewed back in 2017.
With the 2- and 4-channel domains covered by the Powerbloc pair, the logical next step would be to develop more-channel options to handle the system expansion that Dolby Atmos and other immersive formats require. The i·V family of amps, which are available in configurations ranging from two to eight channels, is that next step.
Similar to the Powerblocs, the new i·V (representing power as the product of current x voltage) models are based on class-D amp technology from Denmark's ICEpower a/s, a company that was originally founded to design built-in amplification for powered Bang & Olufsen speakers. What's new with the i·V line, aside from more flexible channel configurations, is the use of ICEpower's latest-generation ICEedge chipset, a solution also found in Legacy Audio's 4-way Valor flagship, where it delivers an impressive 2,750 watts to the tower's multiple drivers and built-in subwoofer.
Legacy Audio's power output specs for the i·V 7 are no less impressive. The amp is rated to deliver 7 x 610 watts into 8 ohms and 7 x 660 watts into 4 ohms with all channels driven, with 1.2 kW of peak power from any one channel (@ 4 ohms/1kHz with less than 1 percent distortion). With a typical A/V receiver delivering something in the area of 100-150Wpc (typically specified for 2-channels only), do you actually need that much power? According to Legacy Audio, the answer is an unequivocal yes. The i·V 7's user manual includes an essay that explains how increased power is required to deliver the full resolution of today's 24-bit audio formats, which have 35 dB greater dynamic capability than standard 16-bit audio. Dramatically higher power output, the explanation goes, gives listeners the benefit of not just a lower noise floor but increased headroom to deliver upward dynamics, a necessity for proper reproduction of transients in high-res music (or ricocheting gunshots in Atmos soundtracks!).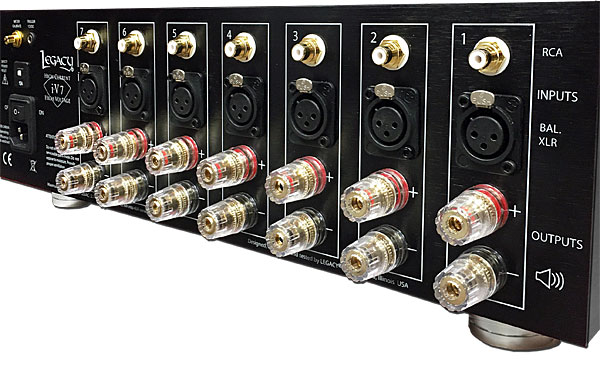 The i·V 7 looks every bit the part of a high-end amp. Its black aluminum case is fronted by a thick aluminum slab featuring a display meter with a blue LED and needle to track input voltage. Copper-colored accents line the meter, and the same accents are used for vents on the amp's top panel. Rear panel connections include gold-plated RCA and balanced XLR inputs for each channel and seven sets of high-quality five-way binding post speaker outputs. There's also an IEC power cord socket and 12-volt trigger input for auto turn-on via a preamp/processor. The main power switch is located on the amp's back panel, while a second switch positioned at the lower right beneath the faceplate provides easy access to manually turn the amp on/off.
While many class-D amp designs take advantage of the tech's efficiency to scale down the product's overall footprint, the i·V 7 is outfitted much like a traditional class-A/B amplifier. The first indication is the i·V 7's regular rack-mount width (3/4-inch rack-mount ears are available as a factory installed option), and the second is its relatively hefty 31-pound weight. Individual power supplies are used for each channel pair in the i·V series, with a total of four provided in the i·V 7. According to Legacy Audio, the large storage capacitors on each board in the amp allow for sustained power as opposed to just peak headroom, and efficiency is 80 percent at rated output—the likely reason for those vents at top and bottom.
Setup
Owing to the i·V 7's power supply layout, the company recommends you make channel assignments in a staggered manner, connecting the front left/right and center speakers to the even-numbered channels and surround speakers to the odd-numbered channels. This configuration lets you maximize the layout for the front channels, which generally require more power than those used for surround and overhead effects.