AudioControl Avalon G4 Four-Channel Amplifier Review
PRICE
$2,200
AT A GLANCE
Plus
Solid performance
Flexible 4-, 2-, or 3-channel setup
Five-year warranty
Minus
Intrusive rear-panel lighting
THE VERDICT
The Avalon G4 may be designed for upgrading systems to the new immersive audio formats, but it's also a fine performer that's flexible enough to satisfy other configurations.
Four may be an even number, but a four-channel amplifier like AudioControl's Avalon G4 might seem like an odd duck to some. With Dolby Atmos and other immersive audio formats becoming more common in the custom install market (where AudioControl, which manufactures products at its Seattle facility, has a heavy presence), however, upgrade-anxious customers will obviously need four additional amp channels to complement the company's existing 5- and 7-channel designs.
I might argue that 50 watts per channel is more than adequate to drive overhead speakers in an Atmos-ready home theater, but that's just me. The Avalon G4 is rated at 230Wpc into 8 ohms and 300 Wpc into 4 ohms. Its four channels can also be bridged into two channels to deliver 600 Wpc into 8 ohms.
Features
The Avalon G4 comes in a sturdy but otherwise plain chassis that's likely meant to be slid into a rack rather than displayed like a totem between front speakers. When it's plugged in, red lights are visible though the openings at the top rear. Power it on and a bar of blue light illuminates the otherwise featureless front panel, and there's blue lighting on the rear panel as well. The front light can be turned down or off if desired, but the rear ones can't be defeated—a potential annoyance. (AudioControl says they have made a running change, with rear-panel light status now linked with the front-panel lights.)
The analog class-H amp weighs a sturdy but manageable 38 pounds, with most of that weight in a large toroidal power transformer. Conventional class-A/B amps have peak voltage available at all times, while Class-H ones adjust the circuit supply voltage depending on the instantaneous requirements of the source material. This improves efficiency and allows the Avalon to run relatively cool. It also employs AudioControl's LightDrive system for anti-clipping protection.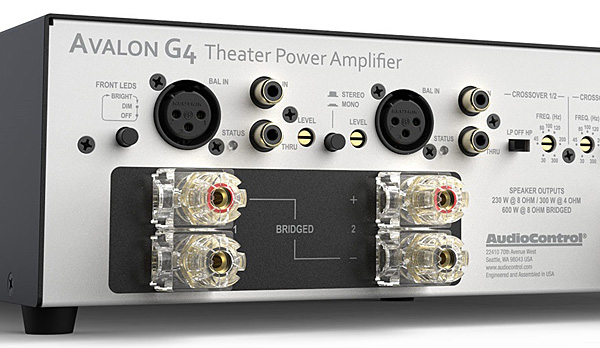 The amp offers both balanced and unbalanced inputs; I used the latter for most of my listening. While balanced inputs can reduce potential noise pickup with exceptionally long cables, the amp was silent with my ear one foot from the speakers when using 25-foot-long unbalanced interconnects to connect my preamp-processor to the amp. There's also a ground lift switch on the rear to eliminate ground loops, but I didn't need it.
I used the amplifier only in conventional unbridged mode, with each channel operating independently. Several other possible modes are facilitated by additional rear-panel features. These include "Through" outputs for each channel that allow it to drive the input of any other channel (such as in bridged mode), thus eliminating Y-splitter clutter. Any channel can also be used to bi-amp speakers. There's also a selectable Low- or High-Pass filter (both not simultaneously). These modes are all thoroughly described in the AudioControl's refreshingly tongue-in-cheek online user manual.
Listening
I initially used the Avalon G4 in two-channel-only mode to drive my Monitor Audio Silver 10 tower speakers full-range with no subwoofer. Later, I used three of its four channels to drive the Silver 10s, supported by a Monitor Audio Silver C350 center speaker and a pair of SVS SB-3000 powered subs, with my Marantz AV8805 pre-pro's high- and low-pass filters set to 80 Hz. The Aperion Novus Bookshelf models used as rear speakers were driven by a separate amp.