Amazon Echo Link Streaming Amp Review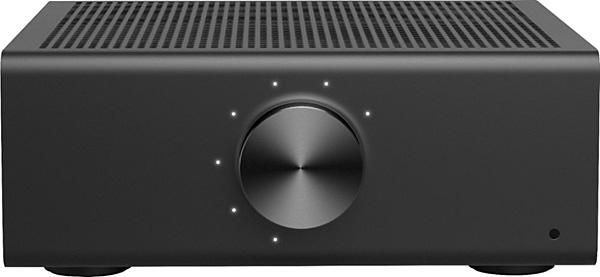 PRICE
$299
AT A GLANCE
Plus
High-quality DAC
Alexa voice control
Includes headphone amp
Minus
Cumbersome input selection
No aptX Bluetooth
No hardware remote control
THE VERDICT
The Amazon Echo Link Amp offers an easy way to connect music streaming services to your existing stereo speakers.
With the new Amazon Echo Link Amp ($299), Amazon is sending Alexa off into unchartered territory. The goal: get music out of the phone and into the home, where it can be shared with family and friends. Such a warm, fuzzy idea! Good thing the Link Amp's sound is crisp, clear, and not fuzzy at all.
The Link Amp is a 2 x 60-watt (into 8 ohms) class-D streaming amplifier that works with existing Alexa devices in your home. By setting it up on the same network as an Echo Dot or any other Alexa speaker, you can stream music from compatible services. You simply select it as your preferred speaker using the Alexa app, or request it every time you ask Alexa to play music. Streaming support includes Spotify Premium, Pandora, Tidal, SiriusXM, iHeart Radio, Deezer, and, obviously, Amazon Music. The Link Amp also provides built-in support for Apple Music, but not for wireless streaming via AirPlay.
The Link Amp is one of the most understated pieces of audio gear I've encountered. Its ultra-compact chassis is adorned in matte black and devoid of logos or buttons. The only front-panel features are a large volume knob with LED lights that momentarily illuminate to indicate when volume adjustments are made either manually or via the Alexa app, plus a 3.5mm headphone output.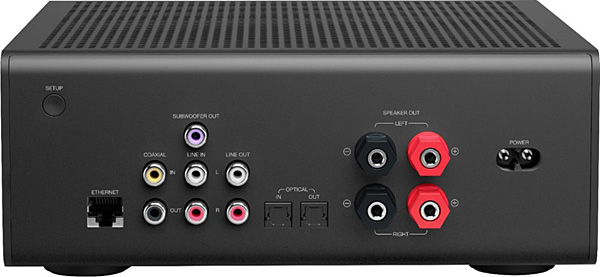 Back panel features include a LAN (Ethernet) port, coaxial and optical digital inputs and outputs, an RCA analog stereo input and output, a subwoofer output, and binding post-speaker connections that are compatible with banana plugs. There is also an "Action" button used for Wi-Fi and Bluetooth pairing.
Setup and Performance
Connecting the Link Amp to my home's Wi-Fi network and Echo Dot speaker was a snap using Amazon's app, while the large binding posts made it easy to connect Polk RTiA3 bookshelf speakers using heavy gauge cable. I also configured things so that the Dot recognized and responded to my voice commands, with the Link Amp functioning primarily as the preferred speaker for music streaming.
The next setup step was to connect my Denon DP-450USB turntable to the Amp's analog RCA inputs and my TV (set for PCM output) to the optical digital input. While the Amp can juggle up to three hardwired sources, I quickly discovered an operational quirk: there's no way to manually select an input source. An auto-select feature prioritizes input sources accordingly: streaming, Bluetooth, optical digital, coaxial digital, and analog. If a source upstream of the one you want to hear is playing, or even powered up, it will take priority. There also isn't a power on/ off button; the Amp is either on or in standby mode when plugged in. I found the lack of a hardware remote to be a problem with the Link Amp. Having to adjust the volume remotely via an app was cumbersome, to say the least, and that applied to switching sources as well. At this price point, a remote control should be included.
Although the Link Amp's specs state that it supports WAV and FLAC files with sampling rates up to 96kHz, it was difficult to feed it high-resolution audio. (Amazon Music just stopped supporting user-uploaded files, so I lost my stored library of high-res albums and tracks.) When listening to music on vinyl, the Link Amp's sound was full, dynamic, and completely transparent, with minimal distortion even at the loudest levels. I checked out Herbie Hancock's River: The Joni Letters, and the piano sounded strikingly clear and percussive. Streamed tracks were more compressed-sounding and lacked dynamics, but I blame the source in that case. (Switching to Spotify Premium with its higher bitrate helped the situation.)
Conclusion
The Amazon Echo Link Amp is a good way to bring both music streaming and Alexa's convenience to a pair of passive speakers. Still, Amazon could have added more features like a remote, power switch, and better input selection to make it a total winner. But if you find yourself regularly listening to music through a basic smart speaker, the Link Amp offers a compact alternative that's big on sound quality.