Parasound 5250 5-Channel Power Amplifier
I love big, beefy power amplifiers for the same reason I enjoy high-performance automobiles. An economy car will get me to my destination, but it's just not as much fun.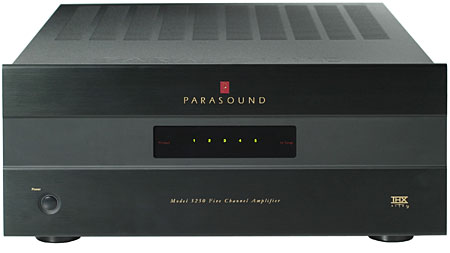 Like a muscle car, a first-rate home theater requires top-notch performance from all of its components, especially the power amplifier. To reproduce today's dynamic digital sources, an amp must produce enough voltage and current to handle the most demanding signal peaks, it should respond with speed and agility when the source signal requires, and it should have transparent sound qualities as if it weren't in the signal path.
With these requirements in mind, I tested the Parasound 5250 5-channel power amp in my system to find out how it handles on the home-theater highway.
Features
The 5250 is from Parasound's New Classic line of home-theater electronics. Each of the amplifier's five channels is spec'd at 250 watts into 8 ohms (385W into 4 ohms) and has a peak current output of 45 amperes. Its Class AB design employs fully discrete devices (separate transistors rather than integrated circuits) backed by two toroidal power supplies.
The 5250 is THX Ultra2 certified, which means it has been designed and certified to play at reference level in a calibrated home-theater setup. According to THX, an amp with Ultra2 certification must meet multiple performance requirements, including—but not limited to—minimum voltage, current, and transient output capabilities, frequency response, crosstalk levels, harmonic distortion, and noise. In fact, practically every performance aspect of an amplifier is scrutinized before a component is granted THX certification.
A display on the front panel shows the status of each channel. If one or more channels are not operating, the lighted numerals change from green to red. Hi-Temp and Protect indicators also illuminate if there is a problem such as overheating, short-circuited speaker wires, or other anomalies.
The Parasound 5250 includes useful custom-installation features, such as selectable auto power-on from a 12-volt trigger or by sensing the presence of an audio signal. The latter circuit has an adjustable signal-sensitivity control and automatically turns off the amplifier after 15 minutes if no signal is present.
The Ground Lift switch is useful for eliminating ground hum that can plague a home-theater system. I've dealt with ground-hum problems many times, so this feature got my attention. Ground hum can result from multiple ground paths from components connected to the same AC circuit. The Ground Lift switch electronically disconnects the audio-circuit ground from the chassis ground to eliminate ground hum, but it was not required during my testing.
The 5250 is four rack units high, and an optional rack-mount kit is available from Parasound.