Legacy Audio i·V 7 Seven-Channel Amplifier Page 2
In the 5.1.2 speaker configuration I mainly used for testing, a set of Focal Chora 826-D towers and a Chora Center speaker were connected to channels 2, 4, and 6 on the i·V 7. Channels 1 and 3 were used to power the upfiring drivers on the Atmos-ready 826-D towers, while channels 5 and 7 powered a second pair 826-Ds used as surrounds. A Marantz SR6014 A/V receiver served as the preamp-processor, with the i·V 7 connected to its line-level preamp outputs. I did additional stereo listening in a separate system with the i·V 7 driven by a Hegel H190 integrated amp's preamp outputs and connected to a pair of JBL HDI-3600 tower speakers, a 2.5-way model with three 6.5-inch woofers. Music source was an Elac Discovery DS-S101-G Music Server running Roon music library and management software.
Movies Performance
After using the i·V 7 for an extended period of casual listening with my normal speaker setup, the review process kicked into high gear once I received shipment of the Focal 5.1.2 speaker system. Watching Darren Aronofsky's semi-experimental feature Mother! on Ultra HD Blu-ray with Atmos, in a scene where the poet (Javier Bardem) is nailing the door to his office shut, the sound of his hammering from the house's second floor landing had a powerful impact and resonated hugely in the cavernous, circular space. In a subsequent scene where the houseguests' sons argue and have a physical altercation, their stomping across the floorboards was frighteningly realistic, while the shifting of shouted dialogue from speaker to speaker as the camera perspective circled them was conveyed in a solid and continuous arc.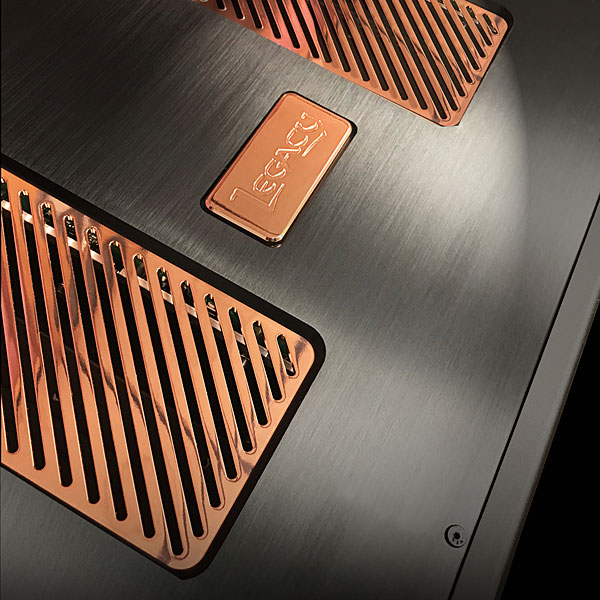 At this point in the review, I might be expected to reach for a Transformers-type movie to further gauge the amp's capabilities, but the Mother! soundtrack in the film's final third is about as dynamically over-the-top as any action epic. When the poet's fans and followers storm the house and start smashing stuff, soon to be followed by a paramilitary force shooting and lobbing grenades, the impact of furniture tossed through windows and bombs collapsing the adjoining walls proved seriously hair-raising. Needless to say, the i·V 7 delivered big-time on its promise of unlimited-seeming peak dynamic power.
Another disc I was eager to watch on the system with the i·V 7 was Hanna, an action thriller form Joe Wright, a director better known for his adaptations of literary classics like Anna Karenina and Pride & Prejudice. Hanna has a solid DTS-HD Master Audio 5.1 soundtrack that really cuts loose in the many action scenes. One great example is a sequence where the character Hanna is being chased by skinhead thugs through an industrial area filled with shipping containers. As their boots stomped on top of the containers during a chase, it was accompanied by a powerful metallic slam, while the impact of fists and feet after Hanna goes full Bruce Lee on the thugs had a similarly strong impact. A cutaway shot of the group's leader quietly whistling on the outskirts created a stark contrast with the mayhem within. After, as the score by The Chemical Brothers gradually reached a crescendo, the mix of whistling, fighting, and blaringly loud electronic music was conveyed with excellent clarity by the i·V 7, even with the volume turned up to a stupidly loud level.
Music Performance
When I later moved the i·V 7 into my music-listening room and connected it to the JBL tower speakers, the amp proved whisper-quiet once I powered everything up for playback. Listening to "Alexandra," (16/44.1 FLAC, Tidal) a track by British singer-songwriter Laura Marling with an early 1970s-era Joni Mitchell vibe, I was struck by the intimate, warm, and completely unstressed quality of the sound. Vocals were full and rich, and the acoustic guitar, electric bass, and drums all came through distinctly in the mix.
Playing something more challenging such as the track "Hudson" by jazz supergroup Hudson from its self-titled album (24/44.1 FLAC, Qobuz), the interplay between Larry Grenadier's standup bass and Jack DeJohnette's drums was thoroughly dynamic, with the slapped strings of the close-miked bass cleanly delineated from the hi-hat cymbal and snare hits. In listening comparisons with the 2 x 150-watt Hegel integrated amp, the i·V 7 delivered firmer control over the low end, fleshing out the individual bass notes while maintaining a strong foundation. Meanwhile, John Scofield's electric guitar floated above everything, coming across as clean without being overly crisp.
Kraftwerk's "The Telephone Call/House Phone" from the album 3-D The Catalogue (24-bit/44.1 FLAC, Qobuz) is a track I had fun with when upmixed for Atmos in my home theater, but I also wanted to hear how it would come across in straight stereo. Played on the JBL towers with the i·V 7 amp, the mix sounded lively and well-layered, with a clean partitioning of samples and voices across the soundstage. Here again, the bass came across as dynamic and deep, and there was a taut quality to the presentation that added clarity and focus.
Conclusion
At just over $1,110 a channel, Legacy Audio's i·V 7 isn't what I'd call a budget home theater amplification option. If sticking to a strict budget is primary on the agenda, you can find suitable seven-channel amps in the $2-3,000 range that will easily see you through action-fueled Atmos soundtracks. That being said, they won't pack the immense power reserves that the i·V 7 has on tap.
Does that extra power make a difference? In my listening, it certainly did. Action movies with explosions and shouted dialogue sounded effortlessly dynamic via the i·V 7, while stereo music played on a tower-based rig had a notably clean presentation with taut, well-controlled bass. The i·V's exceptional build quality and good looks—allow me to remind you of that blue-backlit tracking meter—also make it an amp you'll want to display out in the open as opposed to hiding away in a rack (though you get that option as well). Wrapping up, the i·V 7 sounded great in my system and comes highly recommended if you're seeking a multichannel amp that offers not just an ordinary, but extraordinary performance.