Hollywood Comes Home Page 2
The makeover started with replacing the workstation at the front of the room with a custom-built cabinet featuring a Middle Atlantic slide-out A/V rack with thermostat-controlled fan cooling and three compartments for storing movie discs, "floating gear" (including Oberlin's Nintendo console), and assorted accessories—all behind classy louvered doors. Two of the compartments have slide-out shelving and there's even a charging station for 3D glasses. The compartment on the far right was actually built to house a subwoofer, which it did for a time, but now serves as an additional storage space.
"The biggest challenge was the size of the space," Oberlin explains. "I didn't want the room to feel crowded, so to keep it open and comfortable I invested in the custom cabinet and an appropriately sized couch and seat. I would have preferred typical theatrical seating, but it would have taken up too much space. After all is said and done, I love the informality of it."
The room had been prewired to accommodate "all of the typical theatrical speaker locations," except for height speakers, which meant Oberlin had to run wiring for ceiling speakers and the video projector he planned to locate in the back of the room. It was a "grueling process," but one he knows all-too well, as retrofitting existing rooms is the mainstay of his installation business. Cosmetic updates include swapping out the old wall sconces for "more theatrical" fixtures and re-wrapping all of those acoustic panels in gray velvet to match the room's new carpet and freshly painted ceiling and walls.
Oberlin set his sights on achieving an "uber-high-quality cinema experience" for his new theater, which ultimately led him to a 7.2.4 Dolby Atmos audio setup with 15 speakers, including two subwoofers, and a 4K high dynamic range (HDR) video setup featuring Epson's 6050UB 4K Pro-UHD video projector—his choice over the far more expensive Digital Projection E-Vision 4000 he also auditioned—and a Screen Innovations 120-inch (diagonal) Pure Gray acoustically transparent (AT) screen that's almost as wide as the room itself.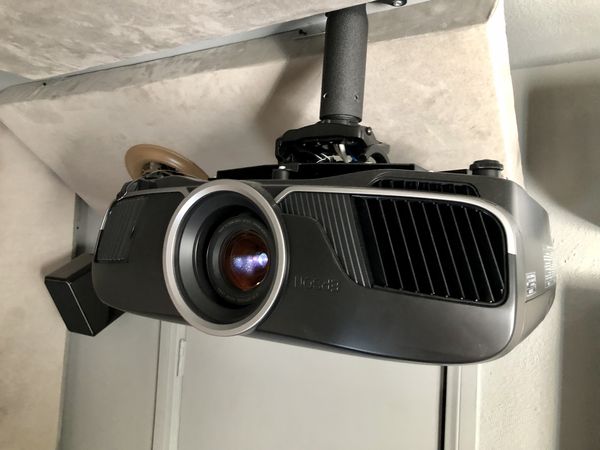 Finding the right combination of projector and screen was critical to Oberlin's mission. "We tried one of SI's ALR (ambient-light-rejecting) AT screens but having the projector so close to the screen [about 12 feet away] rendered its light rejecting properties ineffective—it actually produced a darker picture than the normal .85-gain screen we swapped it out with," Oberlin informs, adding that troubleshooting with the manufacturer revealed that the problem was the result of a short throw distance coupled with an exaggerated vertical offset that pushed up against the limits of ALR technology. "I'm more concerned about contrast and color reproduction than brightness and the Epson offers a stellar picture, even when paired with a low-gain screen and some ambient light." Despite the praise, the videophile within is already scheming on upgrading to Epson's new LS12000 laser projector.
With multiple speakers in a relatively small space, the speaker setup is ambitious. It starts up front with the three Origin Acoustics Marquee M5500OW speakers that assume left-, center-, and right-channel duties from behind the screen. The flagship model in Origin's Marquee Collection, the 5500 is an on-wall LCR design housing two 8-inch woofers, two 5-inch midrange drivers, and a 1-inch titanium tweeter in a low-profile enclosure 44 inches long (or wide). They may be only 4.25 inches thick but they are beasts as far as Oberlin is concerned, so much so that he had to reinforce the wall that supports them.
From there, it's Episode 500 Series SAT bookshelf speakers all the way. Ten of the compact two-ways—each of which mates a 4-inch woofer and 1-inch titanium-dome tweeter in a ported enclosure about 8 inches tall—are deployed around the room in surround- and height-channel positions: two on each side wall, two on the back wall, and four on the ceiling. "I didn't want to penetrate the walls with in-wall/ceiling speakers so I had to get crafty," Oberlin explains. "Aesthetically, I didn't mind seeing the speakers but I didn't want them to be overly intrusive either. I was able to figure out a mounting system that works well."
Subscribing to the philosophy that multiple subs is always the way to go, Oberlin completed the speaker lineup with a pair of Origin Acoustics SUBDD12EQ powered subwoofers, the top model in its Deep series. Each sub is app controllable and spec'd to play down to 17Hz with two 12-inch woofers and a tuned passive radiator in a roughly 18-inch cube that also houses a hybrid class AB/class D BASH amplifier rated to deliver 1,200 watts (peak). They are symmetrically situated in the front of the room with both sitting a few feet out from their respective corners.
At the heart of the system is a well-appointed AudioControl Concert Series XR-8 A/V receiver that decodes all of the immersive audio formats—Dolby Atmos, DTS:X, Auro-3D, and IMAX Enhanced—in addition to supporting Dolby Vision HDR. The AVR also provides Dirac Live calibration software along with seven powered channels, each rated to deliver 120 watts continuous. Oberlin tapped those channels to power the Origin Acoustics LCR speakers plus six of the 10 surround speakers (the two speakers on each side wall are wired in parallel and driven by one channel). An AudioControl Architect P800 amplifier operating in its 4 x 400-watt bridged mode drives the four ceiling-mounted height speakers.
Though Oberlin could easily write another article on how he used Dirac Live to improve the sound of his system, suffice it to say, despite a fairly steep learning curve, he was delighted with the results and found Dirac to be far superior to the Yamaha Parametric (room) Acoustic Optimizer (YPAO) calibration system in the Yamaha AVR he had been using prior to transitioning to the AudioControl XR-8. "Dirac LIVE is very different from YPAO, employing much more sophisticated algorithms, including support for multiple subwoofers," he advises. "Its bass-management compensation helped us out with some nasty room modes."
The software also helped Oberlin overcome an acoustics issue of having "a little too much absorption at the high end and not quite enough below 100Hz by allowing me to boost the inherent dip at 4kHz (important for voices) and mitigate the bass issue." After all is said and done, the room sounds amazing, even at reference-level listening! Ear fatigue is minimal, the bass is tight, and spatialization from the Atmos setup is really impressive."

When it's time to watch a movie or play a game, the Oberlin family has a half-dozen sources at their disposal. The arsenal includes the Panasonic DP-UB9000 Ultra HD Blu-ray player (a 2019 Sound & Vision Top Pick), Nintendo Switch gaming console, and a handful of streaming devices: a TiVo Mini Vox (which taps into a TiVo Bolt DVR with a WeaKnees 3-terabyte external hard drive), Apple TV 4K, Roku Premiere+, and Nvidia Shield. "I use the Kodi app on the Nvidia Shield to access files on my NAS where I have accumulated quite a library splash screens from Dolby Digital/Atmos, DTS, IMAX, and others, which are lots of fun and great for showing off the system," Oberlin says.
The inveterate tweaker that he is, Oberlin found the HDR Optimizer feature in the Panasonic player to be effective in keeping extreme high-dynamic range flourishes in check. "HDR is still challenging to watch, but that's true of any current projection-based setup," he observes. "Panasonic's tone mapping is very helpful in getting decent HDR playback with disc-based content, though it would be nice if the player had an HDMI input so I could take advantage of the feature with my Apple TV or another piece of source equipment."
RTI's customizable T2x remote control presides over the entire A/V system as well as the three rows of track lighting connected to Lutron's Caseta wireless control system, which itself enables voice control via an Amazon Echo smart speaker or smartphone app. Adding a bit of magic to the home movie viewing experience, Oberlin tied the Caseta smart bridge into RTI's logic so he could create a series of automation scenes. When a movie starts, for example, the lights fade to black and when you hit pause for a snack break, the lights gradually fade up until they reach 25% brightness. The remote also controls the LED backlighting Oberlin installed behind the screen. "Some people find backlighting tacky, but when it's done well it adds quite the ambience," he insists.
Keeping it Fun
To spice things up a bit and to add some oomph to gaming and moving watching, Oberlin recently installed a pair of MQB1 Tactile Transducers from Earthquake Sound (a.k.a. "bass shakers") in his comfy sectional. An Earthquake XJ-700DSP amplifier stashed in the service closet brings the shakers to life with immediate butt-massaging consequence, adding a visceral dimension that comes "highly recommended."
Though his personal investment was substantially less because of his access to "demo-level pricing and cheap labor (a.k.a. himself, his wife, and a few of his techs)," Oberlin pegs the cost of building his home theater hideaway in the neighborhood of $100-$125 grand. "It has taken years to get it to this level, and I am sure future sound formats will require more updates, but I'm thrilled with the outcome," he concludes. "When friends tell you they'd rather watch a movie here over the Cinépolis down the street, you know you've got something good."
A/V Equipment List
Epson 6050UB Pro-UHD 4K/HDR video projector
Screen Innovations Pure Gray 120-inch (diagonal) acoustically transparent screen (with adjustable LED backlighting kit)
Panasonic DP-UB9000 Ultra HD Blu-ray player
Apple TV 4K (32 GB)
TiVo Mini VOX 4K streaming media player (fed by a TiVo Bolt DVR)
Nvidia Shield TV streaming device
Roku Premiere+
Nintendo Switch game console
AudioControl Concert XR-8 A/V receiver
AudioControl Architect P800 8 x 100-watt power amplifier (for Atmos height speakers)
Origin Acoustics Marquee Collection M5500OW on-wall speakers (left, center, right front)
Origin Acoustics Deep series SUBDD12EQ powered subwoofers (2)
Episode 500 Series SAT speakers (10, Atmos height and side/back surround)

Additional Gear & Accessories
Earthquake Sound MQB-1 Tactile Transducer (a.k.a. bass shaker, 2 installed in sectional)
Earthquake Sound XJ-700DSP power amplifier (to power tactile transducers)
RTI T2x remote control
Lutron Caseta lighting-control system
Amazon Echo (for voice control of lighting)
Luxul eight-port network switch
RTI PCM-4 port control module (expands I/O from RTI XP-6s control processor for main house)
AVPro Edge 18Gbps HDMI extender kit
WattBox power conditioner
Middle Atlantic SRSR-2-12 slide-out A/V rack
Active Thermal Management Cool-line I fan system
Article Furniture sectional with matching chair