Media Room Insider: Seneca Cinema Page 2
Shake Your Booty
In a move sure to surprise some enthusiasts, our intrepid theater builder installed tactile transducers (a.k.a. "bass shakers") under six of the seven recliners (which explains why he ran electric to the riser). He set up six recliners but added a seventh later to accommodate a group of friends who come over regularly and is planning to add a shaker to it as well. He wasn't looking to spend a ton on this indulgence, so he opted for Clark Synthesis' entry-level TST209 transducers and used a second- hand Crown XLS 2000 amplifier operating in bridged mode to power them. Cost of the shakers and amp: $880—just over 2 percent of the overall spend.
"The TST209s perform exceptionally and can really turn up a movie watching experience to 11," Baturin insists. "You're able to literally feel the T-Rex in Jurassic Park stomping away and feel the shock- wave from Tony Stark's Jericho Missile (Iron Man) reverberate through the chair." But there's another benefit: "I can still enjoy some of what the LFE (low-frequency effects) track has to offer during late-night viewing when my kids are sleeping—I turn the subwoofers off and keep only the tactile transducers on."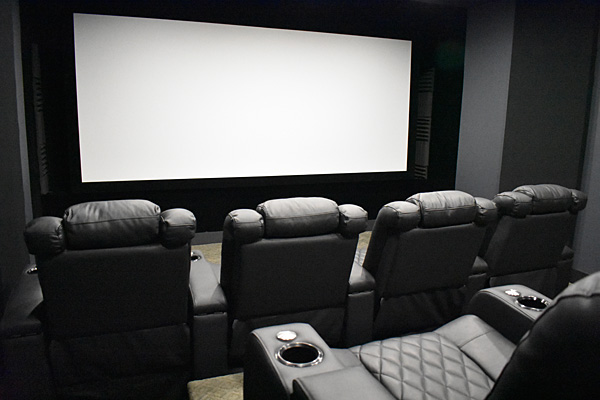 Cinema Cravings
Knowing that movies would be the undisputed king of Seneca Cinema, Baturin made the executive decision to install a fixed-frame screen with a cinematic 2.35:1 aspect ratio (instead of the 16:9 screen he originally set out to buy) and paired it with S&V's 2019 Top Pick of the Year in projectors: the Epson 5050UB, which relies on 2K pixel-shifting technology to achieve brilliant 4K images at an affordable price. "The extra-wide screen provides a better experience most of the time by eliminating the letterboxing above and below the image," while the Epson delivers an "incredible picture with very dark blacks and amazing color" even when the screen is maximized for 2:35:1 movies.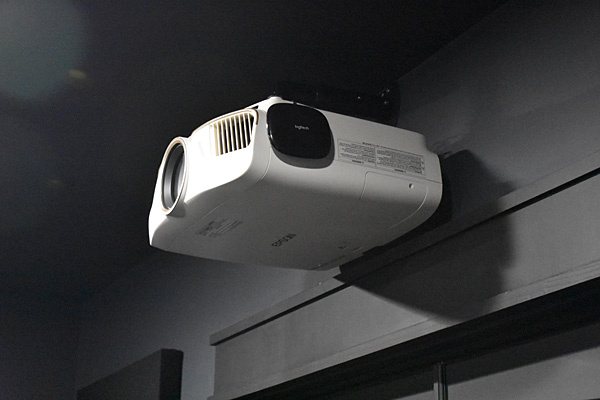 Making a good thing even better, Baturin was delighted to discover the 5050UB projector's screen blanking and lens memory features. "This meant that I could deal with aspect ratios switching during a movie, something that happens often in movies made for IMAX screens and helmed by directors like Christopher Nolan. I set a lens memory to blank off the top and bottom of the image and zoom to fill the screen. While I realize this wastes light and chops some of the picture away, I'm still left with a spectacular-looking image. If subtitles are present, I just watch in 16:9 with pillar-boxing on the sides. The room is fully light-controlled so the pillars aren't visible."
Key system components are readily accessible from a rack Baturin custom-built to fit in a nook hidden behind a dark- tinted-glass door. A Pyle power supply/ surge protector that's tied into a dedicated 20-amp circuit provides 19 total outlets and the gear is kept cool by a super-quiet Panasonic WhisperChoice exhaust fan that runs constantly.
Streaming has improved to the point where much of Baturin's A/V time is spent watching movies or TV using an Apple TV 4K box. "Black Widow on Disney+ is a great example of this," Baturin says. "The soundtrack is crisp and tactile, something previously (and still often) lacking from streamed movies, especially Disney films. The Expanse on Amazon Prime also looks and sounds fantastic." Even so, his venerable Oppo UDP-203 is still king when it comes to picture quality. "A good Blu-ray or 4K disc looks and sounds phenomenal on this player." When it's time to take a break from movies, the family is happy to engage in a little mega-screen gaming on a PlayStation 5, Xbox One X, or Nintendo Switch console.
Everything in the room, including smart lighting, is operated through Logitech's Ultimate One remote and Harmony Hub, which is linked to an Amazon Echo Dot for voice control. An IR receiver above the A/V rack sends the commands from the hub, which is mounted on the side of the projector, to an IR repeater in the AV closet. While this control setup would suffice for most, the IT pro took automation a step further. He programmed the Harmony to run a web service that relays lighting commands via IFTTT when you press Play or Pause on the remote. The commands instruct the nine Yeelight RGB bulbs in the ceiling to turn off when you press Play or to run a scene that dims the rear row of lights when you hit Pause. This is important for safety as the riser steps can be dangerous to navigate without light," Baturin informs.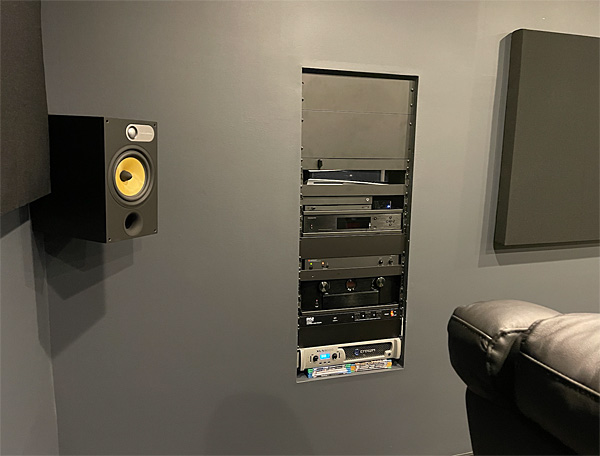 All the hard work and planning paid off. Big Time. "The theater is fantastic and very close to how I envisioned and modeled it," Baturin gushes. "It's like watching movies in a commercial theater. Only it's better because friends and family can do things that are taboo or impossible in a commercial setting—like adjusting the volume and temperature or pausing the movie for a bio break or to refill the popcorn. But more than that, we can feel okay about cracking jokes out loud. It truly feels like a theater, but at home."
A/V Equipment List
Epson Home Cinema 5050UB video projector
Silver Ticket STR-235158-WAB 158-inch acoustically transparent fixed-frame screen (2.35:1)
Video sources: Oppo UDP-203 4K Blu-ray player, Apple TV 4K media streamer
Gaming consoles: Microsoft Xbox One X, Sony PlayStation 5, Nintendo Switch
Marantz SR6011 9.2-channel A/V receiver
AudioSource AMP100VS 2 x 50-watt power amplifier (drives two of the four Atmos height speakers)
Crown XLS 2000 2 x 650-watt (4 ohms) power amplifier (drives six tactile transducers)
Bowers & Wilkins 684 S1 speakers (2, front left/right)
Bowers & Wilkins CM Centre 2 S2 center speaker (1)
Bowers & Wilkins 685 S1 speakers (2, rear surround)
Bowers & Wilkins CWM362 in-wall speakers (2, side surround)
RSL C34E in-ceiling speakers (4, Atmos height effects)
Clark Synthesis TST209 tactile transducers (6)
Rythmik Audio FV15HP powered subwoofers (2)

Additional Gear & Accessories
Logitech Harmony Ultimate One remote control and Harmony Hub
Amazon Echo Dot smart speaker (for system voice control)
Penn Elcom 19-inch x 28U AV rack
Panasonic WhisperChoice Pick-A-Flow 80/110 CFM exhaust fan (AV rack cooling)
Pyle PCO860 rackmount 19-outlet PDU (power distribution unit)
Valencia Pavillion home theater recliners (7)