Media Room Insider: Sedona Paradise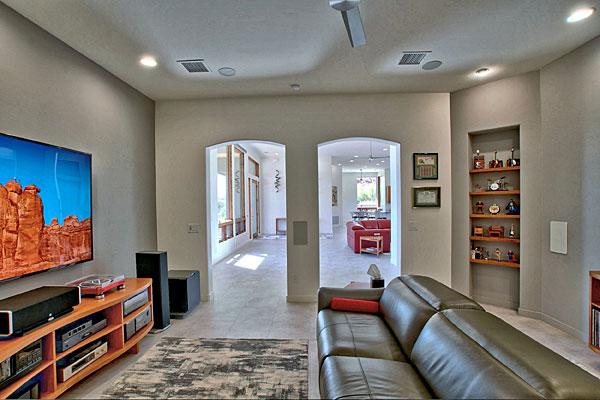 If there's a heaven on earth, it might well be Sedona, the town and breathtakingly beautiful region in northern Arizona famous for its reddish-orange sandstone formations— majestic creations that rise up from the desert landscape and glow brilliantly when the sun rises and sets. Sedona is serene, a place of mystical energy—the embodiment of America the Beautiful. It's easy to see why Wisconsin native John Hayward and his wife Bonnie were drawn there, and why they chose to build their dream home there in 2020.
The Haywards ran a financial planning practice for 35 years but long before that John was a hi-fi salesman and played keyboards in The Rings, a power pop band that shared a talent agency with another Midwest rock group, Cheap Trick. "We used to play the same bars and bowling alleys before they signed with Epic Records," he reminisces. "For every band like Cheap Trick there were 300 bands like ours."
Like many S&V readers, Hayward's appreciation of music fostered an early love of electronics. "I met some audiophiles in the 1970s who introduced me to high-end stereo." It was around that time he subscribed to Stereo Review (predecessor to this magazine), Audiophile, and our sister publication at the time, High Fidelity. "Stereo Review was the bible when I sold hi-fi, especially the annual buying guides." As Hayward's enthusiasm for hi-fi grew, he added subscriptions to Home Theater, AV Interiors, Widescreen Review, and our present-day sister mag, Stereophile.
His unwavering love of cutting-edge home entertainment dates back to the early days of home video. "I'm guilty of owning Blade Runner on Beta Hi-Fi, VHS, LaserDisc, DVD, Blu-ray, and Ultra HD Blu-ray," he confesses. "At least I didn't buy into RCA SelectaVision [the short-lived CED videodisc format introduced in 1981 that used a phonograph-like stylus to read the audio and video]. I owned Pioneer's top end LaserDisc player—with two-sided playback!—and a large collection of LaserDiscs. Unfortunately, the LD format went downhill fast as displays improved and my go-to demos became obsolete. It was frustrating to start over."
For his new home, Hayward wanted an entertainment space that would flow into the spacious main living area. "Our old theater was a man cave," he explained. "A dark, window- less room is fine for enjoying a movie or concert but too somber for watching a football game or listening to music. We wanted a room and system that would work with all of the above. We see the space as an extension of the living area. It's a dedicated theater with an open wall."
The room design—including the equipment stand and matching end tables—is based on Hayward's ideas with input from Kris Hodgkins, an AV design consultant for Wisconsin- based Audio Contractors who had a hand in building the theater in his previous home. "Kris had many good ideas, including locating the system's SurgeX branch-circuit surge protector/power conditioner in a nearby closet, which freed up space in the equipment stand and allowed us to run power connections along the back wall."
The largely stealth installation is the handiwork of Gary Hounslow, founder of Audio Plus in Prescott, AZ, who was recommended by Hayward's builder, Noble Heritage Construction. Hounslow calculated the best positions for the system's 12 speakers and installed its eight in-walls in addition to concealing all of the wiring for the theater and a whole-house music system. "My only contribution was connecting the components," Hayward confides, but he's not being entirely candid. The one-time rocker selected all of components for his new theater. More to the point, "every equipment choice was based on a review in Sound & Vision or Stereophile magazine."
Objects of Desire
While making plans for his new theater, Hayward knew he wanted to take things up a few notches beyond his previous 7.1 setup. "I was curious about [Dolby] Atmos and wanted object-based surround but didn't feel we needed additional width (a la Yamaha) or top layer speakers (a la Auro-3D) in a 17 x 16 x 10-foot room," so he opted for a 7.1.4 layout. Except for a hulking subwoofer, all 11 of the system's Definitive Technology speakers are powered by a Marantz SR8012 A/V receiver, rated to deliver an impressive 205 watts to each of its 11 channels. "The Marantz is a musical amp with high-quality DACs," says Hayward, who is a big fan of concerts on Blu-ray.
At the heart of the system is a pair of Def Tech BP9020 bipolar tower speakers, each comprising a front-firing midrange/tweeter/midrange complement, rear-firing midrange driver, and a powered subwoofer section with a side-firing 8-inch woofer. A CS9060 center-channel speaker, featuring a classic midrange-tweeter-midrange array and its own built-in 8-inch powered subwoofer, completes the front soundstage.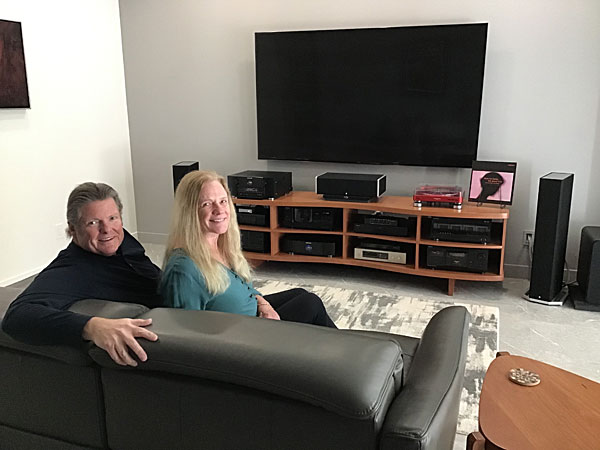 Eight DT6.5R in-wall/ceiling surround speakers—four in the side and back walls and four in the ceiling for the height effects—create the next-level, immersive surround experience Hayward was going for, while a Velodyne SPL-1500R fills in the bottom with earth-shaking bass, courtesy of its 1,000-watt amplifier and 15-inch driver. All of the surround and height speakers are round coaxial designs featuring a concentric tweeter mounted above a 6.5-inch woofer.
"We followed Dolby's standard configuration for Atmos, Hayward advises. "The side surrounds are a little forward from our seating but we were limited by room dimensions. It still sounds great, though, with a lot of aural information flying around—with or without Atmos sources. The upper/mid bass from the 8-inch subs built into the BP9020 towers dovetails nicely with the Velodyne sub. The low-end is powerful with movies yet still fast and musical with concerts."
The decision on whether to go with a bigscreen TV or projection setup was a no-brainer for Hayward, given the open doorways, a viewing distance of only 8 feet, and concerns over whether a projection system could do justice to high dynamic range (HDR) images. And this from a guy who is no stranger to video projection: his previous system paired a JVC D-ILA projector with a 100-inch Stewart GrayHawk screen.
"Once we decided to open the theater wall to the living area, the Sony [XBR-85X950H] was the obvious choice for daytime viewing," Hayward explains. "The [85-inch] screen is shielded by a partial wall and window coverings in the adjoining space give us some control over direct sunlight. Even a sunny day can't wash out the Sony's bright image. While there's something to be said for size, the Sony processing an HDR source is incomparable."
This is especially true when the Sony TV is paired with Panasonic's outstanding DP-UB9000 4K Blu-ray player, one of Sound & Vision's Top Picks of the Year in 2019. "The Sony and Panasonic provide astounding results from 4K UHD discs and the upconversion from standard Blu-ray is very impressive," Hayward says, adding that the TV also does a great job upconverting HDTV streamed through it or delivered via his DirecTV satellite receiver.