Media Room Insider: Sedona Paradise Page 2
The Hayward's home theater space is inviting in a family-room kind of way with no obvious acoustical treatment, apart from a couple of large area rugs that complement the room's medium-gray walls—a color chosen to minimize light reflection. But if you look closely, you'll notice that the subwoofer and center- channel speaker each sit on an isolation pad. "Musicians use these padded platforms to isolate their amps from the stage," Hayward explains. "I used an Auralex Gramma pad to isolate the sub from the floor and a smaller Auralex Subdude pad to isolate the powered woofer in the center speaker from the AV stand."
Other measures were taken during construction to prevent vibration and resonance from interfering with the Hayward's enjoyment of movies and music: "My old theater had two Velodyne subs that would rattle the ductwork at certain frequencies, so we made sure all of the HVAC ducts and vents were triple-insulated. [Builder] Doug Noble wrapped the ductwork with denim insulation and used screws instead of nails to attach drywall."
Much to Hayward's delight, the room is mercifully free of the excessive reverberation and bass problems he feared he might encounter. "I was expecting echo issues from the open wall and standing-wave problems because the room is so shallow—I even wired for a second sub—but to my surprise I didn't have to install any acoustic treatments on the walls. Bass response is uniform throughout—the open wall must allow enough energy to escape." Hayward also credits Velodyne's "outstanding DSP equalizer" and the Audyssey MultEQ XT32 room-correction processing built into the Marantz receiver for helping him attain overall excellent sound.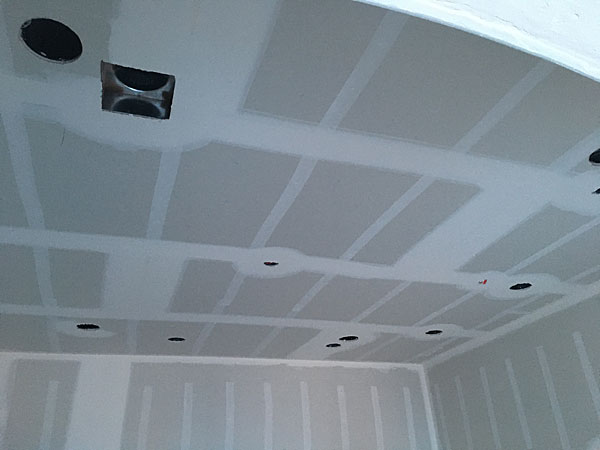 Additional touches include electrical outlets in the floor to "accommodate future expansion" and make the power cord running to the powered sofa recliner disappear. The Marantz receiver and Panasonic disc player are also hard- wired to the home network to ensure a robust connection. "We stream over Wi-Fi through the TV for apps like HBO Max and Disney+ that can't be accessed through the Panasonic player." And for those times when the internet is down—a common occurrence in the rural desert—the Haywards have plenty of old-school music options: They can play one of the more than 600 CDs loaded into five CD jukeboxes/changers, spin vinyl on their Audio-Technica AT-LP60 turntable (paired with a Schiit Mani phono preamp), or pop a CD into the Panasonic Blu-ray player, which provides "superb CD playback."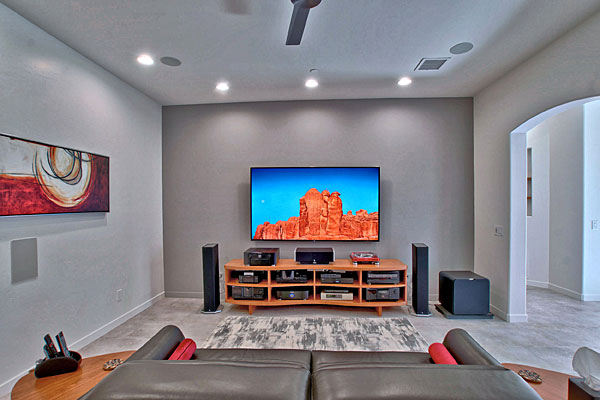 Music isn't confined to the theater space. "We use the receiver's Zone II feature to distribute audio around the house," Hayward says. The preamp output feeds a vintage Pioneer RG Dynamic Processor, which in turn feeds a Marantz MM7025 2 x 140-watt amplifier connected to a TEC TC-714 four-way speaker selector. "I investigated wireless options but, ultimately, followed Kris [Hodgkins'] advice to go with a wired connection, which always sounds better. The Marantz is packed with useful features, including tone controls for the remote zone so I can boost the bass while using the RG processor to add presence." Hayward considered using a separate, low-power amplifier for each of the four listening areas but decided to go with the TEC switch to achieve "unexpected punch and impact" in the selected listening area.
The selector lets Hayward send Pandora Plus, Amazon Music HD, or internet radio streamed through the receiver and controlled via an iPad to one of the four stereo zones in the living room, spa, or outside swimming pool area (two separate zones). Each listening area is equipped with a pair of ceiling-mounted Definitive Technology DI 8R speakers—a coaxial design with an 8-inch "double surround" woofer—and a Niles in-wall volume control. "I've never heard such deep bass from an in-wall/ceiling speaker—especially outdoors," Hayward says.
The Price of Paradise
One of the most impressive aspects of Hayward's home theater is that it only set him back 28 grand, which includes $4,000 for the custom furniture and $5,000 for labor and materials. And he swears he wasn't trying to economize. "The Panasonic UHD player is one of the most expensive disc players out there at $1,000 and the Marantz receiver is powerful, musical, and does everything I need for the $3,000 I paid for it. Ditto the TV. To put things in perspective, I probably spent $5,000 or more over the years for the 600 CDs in those old changers."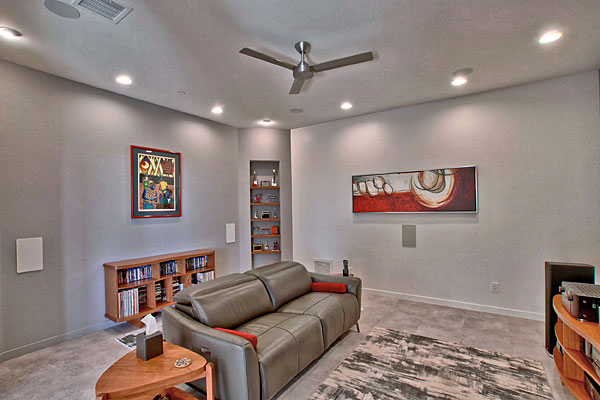 It took Hayward a little while to warm up to Dolby Atmos. "The effect was less profound than I expected, but after living with it I have a new perception of soundstage on all source material, especially music," he says. "It's a subtle but serious enhancement. My previous 7.1 setup delivered a very wide and deep soundstage, due in large part to Def Tech's bipolar speakers, but I didn't feel the back surround speakers added much to the sense of surround, except for the occasional gunshot or maybe a helicopter originating from the rear. With '11.1,' the depth and presence of the soundstage extend up and back, creating a far greater sense of envelopment."
Hayward is especially enamored with the upmixing abilities of the Marantz SR8012 A/V receiver, which he says "creates a soundfield comparable to Atmos and DTS-X" with 7.1 or even 5.1 soundtracks." We own quite a few concerts on disc. Upmixing can provide a greater sense of the concert space, be it a large hall as in Concert for George or a club as with Jeff Beck's Rock'n' Roll Party [honoring Les Paul] or Boz Scaggs' Greatest Hits Live. Jeff Lynne's recent ELO blowouts (Live in Hyde Park and Wembley or Bust) are LPCM stereo, but open up when upmixed in surround."
When asked if he's found an Atmos soundtrack that really shows off what object-based surround sound can do, Hayward replies: "The most impressive presentation I have experienced is the movie Annihilation. The walls disappear and the sense of being in a vast, deep forest is convincing. And when the crew enters The Shimmer, you feel the atmosphere change in strange and foreboding ways. Spatial sense slowly goes crazy along with the crew. It may not be flashy or bombastic but it's one intense soundscape."
A/V Equipment List
Marantz SR8012 11.2-channel A/V receiver
Marantz MM7025 2 x 140-watt power amplifier (second-zone audio)
Panasonic DP-UB9000 Ultra HD Blu-ray player
Sony Bravia XBR-85X950H LCD UHDTV
Definitive Technology BP9020 bipolar tower speakers (front left and right)
Definitive Technology CS9060 center- channel speaker
Definitive Technology DT6.5R in-wall/ ceiling speakers (8, Atmos height and side/back surround)
Definitive Technology DI 8R in-wall/ ceiling speakers (4 pairs for second-zone distributed audio)
Velodyne SPL-1500R powered subwoofer
Audio Technica AT-LP60 turntable (upgraded by LP Gear)
Schiit Mani phono preamp

Legacy Gear
Sony CDP-CX200 and CDP-CX230 200-disc carousel-style CD jukeboxes
Pioneer PD-F904 rack-style 100-disc CD changer
Pioneer PD-F908 101-disc CD jukebox
Pioneer PD-M403 six-disc style CD changer
Pioneer RG-9 Dynamic Processor (second-zone audio)
Accessories, Acoustic Treatments & Additional Gear
Auralex Acoustic Gramma and Subdude isolation pads for (subwoofer and center speaker)
SurgeX SX-2one-RT branch circuit surge protector/power conditioner (dedicated 20-amp circuit)
TEC TC-714 four-way speaker selector
Niles switches and volume controls (remote stereo zones)
AudioQuest interconnects

Design/Installation Notes
Design and construction installation was performed by Audio Plus from Prescott, AZ with assistance from Audio Contractors in Oregon, WI. All in-walls are hard-wired with 14-gauge cable and internet-connected smart gear is wired with Cat 6 cable from a central A/V distribution cabinet.

Total System Cost
$28,000