Jump Start Your Holiday Shopping
Though it might seem early, now is the perfect time to jump start your holiday shopping to avoid getting caught empty-handed as the Christmas holiday season draws near. It's impossible to know how, or if, ongoing shipping delays and component shortages will affect A/V purchases you're mulling, so why take the chance, especially with must-have items?
Delays and shortages are real and interrupting the delivery of all kinds of goods, electronics and otherwise. You could wait for Black Friday deals, but you run a greater risk than usual of facing "out of stock" messages, whether you're shopping online or in stores. And then there's the question of whether big blow-out deals will really materialize. "Early Black Friday" ads and promotions are already in full swing.
Here we present a compendium of Sound & Vision Top Picks with a focus on reasonably priced gear we reviewed in 2021. Most items can be had for less than $500 but we've also included a handful of outstanding TVs that cost between $1,000 and $2,200. All prices are current and may reflect limited-time discounts.
Wireless Earbuds
The latest generation of wireless earbuds make for great holiday gifts — even stocking stuffers — but you have to pick the right one. Here are a few
Sound & Vision
-vetted options ranging in price from $60 to $150 with a pocket-friendly headphone amp/digital-to-analog converter (DAC) thrown in for good measure.
EarFun Free Pro Noise-Cancelling Wireless Earbuds ($60)
At 60 bucks, the Free Pros would make a great stocking stuffer — and not just because they're cheap. One of the three Top Picks in our early summer face-off — the EarFun buds boast a respectable 6-hour battery life with active noise cancellation (ANC) turned on and will treat you (or your giftee) to surprisingly decent sound quality. As reviewer Stewart Wolpin put it, "I was quite frankly stunned by the robust sound…You get bouncy if over-emphasized bass in an otherwise airy, open soundstage."
Though the ANC wasn't as effective as the other buds in our roundup (all but one of which were considerably more expensive), the Free Pros were able to eliminate "around half of the most egregious airplane-engine drone" in Wolpin's listening tests but lack a useful ambient listening mode. And even though there's no app (which might be a good thing), the buds have simple tap controls for navigating playback or adjusting volume and you can listen in mono with a single earbud. Playback doesn't automatically stop when you remove the buds (what do you expect for $60?) but you can charge them on a Qi wireless charging pad. Adding to their appeal, the FreePros are super light and come with four sets of silicone eartips — you barely feel them. EarFun's Free Pro 'buds are an amazing value and perfect for everyday use. Click here for our full review. If you like idea of inexpensive earbuds that sound good, the EarFun Free Pro 2, a smaller, updated version of the original that will sell for $80, is due out November 22.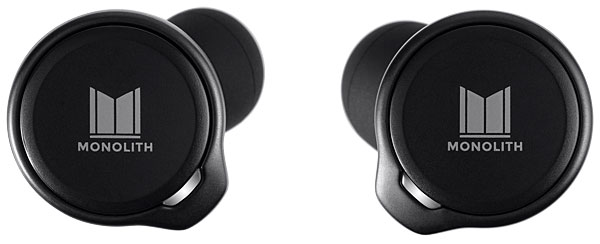 Monolith by Monoprice M-TWE True Noise-Cancelling Wireless Earbuds ($130)
At about twice the price of the EarFun Free Pro earbuds, the Monolith M-TWE earbuds offer a nice step up in sound quality and more sophisticated control over what you hear. All this from an internet-based cable and accessories company that in recent years has expanded into home theater speakers, subwoofers, and other core A/V categories with outstanding results. Monoprice's latest expansion comes in the form of an impressive set of wireless earbuds offering three modes of noise cancellation, streaming via aptX-enabled Bluetooth, compatibility with Sonarworks' excellent SoundID technology, and a robust battery life.
Hands down, the coolest feature of the M-TWE earphones is the ability to use the SoundID app to create a sound profile based on your hearing acuity and listening preferences. Once you download the app and conduct a short listening test, the system generates a unique sonic fingerprint that improves and personalizes your listening experience. Reviewer/professional sound engineer Leslie Shapiro found the M-TWEs capable of delivering nicely balanced sound with tight and punchy upper bass, strong stereo imaging, and a wide open soundstage. Making a good thing even better, the M-TWE earbuds are sweat-resistant and super comfortable, even after hours of listening. Click here for our full review. Watch for price drops. Several weeks ago Monoprice was selling M-TWE buds for $100.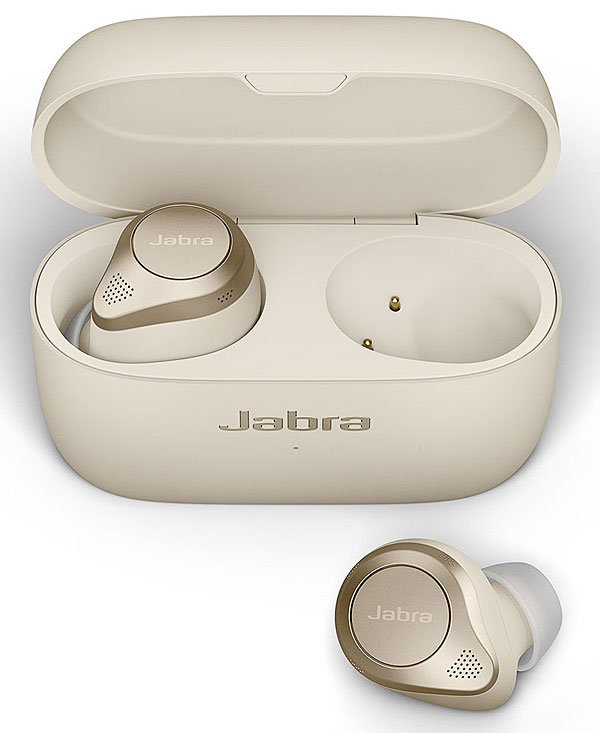 Jabra Elite 85T Noise-Canceling Wireless Earbuds ($150)
A great choice for the discerning music lover on your shopping list, Jabra's Elite 85T earbuds are hard to beat for their current discounted price of $150 — $80 less than list. One of the three Top Picks in our summer face-off, the 85Ts are compact and light, provide effective noise cancellation with an excellent HearThrough ambient-sound mode, and are supported by a robust app. More important, they sound amazing, delivering neutral sound that is spacious yet detailed out of the box. Jabra's sophisticated Sound+ app optimizes the sound based on your hearing acuity and provides a variety of tools, including a five-band EQ, that make it easy to get the sound just the way you like it.
Reviewer Stewart Wolpin raved about the Elite 85t's superior active noise cancellation (ANC) abilities: "Airplane cabin noise virtually disappeared except for a low engine hum and vaguely distant-sounding voices, and that's without music playing. With music playing and ANC set to maximum — you can adjust level along a sliding scale — barely a glimmer of the outside world is left to intrude on your reverie." Adding to their appeal, the Jabra buds are IPX4-rated for water resistance, support Qi wireless charging, and provide 5.5 hours of playback with ANC engaged, or 7 hours with it off. You can even pair the buds with up to eight devices (most models don't even allow two devices to be paired) and Jabra provides a generous selection of silicone eartips. Simply put, the Elite 85t is an all-around winner. Click here for our review and here to visit jabra.com.
THX Onyx DAC/Headphone Amplifier ($150)
Another potential gift for music lovers on the move, this one is for someone who already owns a set of headphones and would appreciate having their headphone listening experience supercharged. THX, the company that's best known for its audio and video certification programs, surprised everyone last spring when it introduced an unlikely first product: a digital-to-analog converter (DAC)/headphone amplifier. Housed in a slim metal case, The THX Onyx is compatible with most headphones and built to handle high-resolution DSD and PCM files (the latter up to 32-bit/384kHz) via an onboard ESS ES9281PRO chip. The Onyx also boasts an MQA renderer to "unfold" streamed or downloaded MQA-encoded music but its crown jewel is the patented 180-milliwatt Achromatic Audio Amplifier, that uses feed-back/forward error correction to keep noise and distortion to a minimum.
Listening to a variety of hi-res music on Tidal over Sennheiser headphones and JVC earbuds, reviewer Al Griffin was captivated by the "impressive drive, detail, and clear separation of instruments and vocals" he heard on Wilco's "Kamera" and the Crosby, Stills & Nash classic "Guinnevere," which came across "precisely layered with acoustic and electric guitars maintaining a distinct presence in the mix." Ultimately, the THX Onyx's strength is in its ability to deliver a layered spatial presentation, which bodes well for portable gaming and movie-viewing. Click here for our full review. The Onyx is available on amazon.com but don't push the Buy button just yet. The price drops to $149 next Tuesday (November 9) where it will stay through November 29th.