THX Onyx DAC/Headphone Amplifier Review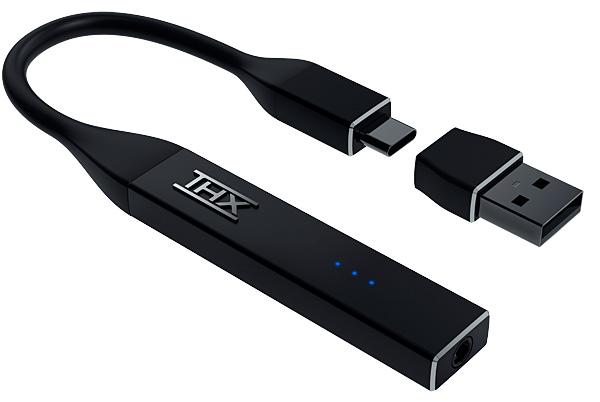 PRICE
$199
AT A GLANCE
Plus
Clean, clear, powerful sound
Extensive format support
Compatible with a wide range of headphones
Minus
Requires extra-cost adapter for iOS devices
THE VERDICT
THX's portable DAC/amp delivers dynamic and spatially precise sound. Paired with the right headphones, it's a compelling option for portable high-res playback
Home theater enthusiasts know THX for its certification program, an initiative responsible for the familiar logo emblazoned on all manner of gear for nearly three decades, along with the Deep Note trailer heard in certified movie theaters and on home video releases. Surprisingly, the company never released its own "THX" product, a situation that now changes with the arrival of the THX Onyx portable DAC/headphone amplifier.
While most other portable DAC/amps top out at 24-bit/96kHz decoding, the Onyx handles PCM up to 32-bit/384kHz plus DSD. It also serves as an MQA renderer to "unfold" streamed or down- loaded MQA-encoded high-res music. Inside the Onyx is a ESS ES9281PRO DAC chip for digital- to-analog conversion. A second chip holds the patented Achromatic Audio Amplifier, which, according to THX, uses feed-back and feed- forward error correction to reduce distortion and noise. The company specs power output at 180mW and says the Onyx drives head- phone impedances from 22 to 600 Ohms—a range covering most cans you're likely to pair with it.
The slim Onyx's sturdy black metal case features the THX logo and a strip of LEDs that change color to indicate resolution of a connected playback source: 44.1/ 48kHz (blue), higher than 48kHz (yellow), DSD (red), and MQA render (pink). A flexible rubber cable at one end terminates in a USB type-C port for connecting a Mac, PC, or Android device. An included adapter allows for USB type-A hookups—a necessity for older computers and iOS devices. In the latter instance, you'll need to use Apple's Lightning-to-USB camera adapter, which allows for bit-perfect digital audio transfers from an iPhone or iPad. On the other end is a mini-jack output for head- phones, and the same connection supports microphone headsets.
Aside from briefly plugging the Onyx into my Mac to confirm it could pass DSD and high-resolution PCM, most of my listening was via the Tidal iOS app. THX sent me an Apple Lightning-to-USB camera adapter, and I connected this between my iPhone and the Onyx using the USB type-A adapter. The result was Donglepalooza™, but it held together well and wasn't restricting for portable use. I used two different headphones: Sennheiser HD 598 over-ear and JVC HA-FW01 in-ear monitors.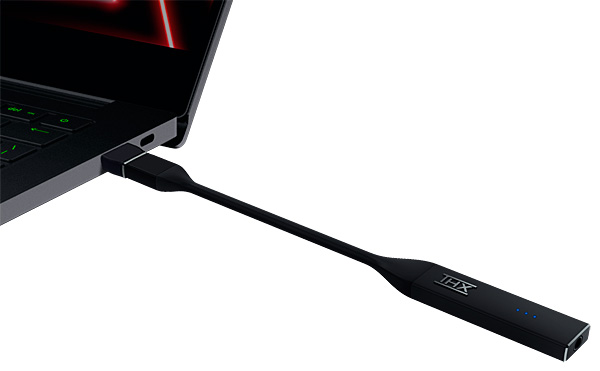 Punching up a playlist of Tidal Masters tracks, I first played Wilco's "Kamera." The sound had a muscular quality, with impressive drive and detail and clear separation of the instruments and vocals The same held true when I played "Guinnevere" by Crosby, Stills & Nash, with the song's three-part vocal harmonies sounding precisely layered, and acoustic and electric guitars maintaining a distinct presence in the mix.
Listening next to Tom Petty's "You Don't Know How It Feels," drums were clearly centered and had powerful dynamic impact, with solid, low-reaching kick and crisp snare. Petty's dry vocals were also cleanly rendered. The overall sound leaned a bit toward the bright side, especially with the Sennheiser 'phones. On this track and a few others, I felt the JVC in-ears, which have a more laid-back top end than the Sennheisers, proved a better match with the Onyx.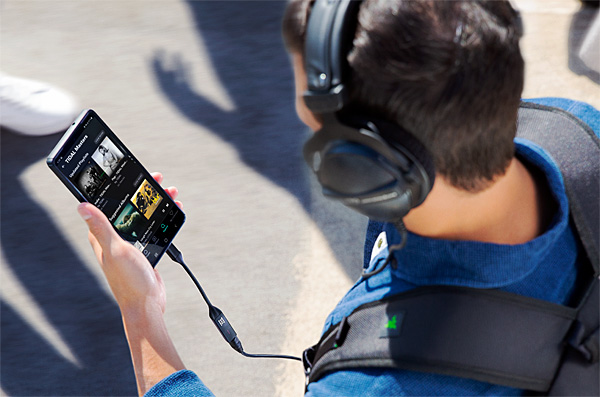 Competition? I had an AudioQuest Dragonfly Red, another $199 portable DAC/amp with MQA support, on hand. After running my playlist using all available DAC/headphone combinations, I concluded both were capable of clean playback at loud levels and could easily handle dynamic musical passages such as the drums-heavy final 30 seconds of Anouar Brahem's jazz/world-music jam "Bahia." Where the Onyx differed was in its slightly wider, more layered spatial presentation—something that bodes well for the portable gaming and movie-viewing THX touts for its DAC.
Conclusion
THX's Onyx isn't the least expensive option on the market, but it delivers powerful and precise sound plus wide-ranging format support. A portable DAC/amp might seem like an unlikely first product for a brand synonymous with home theater, but the Onyx is well-deserving of its THX logo.