Mass Fidelity Relay Bluetooth Receiver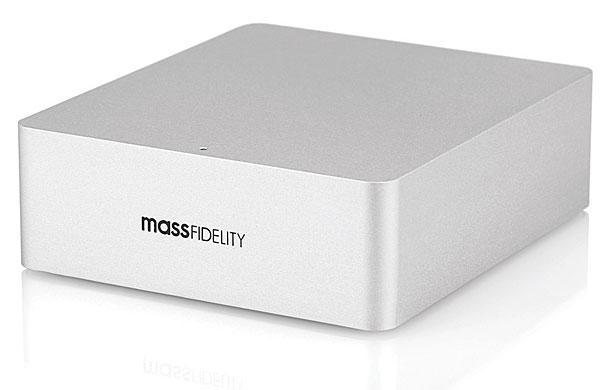 PRICE
$249
AT A GLANCE
Plus
Impressive sound quality for Bluetooth
Audiophile-friendly look
Pain-free setup
Minus
Pricey
THE VERDICT
It might not be high-rez or high end, but Mass Fidelity's Bluetooth receiver is a great option for casual listening.
Bluetooth gets a bad rap in the hi-fi world, and for good reason: In contrast to other wireless audio technologies that let you stream uncompressed CD-quality audio from a PC or portable device, Bluetooth subjects the signal to lossy compression. If you're an audiophile with a reputation to uphold, the story pretty much ends there.
But there's another side to the story, so listen up. The simplicity of Bluetooth setup—it involves nothing more complicated than pairing a portable device or PC with a Bluetooth receiver—holds appeal for someone seeking a quick method to stream music from a phone to an external audio system. I'm talking casual listening here, folks: parties; friends sharing music; your own self in an unguarded moment. For these situations, Bluetooth makes sense.
Mass Fidelity is a company on a seeming mission to establish a beachhead for Bluetooth in the audiophile world. With its machined-aluminum enclosure, gold-plated terminals, and cool white LED indicator light, the Mass Fidelity Relay Bluetooth receiver even looks like a mini version of a high-end audio component. Tellingly, the Relay packs a 24-bit Burr-Brown DAC and separate grounds for digital, analog, and RF signals. It also uses aptX, a codec known for its sound-quality advantages over the standard SBC one used in most Bluetooth products designed for music playback.
Setting up the Relay in an audio system is a snap. You run RCA cables from its analog stereo output (the same jacks can be switched to a dual 48-kilohertz/24-bit digital output) to an input on your receiver/integrated amp or preamp, connect an included antenna and wall-wart power supply, press a power button on back, watch the LED indicator change from red to white, and that's it. The only additional step is to select the Relay in the Bluetooth setup panel of your portable device or computer.
To get a sense of what the Relay could do to justify its $249 cost, I compared it both with the direct output from my aptX-compatible MacBook Pro (connected to my audio system using a Meridian Explorer DAC) and the Chordette Gem, another Bluetooth DAC with a high-end audio pedigree. My Gem is an old version that lacks aptX (the codec has since been added), so I thought it would be illuminating to compare its performance with the aptX-enhanced sound coming from the Relay.
First up for the test was Mazzy Star's "Flowers of December." Heard via the Relay, the subtle keyboards in the song's background were a bit lost in the mix, and the harmonica solo lacked some dimensionality and air in comparison with the direct connection from my Mac. Otherwise, the tonal balance of the two was comparable. I couldn't say the same for the aptX-less Gem, which lent the harmonica a degree of metallic harshness and grit. Vocals also sounded somewhat papery and thin with the Gem handling streaming, and imaging seemed constrained. Both of those criticisms couldn't be applied to the Relay, however, which nearly matched the direct connection when it came to imaging and vocal presence.
Next up was Ray LaMontagne's "Barfly." The Relay kept up well with the direct computer connection on this bluesy acoustic track: Brushes scraping a snare drum sounded textured and crisp, and there was good separation between the male and female vocals. I also heard a decent amount of ambience in the mix, though the sound wasn't as full. Switching back to the Gem, brushtrokes sounded comparatively fuzzy, and the ambience I readily heard via the direct connection and, to a lesser extent, the Relay, was even less apparent.
Switching to more casual listening—the right mode for Bluetooth—I launched Rdio on my Mac and streamed "Copy of A" from the new Nine Inch Nails album Hesitation Marks. Even with the low-bitrate Rdio stream, sound via the direct connection had more heft, though the music's essential qualities were retained when I moved to the Relay. Taking off my critic hat to just lounge back and listen, the NIN track came across as detailed, dynamic, and thoroughly engaging.
Speaking as someone who has used Bluetooth to stream audio to my stereo in the past and was never impressed by the sound quality, the Mass Fidelity Relay definitely made a difference. I'm sure the aptX codec was partly responsible for what I was hearing, but the Relay also reclocks the digital audio stream to remove jitter and upsamples it to 48-kHz/24-bit resolution for output. I've come to depend more on smartphone streaming apps like Rdio than LPs or CDs to get my music fix, so I must admit that the Relay saw more use than either the turntable or CD player during its tenure in my system. That in itself speaks volumes about its utility—and desirability.
Was everything all good with the Relay? My one complaint was that its auto-off circuit kicked in too quick: When I paused music to hop on a call, I would return to find that the Relay's white LED had turned red, requiring a push of the power button. (According to Mass Fidelity, this feature is now defeatable.) It also costs 2.5 times as much as an Apple TV box, which does everything the Relay does and more (uncompressed audio streaming, for one), though Apple TV requires both a Wi-Fi network and allegiance to the iOS product ecosystem.
Guess what? Mass Fidelity's Relay makes Bluetooth sound good. You might even find yourself using it more than your CD player or turntable.