PS Audio Sprout100 Integrated Amplifier/DAC Review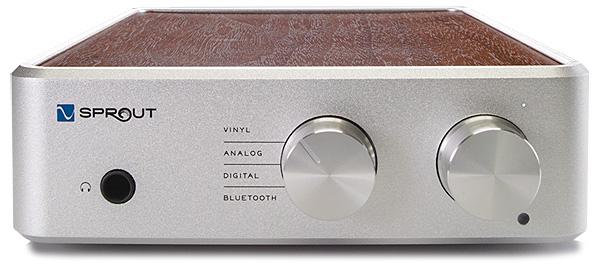 PRICE
$599
AT A GLANCE
Plus
Impressive power from compact box
Built-in phono stage
Subwoofer output
Minus
Slightly forward sound on some tracks
THE VERDICT
PS Audio's new Sprout 100 is a worthy option for anyone seeking a compact integrated amplifier/DAC that also handles vinyl playback.
The original PS Audio Sprout integrated amplifier/DAC was noted as being part of a new trend of ultra-compact ampDACs when Sound & Vision reviewed it back in 2015. We've since tested similar models from Elac and Teac, though it was the Sprout that most grabbed our attention due to its moving magnet phono stage—a feature those other models happen to lack. While vinyl playback may not be a priority when an ampDAC is on your desk connected to a computer and used to drive headphones, that feature takes a step-up in importance when it's in a living room connected to speakers.
Three years later, PS Audio has come out with a next-gen Sprout, the Sprout100. Vinyl playback remains a priority in the new model, which features a re-designed phono stage, along with aptX Bluetooth wireless streaming. The new Sprout100 provides increased power output, with an ICEpower class-D amplifier delivering 50 watts per-channel into 8 ohms, and 100 watts into 4 ohms. Other new features separating it from the earlier Sprout include a remote control, a subwoofer output, RCA-jack line-level analog inputs and outputs, and an ESS Sabre 9016 DAC that supports PCM signals up to 24-bit/384kHz and DSD up to DSD128. Last but not least, at $599 the Sprout100 is priced $200 less than its predecessor.
PS Audio opted not to mess with the original Sprout's design: The 100 features the same cigar box-size machined aluminum case and woodgrain top-panel, the latter giving the company's AmpDAC a homey, vintage look. Front-panel features are limited to input select and volume control knobs (also aluminum), an LED indicator light, and a ¼-inch headphone output. PS Audio also tosses in an adapter to plug in headphones with a 3.5mm connector.
The Sprout100's back panel is completely packed with connectors. As mentioned above, there are asynchronous USB, optical digital (another difference from the earlier Sprout, which provided a coaxial digital jack but not optical), RCA phono and line-level RCA stereo inputs. Outputs include line-level RCA preamp, subwoofer, and speaker connections that accept banana plugs but also bare wire when used with the included banana-plug adapters. In a welcome touch, the compact Sprout100's power connection uses a standard IEC jack as opposed to the external wall-wart power supply that typically gets packaged with compact electronics.
The brushed aluminum-clad remote control that comes with the Sprout100 is a definite upgrade over the credit-card types you get with some gear. It has a substantial feel when seated in the hand, and its power, mute, and volume up/down control buttons click audibly when pressed. I was happy to see a printed owner's manual—an endangered species in the A/V world—when I opened the box, especially an informative, clearly written one.
Setup
To evaluate the Sprout100, I bypassed desktop use and instead deposited it on the hi-fi rack in my living room where it was literally dwarfed by another integrated amp I had in for testing. Setup was a simple matter of inserting the banana plugs of my Nordost Purple Flare speaker cables to connect the amp to a pair of Totem Acoustic Sky bookshelf speakers. I then plugged in cables from my Pro-Ject debut turntable into the jacks labeled "Vinyl" and connected an Elac Discovery server to the optical digital input to stream Tidal and other uncompressed music from my Mac computer. Most of my listening was done with the Totem Sky bookshelf speakers alone, though I also plugged in a 12-inch powered sub for a spell to test the subwoofer output.
Performance
To quickly get acquainted with the Sprout100, I grabbed my iPhone, linked up via Bluetooth, and used Apple Music to stream the song "Disarray" from Canadian post-punk band Preoccupations' latest album, New Material. (Maybe it's just me, but it seems the band could have tried harder to think up with a better album title than that.) Right off the bat, the sound was room-filling, dramatic, and had a dense sense of atmosphere. The combined acoustic and electronic drums displayed strong impact, while the bass guitar came across as clean and with good low-end power.
Switching to the same Preoccupations track streamed to the Elac music server via Roon music management software—this time from Tidal— I heard a notable increase in separation between instruments. Vocals gained body and a distinct placement in the mix, and the impressively wide soundstage also took on depth. The most impressive change could be heard with the percussion and bass: drums were not just punchy but also packed with detail, while the bass guitar's sound now displayed a more rounded, full tone.
With a sensitivity rating of 87 dB, the Totem Sky I listened with is not the most efficient monitor. Still, the Sprout100 didn't seem to have any trouble driving it to a loud level in my fairly large listening room. Playing a techno track, "Syncope," by Steve Hauschildt, the system's rendering of the four-on-the-floor beat was solid and dynamic. The synthesizers had a warm and convincingly analog sound, and when the multitracked female vocals entered, there was a crisp, layered quality to the presentation, with voices floating forth effortlessly.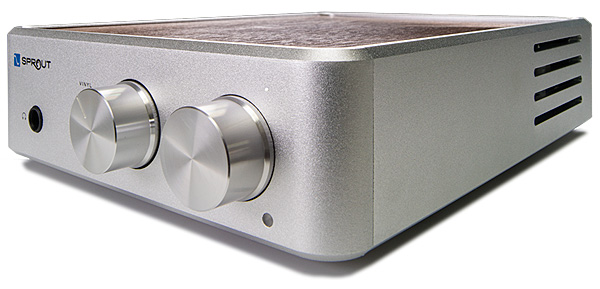 Compared with the integrated amp I normally use for testing, a more powerful unit that costs nearly seven times the PS Audio's $599 price, the Sprout100 displayed a bit of treble emphasis. This could be most clearly heard when I played "Woodstock" by contemporary jazz supergroup Hudson. Most of the elements I listen for when playing this track—subtle dynamics, a wide presentation, deep but controlled bass—were in evidence, though Jack DeJohnette's cymbals had a slightly crispy character and the tone of John Medeski's piano came across a bit aggressively. Still, the Sprout100's sound struck me as well-balanced with a good sense of dynamic ease during most of the time I spent listening with it.
Vinyl Me, Please
Since vinyl playback is a big feature of the little Sprout, I made a point of giving some records a spin. Pulling out a clean, vintage copy of Dire Straits' eponymous first album, I played "Six Blade Knife." The background was notably silent, and I heard impressive dynamics on this subtle, slinky track, with drums punching cleanly through the speakers and the bass guitar coming across as smooth, yet muscular. Mark Knopfler's vocals also sounded smooth, and his guitar was detailed and trebly, but not edgy, during solos.
Moving on to heavier material, I played "Bleeding Muddy Water" from The Mark Lanegan Band's Blues Funeral. The song's deep, foundational bass had good impact and the detail to be heard in Lanegan's gruff, breathy vocals gave the singer an almost physical presence. The background keyboards and electronics in this dirge-like track provided a dense, wall-of-sound presentation that the Sprout100's phono stage—obviously capable of conveying both delicacy and weight—clearly rendered.
Conclusion
PS Audio's Sprout100 is an impressive little integrated amp. With more power, better connectivity, an improved DAC, and, yes, a lower price than its predecessor, the new Sprout has a lot going for it. The key feature that allows it to vault over other ultra-compact AmpDACs is its built-in phono stage, which, depending on your media consumption habits, may or may not be essential. Either way, for $599, you won't go wrong with the Sprout100.