Meridian Director USB DAC
PRICE
$699
AT A GLANCE
Plus
Enhances computer audio
Sleek design
High-end build quality
Minus
No headphone jack
Ambiguous indicators
THE VERDICT
The Director is the best USB DAC we've heard yet.
I will never forget the moment when I first heard digital audio in 1985. It was a profound disappointment. I had just bought my first CD player and played my first Compact Disc. The sound was harsh and alienating. How could that be? CDs offered perfect sound forever. There must be something wrong with my ears, I thought. It took years to trust my senses and rethink my digital signal source. The big epiphany came a few years later when I got into DACs, or digital-to-analog converters, and staged a three-way comparison between products by Meridian, Theta, and Enlightened Audio Designs. Not only were they all stunningly better than any of my previous CD players—they were all stunning in different ways. That was my introduction to Meridian, one of the most distinguished companies in digital audio, and it was a formative experience.
The memory came back to me when I plugged in the Meridian Director USB DAC, from a product category that is triggering new epiphanies. I hooked it up to my desktop system, started playing The Next Day, David Bowie's comeback album, and then had to hunt around the room for the top of my head because it had just been blown off. It was the voice that did it. The Director made the elusive Bowie stand out like a flesh-and-blood human against the skeletal backdrop of guitar, bass, and drums. What was even more surprising was that I had played the same music through Meridian's Explorer DAC just a few months before. The Director was not just better, as you'd expect in a step-up model—it was another sensation altogether.
Like the Explorer, the Director is a curved extruded-aluminum box with oval-shaped front and back end caps. It is black instead of silver and slightly longer. And it is intended for a different application: While the Explorer is targeted for portable use where it will drive headphones, presumably from music stored on a computer, the Director, according to Meridian's director of product management Ken Forsythe, "is specifically designed to provide the highest quality replay from digital sources—including, but not solely, a computer—into an analog audio system." In lieu of the Explorer's mini-jack headphone output, the Director has a fixed analog output with RCA jacks and needs to be connected to a traditional preamp, receiver, or other component with its own volume control. For headphone listening, you'll need to tap that component's headphone output.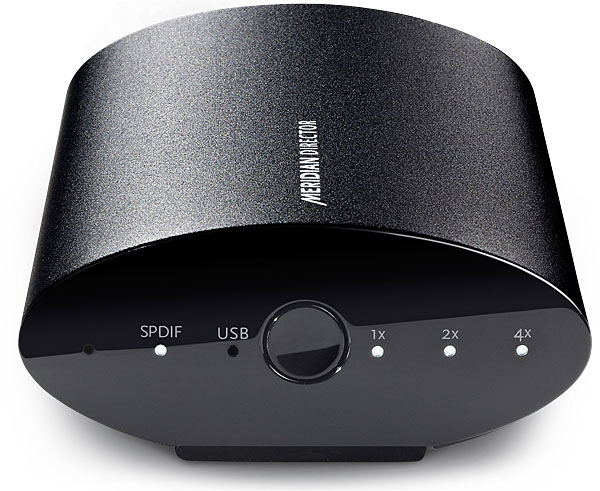 Inputs include USB and a 3.5mm mini-jack that accepts digital input either optically or coaxially with supplied adapters. As with any decent DAC nowadays, the USB input uses asynchronous clocking to fix computer-generated bitstream timing errors. The unit is self-powered with USB input but needs a supplied external power supply when used with optical/coaxial-in.
On the other side is a button that selects between the two inputs and their LEDs. Three more indicators labeled 1x, 2x, and 4x identify sampling rates of 44.1/48, 88.2/96, and 176.4/192 kilohertz. This doubling up saves space, and it makes sense, given that the second and third pairings are multiples of the first. But the sampling rates of my music library are all over the place, and I'd prefer to have separate indicators for each one (I offered the same criticism about the Explorer). Digital sticklers, please note that the DAC uses separate oscillators for 44.1- and 48-kHz signals and their multiples; and incoming 44.1- and 48-kHz signals are upsampled to 88.2 and 96 to raise filtering out of the audible domain.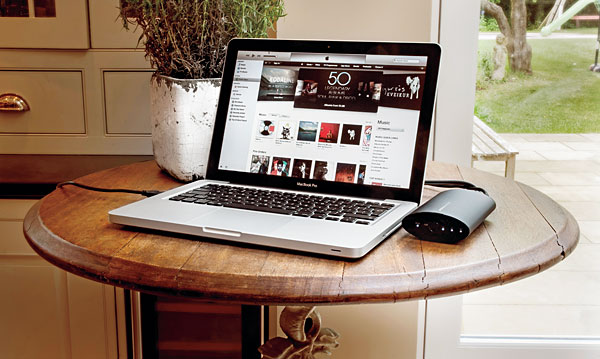 Setup was easy for me because the Meridian USB driver was already installed on my Windows 7 desktop multimedia PC—the Director and Explorer use the same driver. If you use a Mac, you won't need the driver, but Windows users have to download it from meridian-audio.com. Installation instructions differ for Win XP and 7/8 and include recommendations to disable sounds and enhancements to ensure a smoother working relationship between PC and DAC. My music software includes Foobar 2000 for FLAC, operating in ASIO mode, the highest-quality option in Windows; and the Windows Media Player for MP3. I avoid iTunes whenever possible. My desktop system is a Peachtree Decco2 amp feeding Era Design 4 speakers and a Pinnacle Baby Boomer sub.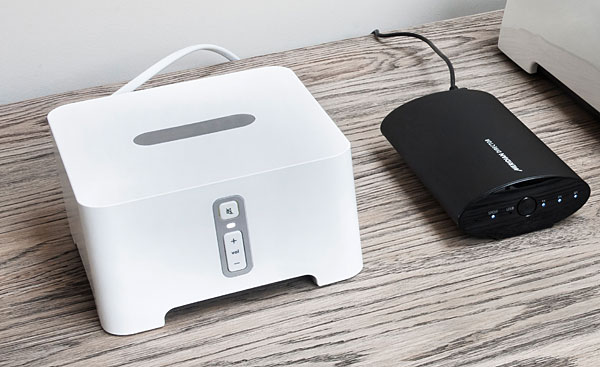 My review of the Explorer described it as "rigorously objective, with no obvious midrange sweetening or treble or bass boosts." The Director seemed notably richer, more detailed, and less fatiguing in the midrange, as well as cleaner at the top end and more transparent throughout the frequency spectrum. This may stem from any number of enhancements in the Director, Forsythe points out, including a circuit board that's four times the size of the Explorer's and allows larger, higher-quality, and higher-capacity "music-grade" filter capacitors said to have a noticeable effect on sound quality. Also critical is the use of Meridian's best Resolution Enhancement Technology package, borrowed from the top-of-the-line 800 series, which includes an apodising filter for upsampling not found in the Explorer. Even the substitution of RCA jacks for the mini-jack and the inclusion of a dedicated power supply (an alternative to using USB power) are said to contribute to the overall result.
Moving from Bowie to other artists confirmed the Director's imaging virtuosity with the human voice. Bob Marley's smoky shambling grace took a step closer in Kaya, excavated from the reverb. In Joni Mitchell's orchestral album, Both Sides Now, the DAC once again unleashed its uncanny flesh-and-blood vocal holography, revealing both the cigarette-ravaged voice and her artful way of adapting to it.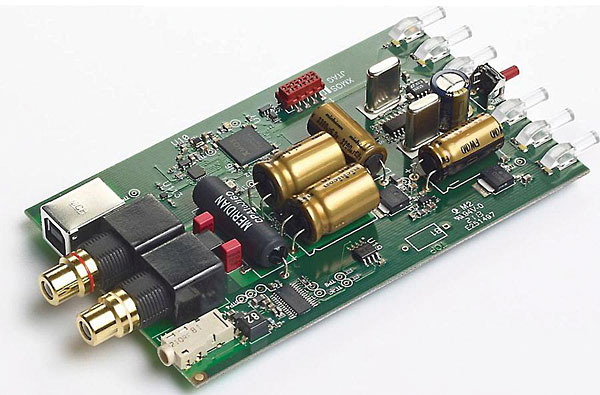 While the Director sounded warmer and tubier than the Explorer, don't get the impression that this DAC is a mushy golden tone control with one setting. When the content had a lively top end, the DAC responded in kind. Gershwin's Rhapsody in Blue and An American in Paris, with William Steinberg conducting the Pittsburgh Symphony Orchestra, has a raw reverb-less beauty that the Director depicted unflinchingly. It offered granular detail in specific sections—the violins were individual musicians playing together, not just a wash of sound.
The Meridian Director USB DAC, at $699, costs more than twice as much as the Meridian Explorer, at $299. Is it more than twice as good? I'll say yes, and then some. I'm saying it bashfully because a few of you may already have bought the lesser product. But the shock I felt when I first heard the Director, and the gratifying hours of listening I've logged since then, allow no other conclusion. The Director is the best under-$1,000 way to improve computer audio that I've heard so far.