Astell & Kern AK100 Music Player
PRICE
$699
AT A GLANCE
Plus
Supports lossless formats
Great-sounding headphone out
May be used as standalone DAC with a PC
Minus
Rudimentary touchscreen DAC use limited to 96-kHz or lesser files.
THE VERDICT
The AK100 successfully ventures beyond the iTunes universe to open a world of high-resolution portable playback.
Is Apple the biggest obstacle to progress in portable audio? The iPod has been around a full dozen years, and the iPhone for half that, yet even today the Apple ecosystem fails to support 24-bit audio file formats. All Apple-supported file formats—even the best of them, Apple Lossless, AIFF, and WAV—are limited in iOS to 16 bits. That's not high rez, that's mid rez. Forget about playing your growing library of 24-bit FLACs. Leaving the Apple ecosystem can be painful because the company's touchscreen and clickwheel devices are so ingratiating. But leave you must if you want better sound in your pocket, and the Astell & Kern AK100 may be on your list of destinations.
The AK100 is the first of two players now offered by Astell & Kern (its been joined by the higher-end AK120, for which our review is underway). It is about the width of an iPhone, but only two-thirds as tall and half an inch thick. The chassis is black brushed aluminum on every side except for the gloss black plastic back panel. The latter is scratchable, but a shirt pocket would do it no harm. The player has a substantial heft that says quality. A color touchscreen, 2 inches wide and 1.5 inches tall, 320 x 240 pixels, takes up the top half of the front.
All four edges are used for controls and connectivity. A volume wheel protrudes from the right side. On the left side are three small, round navigation buttons. The bottom has a Micro-USB jack. There is also a sliding compartment that holds two Micro-SD cards, allowing you to add up to two times 32 gigabytes to the built-in 32 GB. On the top are the power button and two mini-jacks. One is a digital optical input that allows the device to serve as DAC for an external source component; the other is a digital optical output that doubles as an analog headphone output for 1/8-inch plugs.
One notable connectivity option is invisible to the naked eye: The player is Bluetooth compatible. If your A/V receiver or compact audio system has Bluetooth, a simple pairing procedure will get them on speaking terms.
When I plugged the AK100 into my Lenovo Win 7 multimedia PC, it started charging, but the computer did not recognize it at first. I left it connected overnight and in the morning it was ready for business.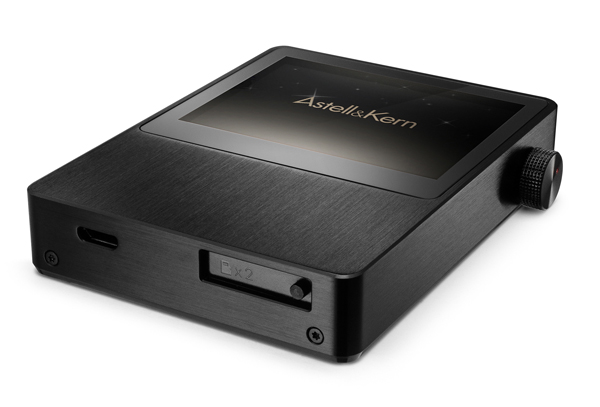 I installed the iRiver 4 audio software preferred by A&K (A&K is actually an affiliated brand of iRiver's). It provides a simple and attractive way to interface with the AK100. However, this is optional. Unlike Apple devices, which strong-arm you into using iTunes, the AK100 does not require any proprietary music management bloatware. The computer recognizes it as a storage device, and you can simply drag and drop files. An album's worth of 24/192 FLAC files took seven seconds to transfer; MP3s and other skinny files went quicker.
The heart of the AK100—the reason you might prefer it to an iPod—is a Wolfson WM8740 digital-to-analog converter that supports AIFF, FLAC, and APE lossless files, plus uncompressed WAV at up to 24-bit depth and up to a 192-kHz sampling rate. (A&K refers to 24-bit formats from 44.1 to 192kHz collectively as MQS, or Mastering Quality Sound.) Apple devices also handle WAV but only up to 16 bits. The player supports lossy formats such as MP3, OGG, and WMA as well as Apple's 16-bit AAC and ALAC formats. It is compatible with every version of Windows from 2000 to 7.
The player takes about 15 seconds to boot up and load its database. You can use the touchscreen interface to find music in the usual way: by artist, album, song, playlist, etc. Tracks with filenames but no metadata are accessible by computer-like folder navigation. Album art is shown with navigation controls and the laterally scrolling track name superimposed over it. Though not as slick as Apple's interface, it's functional enough.
If I had to choose just one indelible impression the AK100 left on me, it was Donald Fagen's voice in the title track of Morph the Cat with my AKG K240 headphones. The timbre was breathtaking. The track also starts with a killer bass line that was on the phat side through the AKG but awesomely tight and deep with Bose TriPort headphones. The source was a 96/24 download, and like all the demo material for this review, it was from HDtracks.
Beethoven's Fifth as performed by Carlos Kleiber leading the Vienna Philharmonic (24/88.2) was its multi-layered best through the AKGs, while the Audio-Technica ATH-ANC7 headphones emphasized golden liquid midrange and gorgeous long decays. The AK100 produced the richest tonal balance with the A-T's noise cancellation on; with flea-amp music players, the only distinction would be higher gain.
I have a pair of Yamaha RH-5Ma headphones that I prize for their emphatic and revealing treble. On the Fagen track, the Yamaha brought out the opening riff's ride cymbal, something downplayed by the other headphones. The Yamaha was less satisfying with Arthur Rubinstein's set of Chopin Ballads & Scherzos (24/176.4), turning the piano's top end glassy, but the other three headphones had me standing front of the piano and marveling at how good my favorite instrument can sound.
And so it went. Different headphones and different content produced different results. But the A&K was never less than truthful and rarely less than thrilling. It even made MP3s sound good, even as it revealed their shortcomings.
The Bluetooth function was not free of glitches. While I had no trouble pairing the A&K with a Pioneer VSX-1123 A/V receiver, player volume changes caused audible glitches. I've not had this problem with other Bluetooth signal sources.
Though the AK100 is primarily a music player, a firmware update (version 2.01) added a significant new function since the AK100's introduction: It can serve as a USB DAC when linked to a PC. The update also added gapless playback, a redesigned interface, broader microSD support, a sleep timer, and speed increases for bootup and operation. The latest firmware upgrade (version 2.30 in early November) brought single layer DSD format playback into the fold.
To check out the USB DAC, I replayed the material above (using Foobar 2000 PC software) to determine if it sounded different with bits pulled out of the PC versus bits read off the player's internal memory. With most material there was no major difference. The lead and backing vocals on the Fagen album remained stunning. With the orchestral track, the player was a touch smoother reading its own bits than those from the PC, but the difference was negligible, and listening comfort didn't change.
Only when I tried the Chopin did the A&K fail. Its USB DAC function is limited to 96/24 resolution—versus 192/24 for playback from internal memory or microSD—so anything above 96 kHz wouldn't play at all. That was a problem for the Chopin, which is encoded at 176.4 kHz, and much of my library is at 192 kHz. The AK100 doesn't automatically downsample the signal as, say, the AudioQuest DragonFly does. But I was able to get Foobar to do it. The results were marginally less refined. Of course, not everyone who buys this product will use it as a USB DAC. But if you're looking to do critical listening from a computer, you'll probably want a DAC that doesn't require downsampling for the highest-res files.
The Astell & Kern AK100 is something I've long feared—a portable music player that impeaches the integrity of my several iPod nano and SanDisk Sansa players. But, combined with access to high-rez content, it opens a whole new world of listening. For the first time, I'll be able to use a portable player for something more than background music. Now it's time to look for new reference headphones.