Integra DHC-40.2 Surround Processor Page 3
I used SpectraCal's CalMAN 4.0 and a EyeOne Pro spectroradiometer to see how well the ISFccc controls worked for calibrating the gray scale and gamma. The controls let me fix some shortcomings in my display (JVC DLA-HD1 projector), especially with the gray scale and gamma. In fact, with my current bulb, I've had to use an external device (VideoEQ Pro color processor) to get the proper gamma curve. However, when I made adjustments in the Integra, I attained the desired gamma. As a future upgrade, I'd love to see Integra include a CMS (color management system) in its surround processors.
Real-World Performance
Iron Man 2 pits Tony Stark against a ruthless Russian physicist who's hell-bent on destroying the playboy billionaire. The DTS-HD Master Audio 5.1 soundtrack features crisp dynamics, ample bass, and impressive sound design. I love the opening of the movie when Iron Man prepares to leap from the back of a military aircraft as AC/DC's "Shoot to Thrill" thunders throughout the soundstage. Fireworks explode when the payload door slowly drops, and the superhero freefalls into the airborne pyrotechnic display. The Integra DHC-40.2 handled this scene with ease, and when I toggled the Audyssey MultEQ on and off, the room correction's effect on the audio was astounding. Without it, the audio sounded flat and lifeless, versus a fully engaging experience with Audyssey processing in the loop.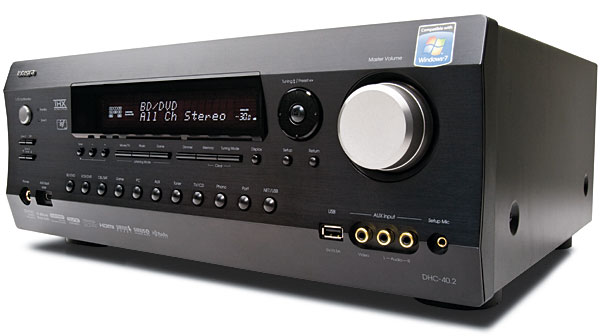 Music playback was just as impressive, whether I was listening to CDs, streaming WMA Lossless files from my home server, or playing content from my Logitech Squeezebox Touch media server (HT, October 2010). The DHC-40.2 has three different stereo playback options: Direct, Stereo, and All Channel Stereo. Direct defeats any audio processing (including bass management) and resets the front left and right channels to full mode with no subwoofer. Stereo keeps bass management intact and uses the subwoofer, and All Channel Stereo does just what it says—it uses every speaker you have hooked up to your system.
My M&K S-150 studio monitors sound pathetically weak without the assistance of a subwoofer, so using Direct to listen to stereo sources was out of the question. Furthermore, the Audyssey MultEQ processing is disabled in this mode. So when I compared Direct against Stereo with the Audyssey engaged, it wasn't difficult to choose which one was the best—Stereo won hands down. All Channel Stereo enveloped the room with audio, but I prefer to listen to my stereo sources in their native form.
The Integra's Internet capabilities are a nice touch but not a must-have. First, there are easier ways to access the same services, namely a Squeezebox Touch. Second, the user interface is much better on the Touch. While you can use the Integra's front-panel display to toggle through the different options, it's much easier to use the onscreen display, which requires you to turn on your monitor. The last thing I want to do is fire up my front-projection system to stream some music, but that's just me.
Despite all of my troubleshooting efforts, I couldn't eliminate a minor bug with the Integra. Whenever I powered on the unit, there would be a nearly silent pop when it locked onto the audio signal. I disconnected every component and couldn't find the source of this phenomenon. Typically, this type of issue is caused by an improperly grounded component somewhere in the system. But I haven't had this problem with any other surround processor or AVR that I've run through my equipment rack, which leads me to believe the issue lies with the Integra. Is this a deal killer? Absolutely not. It's more of a minor annoyance.
The Big Brother
Integra offers a higher-end DHC-80.2 surround processor that retails for $2,300. While there are differences between the two models, a comparison illustrates how much value the DHC-40.2 offers. The DHC-80.2 provides an additional HDMI input (eight versus seven), a USB input on the rear, and upgraded video processing with HQV's Reon-VX. Other upgrades include 32-bit DACs, 9.2-channel balanced XLR preouts, and a superior Audyssey calibration suite that includes MultEQ XT32 and is MultEQ Pro ready for those who want to hire a certified Audyssey installer. Each of these upgrades adds to the product, but is it worth nearly twice the price? It's your hard-earned dollar, so I can't make the choice for you, but I would certainly audition both units to see which one suits your needs.
Conclusion
When I pitched the idea of reviewing an Integra surround processor to the editor, I'd wanted to review the more expensive DHC-80.2. Since we had reviewed the flagship model the previous two years, the boss wanted to see how well the DHC-40.2 measured up against the big boys. Needless to say, I'm very impressed with this so-called budget model. It's one heck of a value. I'm a huge fan of Audyssey and would have loved to audition the new MultEQ XT32 in my room, but I never felt like I was missing anything with the DHC-40.2's impressive sound quality. If you're looking to enter the world of separates on a budget, be sure to put this Integra at the top of your list. It's one of the best values I've come across in years.