Monoprice Monolith HTP-1 Surround Sound Processor Review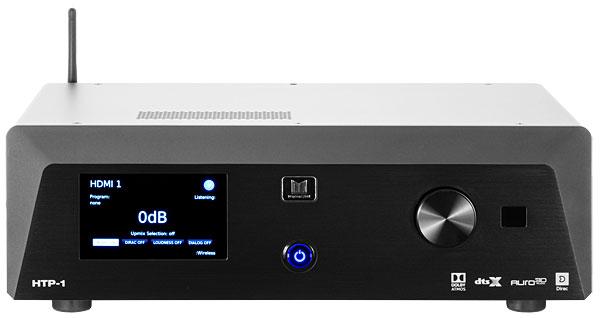 PRICE
$3,999
AT A GLANCE
Plus
16-channel processing and output
Extensive customization options
Dolby Atmos, DTS:X, Auro-3D support
Dirac Live with Bass Control sub integration
Minus
Setup may intimidate casual users
No onscreen display
THE VERDICT
With support for all key immersive audio formats, 16-channel output, and Dirac Live room correction, the Monolith HTP-1 surround sound processor punches well above its price class.
It's been interesting to watch the evolution of Monoprice in the home theater market following the introduction of its Monolith product line. Monolith encompasses a broad range of components, including speakers, subwoofers, and amplifiers, all produced in partnership with big names in A/V product design and development, and all offering impressive performance at a strikingly low cost. The company's latest market disruptor is the Monolith HTP-1 surround sound processor, a stunning freshman effort that includes features typically seen only on components that cost significantly more than the $3,999 HTP-1.
Design
The HTP-1 is one of the most feature-laden processors I've encountered to date. This 16-channel design supports the latest surround formats including Dolby Atmos, DTS:X, and Auro-3D, and features Dirac Live room correction along with the new Dirac Live Bass Control subwoofer integration and equalization. Monolith's processor is also Roon Tested and fully software- and hardware-upgradeable.
The HTP-1's nice, textured aluminum front plate features a touch-controlled display that can be set to always-on, dimmed to different levels, or switched off entirely. All front-panel operation and setup features can also be accessed from a web browser on a laptop or tablet by navigating to the HTP-1's IP address. This is the first processor I've used that allowed this, and I was really impressed with the capability. Most models instead use an onscreen display, but I found I preferred IP control as it let me make changes on the fly without interrupting what was happening onscreen.
The HTP-1's remote control is fairly basic, and its keypad can be hard to navigate in the dark. There's no backlighting and most keys don't provide much in the way of tactile differences. I did appreciate its selection buttons for surround modes and presets, however, along with numerous other features you would normally want to control directly instead of navigating through a setup menu.
Back-panel connections include eight HDMI 2.0b inputs and two full-bandwidth HDMI outputs, including one with eARC. Switching is fast and the HTP-1 doesn't tamper with the video signal, instead simply providing pass-through for up to 4K/60Hz signals with Dolby Vision and Hybrid Log Gamma HDR. There's no multichannel analog input, but a pair of stereo analog RCA inputs are provided along with AES/EBU and three each coaxial and optical digital inputs. There's also a USB type-B audio input, though it was not activated on my review unit. (Monoprice says that USB audio input support will be part of a software update that should be available by the time you're reading this.) The HTP-1's back panel additionally features an Ethernet port, Wi-Fi antenna, and a trigger input and outputs. For audio outputs, the HTP-1 uses balanced XLR connections for all 16 channels plus a single set of stereo RCA jacks.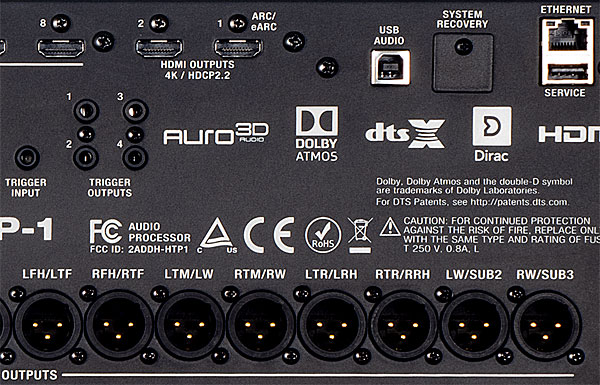 Setup
To say the HTP-1 is customizable would be a dramatic understatement. Here, the Monolith punches way above its price point, offering a level of setup flexibility I've previously seen only on cost-no-object processors from high-end brands like Trinnov and Datasat. Consequently, those expecting the cut- and-dried setup options found on most processors in the under-$4,000 range are likely to be overwhelmed by the options presented in the HTP-1's setup menus. (I almost feel that its menus may be too dense.) Setup is broken down into different subsections, including speaker, calibration, input options, sound enhancement, connectivity, and more. For the daring, there's also a signal generator that can be used to fine-tune your speakers along with full parametric equalization options for all channels.
The HTP-1's flexible speaker setup options allow for up to six overhead channels, wide channels, and up to five independently adjustable subwoofers. The traditional 7.1-channel surround setup is hard-coded, but the other eight channels can be configured to support different speaker and subwoofer combinations.
Along with manual parametric equalization for all channels, the HTP-1 offers Dirac Live room correction and takes full advantage of the latest iteration of Dirac Live (version 3) with optional Dirac Live Bass Control functionality offered as a paid upgrade ($349 for a single sub, $499 for multiple subs). To run Dirac Live, you'll need to download the Windows/Mac application from the Dirac website to a laptop or desktop computer (Dirac's smartphone app is not supported by the HTP-1). While Monoprice doesn't include a calibrated USB microphone with its processor, Dirac recommends using the MiniDSP UMIK-1 ($75, available at minidsp.com), which is what I used for my review.
This was my first experience using Dirac Live in my own theater, and I was impressed not only with the results, but the high level of customization it offered. Dirac Live is similar to solutions such as Audyssey and ARC, but it offers correction of both frequency response and impulse response in the time domain, and also provides adjustable target curves. It's also the only solution I know of that can correct more than two subwoofers automatically with full time-alignment support. Audyssey can do this with dual subs (if the specific Audyssey version supports SubEQ), but Dirac takes things further by offering correction and time-alignment for up to four independent subwoofers. I used the Dirac Live Bass Control with two independent subwoofer pairs for this review and found the software yielded highly accurate crossover filtering from the main channels, along with better time-alignment of subwoofers than I've been able to achieve in the past with Audyssey—something that had a huge impact on sound quality with both music and movies.