Anthem AVM 60 A/V Processor Review
PRICE
$2,999
AT A GLANCE
Plus
Pristine audio plus 4K passthrough video
Clean, simple, eminently usable design
Excellent proprietary auto-setup/EQ system
DTS Play-Fi streaming/multiroom wireless capability
Minus
Lacks Bluetooth, USB playback
No legacy video connections or scaling
THE VERDICT
The AVM 60 has everything you want in an A/V preamp/processor—and less. The stuff that Anthem has left off their more affordable pre/pro model contributes to simplicity and usability, and most buyers will end up thanking them in the long run.
For much of the home theater epoch, system builders who (for whatever reasons) have favored a separates-based system— built around an A/V preamplifier/processor and a suitable amplifier or amps—and have preferred such a system over the more usual A/V receiver approach have had, in essence, two choices. They could select one of a few very expensive, esoteric, high-end American or European designs, with the knowledge that they would probably lag a generation or two behind in HDMI version and latest-greatest surround and video processing. Or they could select a latest-model Japanese offering—recently, this has meant, effect-ively, Integra/Onkyo, Marantz, or Yamaha—and get more up-tothe-minute tech and more digestible pricing, at a certain cost in audiophile street-cred and (perhaps, depending on your belief system) sonic refinement.
In recent years, however, the Canadian brand Anthem, which lives under the same corporate umbrella as speaker makers Paradigm and MartinLogan, has quietly opened up a Third Way for the A/V processor. Because they're Canadian, make sure you pronounce that as "pro-cessor," with a long "o," eh? Anthem's line of processors began with the Statement series of do-everything, flagship-class A/V preamp/processors, but their ultra-capable, technically complex designs no doubt intimidated some, and their ten-grand price point is little more affordable than many of the other aforementioned esoteric options. Now, however, Anthem has debuted the AVM 60, a Goldilocks-featured and -priced A/V processor that checks in below one-third that cost, with a considerably simplified layout, input/output configuration, and control scheme.
If the AVM 60 looks a lot like Anthem's top A/V receiver—well, essentially, it is a de-amplified edition of the brand's 11.2-channel MRX 1120 (reviewed last month), at a $500 savings and with all-channels balanced (XLR) preamp outputs where the speaker outputs would otherwise be. Like all of Anthem's head-end designs, the AVM 60 incorporates the company's Anthem Room Correction (ARC), a proprietary auto-setup/EQ scheme evolved from a long-running acoustics/speaker research project conducted by Canada's everbusy National Research Council, beginning two decades ago. Otherwise, the newest Anthem hits most of the high spots: Dolby Atmos (and DTS:X via future upgrade), 4K/60/UHD/HDR-ready HDMI 2.0a/HDCP 2.2 video throughput and switching (though not scaling—the AVM 60 performs no video processing), high-end 32-bit/768-kilohertz differential-output DACs for all audio channels, and a fancy toroidal transformer–based power supply for clean, quiet current. There's even Wi-Fi networking, as well as file and internet-radio streaming via DTS's hi-res/uncompressed-compatible Play-Fi; this, however, requires you to "cast" content from an iOS, Android, or Windows app. (What? Again no OSX?)
The Setup
Because the AVM 60 is a preamp/processor rather than a receiver, setting it up required little more than swapping my sources' and screens' HDMI cables and the five line-level pre-out cables from my power amp. (I do not use balanced connections in my setup, nor do I believe it's necessarily beneficial in a well-laid-out consumer environment.) However, since the Anthem delivers up to 13 channels, I elected to make a 5.1.4 system, with four height channels fed via Dolby Atmos. This required two more power-amp channels than what my everyday 7 x 150-watt unit can provide, but I keep a handy little one-rack Bryston 50-watt stereo amp of a certain age for just such eventualities.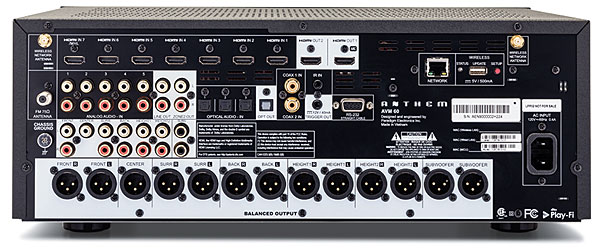 Anthem tackles the potential gumption traps that are endemic to many-channeled, multi-modal surround-system setups in typically sensible, straightforward—dare I say Canadian?—fashion. When you configure the system in terms of how many speakers, where located, how sensitive (level calibration), how extended (crossovers), etc., you create a "Profile." You can individually tailor and memorize four such Profiles: They can be dialed in manually or imported by multiple ARC runs and then associated with inputs.
So, for example, your "Blu-ray" input might call up a 5.1.4 Atmos layout, while your "Cable" input might invoke a height-less 7.1 layout. (Each Profile can recall a different ARC equalization run, too—for example, one with the screen down for projection theater, and one with the screen up for music or casual TV.) Or a specialized "Hi-Res" input might call up full-range, no-subwoofer, two-channel listening, streaming via Play-Fi's Hi-Res Audio option. This sort of semi-automated "preset" concept isn't exclusive to Anthem; Yamaha, for one, does something similar with their higher-end AVRs and pre/pros. For its part, Anthem's implementation is orderly and highly usable.
ARC is a deluxe kit packed in with the preamp, comprising a calibrated USB mic, cables, and even a real tripod. The requisite software is downloadable from Anthem's website, but only for Windows. Lamentable, in my Mac-centric world, but doable; I dragged out my long-dormant Bush-era Dell, monitor, mouse, etc., blew the dust off, and downloaded the latest ARC version. (Yes, I know, I should get around to "virtualizing" Windows on my iMac. Maybe next month.) The next hurdle was getting the PC to "see" the Anthem on my network. I wasted an entire day in Networking Hell—and I never did successfully link the Anthem to my wireless network, despite the fact that my router reported the pre/pro's presence when queried via any device, PC, Mac, or smartphone. I eventually stumbled upon a secret handshake: If you have first linked the AVM 60 via DTS Play-Fi wireless protocol, as I had, you must clear the AVM 60's wireless configuration (via its menus), then unplug the unit for a few minutes, then repower, then plug in an Ethernet cable linking the pre/pro to the router (wired), and then—hey, presto!—in a couple of minutes, it reported "Connecting…" and ultimately flashed up a valid IP address (obtained from the router's DHCP) under the correct MAC address. At least, that's what worked for me. Modern networked life: arrgh!
Once connected, ARC ran flawlessly. The procedure is much like Audyssey MultEQ XT, except that ARC runs on the PC, not within the pre/pro itself, and it displays nice, colorful graphs of each speaker's measured response, along with the "target," corrected response that the software has calculated. (Corrections are restricted to a 5-kHz upper-frequency limit; the ARC interface allows you to adjust crossover points and slopes to an extent, and room-gain bass buildup, but not to manipulate the shape of target curves.) These filter coefficients are ultimately uploaded via the network and stored within the pre/pro, where ARC can be invoked individually by input on the Setup menu.