Marantz AV8805 A/V Surround Processor Review
PRICE
$4,499
AT A GLANCE
Plus
Supports Dolby Atmos, DTS:X, and Auro-3D formats
13 processing channels and 15 audio outputs
Clean, highly detailed sound
Minus
Very narrow remote sensor
THE VERDICT
Marantz's new flagship surround processor makes the most of the Dolby Atmos, DTS:X, and Auro-3D formats while providing a notable sound quality improvement over its predecessor.
I remember my first flagship A/V receiver like it was yesterday. It was the year 2000, and Onkyo's TX-DS989, which sold for a cool $3,200 and featured seven channels of built-in amplification plus support for the latest, greatest THX Surround EX and DTS-ES codecs was every home theater enthusiast's dream. With rear surround speakers now added to the mix, a home theater could actually match the arrays found in cinemas.
It's now nineteen years later and the home theater market has continued to evolve. Back in 2015, I lowered the ceiling of my theater and installed four overhead speakers to get set up for Dolby Atmos. The central piece of hardware driving my system then was a Marantz AV8802A surround processor, a model that offered 11.2 channels of processing and an optional Auro-3D upgrade.
As is usually the case in the A/V world, upgrades offering even more goodies were soon to come. Case in point: the new Marantz AV8805 ($4,499), an A/V preamplifier sporting 13 processing channels and a 15.2-channel preamplifier stage for home theater enthusiasts who want to address virtually every available speaker array option. With its 15-channel output, an AV8805 owner can configure their system to get the most out of the Dolby Atmos, DTS:X, and Auro-3D formats.
Other features found in the AV8805 include HEOS wireless multiroom streaming, AirPlay 2, Bluetooth, Alexa voice control (good if you don't mind Amazon spying on you 24/7, which I do), and flexible Audyssey MultEQ XT32 processing that allows a user to input their own target curves (requires the Audyssey app, available for $19.99 from the iTunes and Google Play Stores). A firmware update will upgrade the AV8805 to IMAX Enhanced status, a certification process meant to bring the IMAX movie theater experience into the home.
Features and Setup
Marantz's AV8805 is about is about the same size as its AV8802A predecessor. It sports the same classy curved front panel with a sparse layout featuring just a volume knob on the right, a source select knob on the left, and a power on/standby button. The only visible display is a porthole showing the current source and volume level. Below that is a flip-down door revealing navigation buttons and other controls, along with a second LCD display. There is also an HDMI input, a headphone jack, analog A/V inputs, an Audyssey microphone input, and a USB port.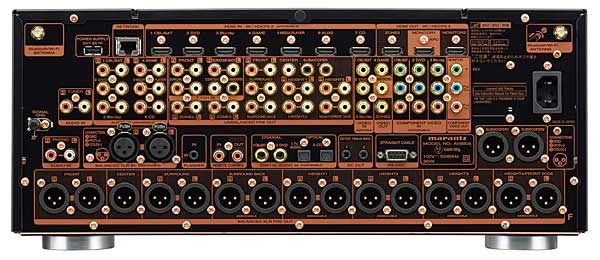 The AV8805's rear panel is completely packed with connections—not surprising given how many channels this beast supports. Arranged along the bottom are 15 XLR outputs; these allow the option for four stereo pairs of height speakers, with the fourth configurable as front heights or wide speakers in the setup menu. There are dual subwoofer XLR outputs, along with corresponding RCA-jack outputs for all channels for installations using amplifiers that lack XLR inputs.
Back-panel HDMI connections include seven inputs, two monitor outputs (one with ARC), and a Zone 2 output. A recent firmware update endowed the AV8805 with support for eARC (Enhanced Audio Return Channel), which allows for the carriage of 3D-format audio signals from TV apps over a single HDMI connection. There are also three component-video inputs and one output, plus more than enough gold-plated analog input/ output jacks to accommodate every legacy piece of equipment you might have lying around the house. Other features include dual antennas for Wi-Fi and Bluetooth, an AM/FM tuner input, a single pair of XLR balanced inputs, and a second USB input. There's also a moving magnet phono input for connecting a turntable.
The AV8805's video support includes pass-through of 4K/60-Hz full-rate signals with 4:4:4 color resolution, BT.2020 color space, HDR10, Dolby Vision, and HLG (Hybrid Log Gamma). In other words, you can run all video sources through the processor without fear of them being downgraded. Marantz has also stated that it will offer an upgrade to HDMI 2.1, a new HDMI version that supports up to 10K resolution video and high frame rates, in the future (cost is yet to be determined).