NAD M17 V2 Surround Preamp/Processor Review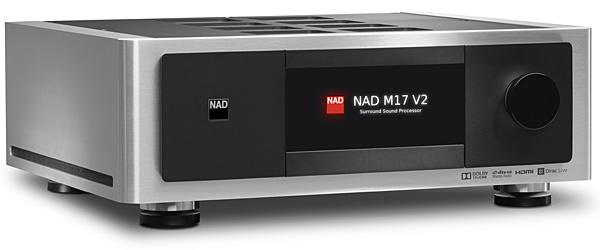 PRICE
$6,000
AT A GLANCE
Plus
Exceptional flexibility
First-rate build quality
Superb sound
Minus
Complex ergonomics
Inadequate owner's manual
THE VERDICT
This NAD preamp-processor can accommodate nearly every system requirement and then some. While pricey, it's hard to imagine a better-sounding hub for your home theater.
NAD (New Acoustic Dimensions) gained considerable attention soon after its founding in 1972 by offering impressive sound quality at fair prices. Today, most of NAD's more affordable products still proudly bear the unique, workpants cosmetics of its early days. But that definitely doesn't apply to the upscale Masters series, which includes the M17 V2 surround preamp-processor. As with all current NAD products, the M17 V2 is manufactured in China but designed in Canada, where the company is headquartered.
Features
The M17 V2's front panel is dominated by a large display screen. Apart from that, only an on/standby indicator, a small on/standby button at the top, and a large volume knob interrupt the preamp's clean, contemporary look. Many of the NAD's back panel inputs/outputs reside on plug-in modules. While there's no such thing as complete future-proofing, this allows for upgrades as requirements evolve. The ample connections include two each coaxial and optical digital, and seven analog stereo inputs. A quintet of HDMI jacks is version HDMI 2.0 (a future upgrade to HDMI 2.1 should be possible with a new HDMI input/ output module). While my unit had no composite or component video connections, an optional plug-in module provides them.
There's a full array of both balanced (standard-sized XLR) and unbalanced (RCA) outputs, with one exception. The NAD's four height-channel outputs are balanced only, using miniature XLR jacks. NAD includes four short adapter dongles with mini-XLRs on one end, and standard XLRs on the other. But to use these you'll have to also use balanced cables for the height channel outputs. The attached height channel amps must then have balanced inputs—or a generous supply of XLR-to-RCA adapters (not included).
The three subwoofer outputs, two unbalanced RCA and one balanced XLR, all deliver the same low-frequency signal. While you can use all three outputs to feed multiple subwoofers, they cannot be set up separately apart from any adjustments the subs might offer on their own. The M17 V2 can support up to four listening zones, with full multichannel support for the main Zone 1 but stereo-only for the others.
For the M17 V2, NAD has replaced the original M17's Audyssey room EQ with Dirac Live. It also adds support for up to a 7.1.4 system, with a maximum of four ceiling or upward-firing height speakers for Dolby Atmos or DTS:X. No support is provided for Auro 3D.
The NAD can be set to convert incoming analog signals to up to 24-bit/192kHz. It can process resolutions of up to 24-bit/192kHz, including WAV and FLAC lossless audio sources, but if you engage Dirac Live, output resolution is limited to 24-bit/48kHz. There's also a provision for direct analog pass-through that will disable Dirac Live equalization and subwoofer high- and low-pass filters.
The included remote control is large, solid, and can also be used to operate additional devices other than the M17 V2. A main shortcoming is that some of its many buttons are small and hard to identify easily in the dark, even with the remote's backlit keypad. A small, simple second remote is also included, but it's intended for Zone 2 use.
Setup
The M17 V2 is a complex and versatile device. But that versatility comes at a price, and I don't only mean in dollars. I found many aspects of the M17 V2's setup and operation to be non- intuitive. Also, its downloadable manual is relatively short at 31 pages and often lacks clarity.
To keep your eyes from glazing over, I'll offer just three examples of setup issues that tripped me up more than once. Working with the navigation "wheel" on the remote is a challenge: when the obvious next step is to push the "enter" button, pushing the "right" button turns out to be the correct move. While setting up the M17 V2's external Wi-Fi dongle may be simple for those more adept than I with computer arcana, others may well need to conscript help from a nearby 10-year-old. I got it done with assistance from NAD's dealer support line, though the Wi-Fi performance in my setup wasn't consistently reliable. Finally, when making back panel connections, I recommend starting at the bottom. The output jacks are at the top, and when they're wired up, the output cables drape down over the bottom jacks, blocking access to them. These and other ergonomic concerns might well be moot if the M17 V2 is custom installed—or purchased from a dealer who can offer hands-on assistance if needed.
The NAD's front panel display offers three brightness levels (there's no Off option) and shows the volume level in numbers you can read from across the room plus additional information on the current audio and video source in much smaller type. While it has some touchscreen capability, you'll need to call up the setup menu on your main video display to get the full range of adjustments. NAD's remote control, meanwhile, provides overall volume, per-channel level trims, tone controls, and center-channel dialogue adjustments.
The only video option the NAD offers for your main video display is straight pass-through. In fact, when you call up the onscreen menu during viewing, both the video and audio screen get fully muted. I found that the NAD doesn't degrade the video signal—video pass-through is completely transparent.