Krell Foundation Surround Processor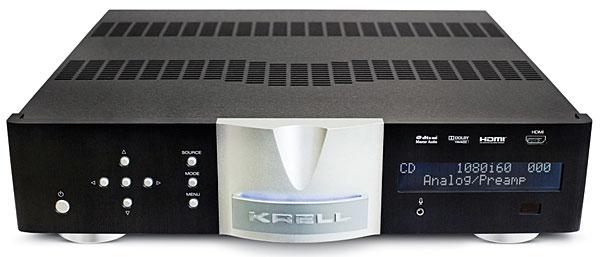 PRICE
$6,500
AT A GLANCE
Plus
Superb sonics
High build quality
No widgets, gimmicks, or extraneous features
Minus
No widgets, gimmicks, or extraneous features
Klunky OS, incomplete instructions, non-backlit remote
THE VERDICT
Krell's aptly named, sonically sophisticated Foundation counters a foolish industry trend toward sacrificing sound quality for useless and/or redundant features.
We live in a bizarre world where automobile commercials tout peripheral accessories while omitting mention of engines, transmissions, and brakes. What's more important: Stopping distance or voice-activated Bluetooth?
So it's not surprising that in much of today's home theater electronics, sound quality takes a backseat to features and widgets. Backseat? In some, sound quality doesn't even go along for the ride.
Krell's new Foundation 7.1-channel processor—the company's least expensive—eschews the widgets and gadgets in favor of sound quality—not that the Foundation is bereft of useful features.
By making use of technology and circuitry originally developed for the $30,000 flagship Evolution 707 and scaling back the rugged chassis, the massive milled-aluminum faceplate, and full feature set, Krell brings to market a $6,500 pre/pro that is said by the company to sustain its reputation for superior sound quality.
Features You Get
While the Foundation lacks the Evolution's visual flash, it's still a handsome-looking piece with a smartly arranged front panel that's sized to fit on a standard-width and -height shelf or rack. Obviously, it decodes Dolby Digital, Dolby Digital Plus, Dolby TrueHD, DTS, DTS-ES Discrete, Matrix, and DTS-HD Master Audio, in addition to Dolby Pro Logic IIx, DTS Neo:6, and high-resolution PCM as well as Krell's proprietary surround modes: Party, General Admission, Front Row, and On Stage.
It offers nine rear-panel HDMI 1.4a inputs and one on the front panel, plus two ARC-capable HDMI outputs to transmit sound from your monitor's Netflix and other widgets back to the Foundation.
Also included are two composite and three component video inputs, as well as three each coaxial and optical digital inputs. You'll also find RCA single-ended and balanced analog stereo inputs, and both RCA and balanced outputs for all seven channels plus two subs. All the video inputs are strictly for switching—the Krell does no upconversion on any incoming signal.
The Foundation can connect via Ethernet cable only (no Wi-Fi) to the Internet, and only for software updates (a few occurred during the review period, though you have to regularly look for them since there's no onscreen alert). Once connected to your network, you can type the Foundation's IP address into an iPad Web browser to access a virtual remote control panel. It also includes an RS-232 control port for use with home-automation systems. The included non-backlit remote control is a heavy affair, built from extruded aluminum with multiple rows of silver buttons.
Krell also includes its proprietary ARES Automatic Room Equalization System used in conjunction with a supplied microphone for both initial automatic speaker setup and optional equalization. The EQ function can be set to full range or limited to selectable lower frequencies. A second audio zone lets you simultaneously play different audio in two locations.
Features You Don't Get
As noted above, other than transcoding the two composite and three component video inputs so they can pass via HDMI, the Foundation does not do any video processing. It doesn't scale to 4K, but it does pass video up to 1080p/60 bit for bit. There's no onscreen menu system or onscreen anything.
Also, you don't get height or width channels, an AM/FM tuner, XM/Sirius, Netflix, Pandora, or any widgets whatsoever. It's not THX approved or kosher for Passover, nor does it have a 5.1-channel analog input, which is a notable omission in a $6,500 pre/pro but will only affect users who own high-performance, multichannel SACD or Blu-ray players with built-in high-end DACs that exceed the performance of the Krell's own circuitry (see below). The Foundation doesn't have Bluetooth or AirPlay or USB iPod connectivity, though here you could add one of the higher-quality Bluetooth adapters to gain the ability to stream straight from a phone or tablet.
Innovative Circuit Architecture You Do Get
The number-crunching heart is based upon a pair of dual-core 32-bit Cirrus Logic CS497024 DSPs performing 1.8 giga-operations per second. Digital signals are then routed to 32-bit ESS Sabre DACs. Proprietary Krell preamp circuitry is discrete current-based Class A, direct coupled with no op-amps or ICs in the signal path. Analog inputs bypass digital circuitry and are routed directly to a balanced ladder resistor-type volume control.
What is said to be Krell-developed "intelligent" HDMI switching uses circuit- and software-based solutions to produce near instantaneous switching among the ten HDMI inputs, all of which are always active. The system stores in its non-volatile memory useful information such as individual source resolution and audio formatting. Although I never had more than two or three HDMI sources connected simultaneously, it worked as promised.
Clunky Setup
Buy a Krell, and your dealer will most likely do the setup, but if you're used to some of the more elegant setup systems found on far less expensive pre/pros, you'll find the Foundation's less so, especially since there's no onscreen menu system.