Yamaha CX-A5000 Surround Processor and MX-A5000 Amplifier
PRICE
CX-A5000, $3,000; MX-A5000, $3,000
AT A GLANCE
Plus
Audiophile pre/pro sound quality
Impeccable build quality
Apple AirPlay support
Minus
Amp performance merely competent
Limited network interface
THE VERDICT
Yamaha's new pre/pro is a surefire contender, though its matching 11-channel amplifier wasn't quite the same caliber.
If you're in the market for a new AVR, you can spend countless hours researching all of the various manufacturers' Websites and, when all is said and done, still have 20 or more models to choose from that have all the bells and whistles you want. The same can't be said for the surround processor market, which is extremely limited by comparison.
Most companies offer only one model—if that—and it's generally a reconstruction of their flagship AVR minus the amp section. Don't expect a discounted price, though; with such a limited audience for pre/pros, you can expect to pay top dollar even when the amps are absent. That said, this isn't such a bad deal because you can then choose an amplifier that mates well with your particular speakers. Furthermore, by having the electronically noisy amps in a separate enclosure, energized by their own dedicated power supply, you can theoretically enjoy improved audio quality. Of course, you also get an increased footprint in your rack with additional black boxes. The quest for audio nirvana certainly isn't easy.
I've had the privilege of reviewing a number of Yamaha AVRs over the years and have always been impressed by their audio prowess—especially in the premium-positioned Aventage line. I've wondered how long it would take for the company to finally release a modern pre/pro. Well, the day has arrived with the Aventage CX-A5000 and its sibling 11-channel amplifier, the MX-A5000. Was it worth the wait? Read on and see…
Not a Carbon Copy
When you compare the spec sheets of the CX-A5000 and Yamaha's flagship AVR (the RX-A3030), there are a lot of similarities between the two units (minus the amplifiers, of course), but also a few differences. First, the pre/pro offers an additional 10 DSP programs and an upgrade of the room correction circuitry, the YPAO multipoint measurement tool with R.S.C. (Reflected Sound Control) and angle measurement. All 11 channels employ ESS9016 Sabre32 Ultra DACs versus nine channels in the AVR. And the CX-A5000 adds balanced analog inputs and outputs. The CX-A5000 also represents a steep upgrade in price—an $800 difference, plus the cost of an amplifier or two—but in the high-performance pre/pro market, price objections tend to be less of an issue.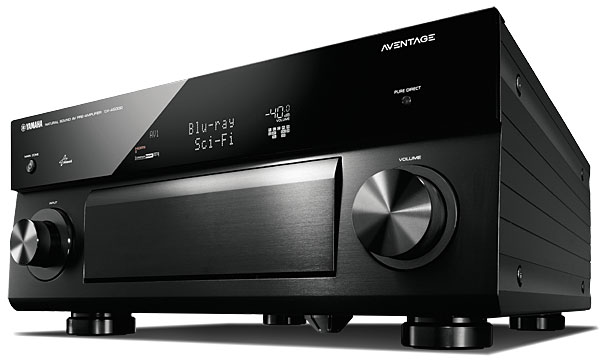 The CX-A5000's build quality is absolutely fantastic, and you can tell no expense was spared when you heft it onto your equipment rack for the first time. The chassis includes an H-shaped cross form with aluminum side and front panels to shield the circuitry from external electrical noise created by various electronics; there's no skimpy plastic on this baby! Additional attention to detail comes in the form of the double-bottom construction and the Anti-Resonance Technology (A.R.T.) Wedge, borrowed from the better Aventage AVRs, that places a fifth foot in the center of the unit to reduce vibrations and firmly support the internal circuits and delicate parts
The front panel is well designed and easy to use. It includes an easy-to-read LCD, a power/standby button, an input selector on the left, a sturdy volume control on the right, and a minuscule Pure Direct button on the upper-right-hand side. Various controls and inputs are housed under the flip-down panel that occupies the center of the unit, including an MHL-compliant HDMI input, a headphone jack, and a USB input. You can connect an iPod directly to the front USB input and control it with the supplied remote—or better yet, use your home network and play your tunes via Apple's AirPlay, which is also supported.
The rear panel has enough inputs for even the most complicated home theater, with an additional seven HDMI 1.4 inputs and two HDMI outputs (multizone-compatible). As noted, the processor offers both balanced and unbalanced outputs for your amplifier, but I was surprised to find no balanced output for the subwoofer—although there are two unbalanced sub outs. The CX-A5000 also has a single balanced analog audio input intended for high-performance stereo source components with compatible outputs, such as some CD/SACD or universal disc players. With 11.2 channels, the Yamaha uses its proprietary Cinema DSP HD3 processing for adding four height speakers (two front, two rear) to enhance image height in the listening room.
Other rear-panel inputs include an Ethernet port, a DC-out port for optional accessories (Wi-Fi or Bluetooth add-on), an RS-232 port for control systems, and a detachable power cord.
The video processing is handled by a proprietary solution and supports 4K x 2K Ultra HD video scaling. As you can see in the Test Bench results, it fared pretty well, other than a failure of the 2:2 HD test, and its rolling off of chroma resolution—neither are uncommon failures. If you use an outboard video processor or are happy with the processor in your Blu-ray player or display, disabling the video processing allows the signal to pass through unmolested, which is what I ended up doing for the majority of my audition.
The CX-A5000 is DLNA (Digital Living Network Alliance) compliant and can connect to a computer, a server, or a NAS (Network Attached Storage) device to stream music directly. The unit supports playback of WAV (PCM format only), MP3, WMA, MPEG-4, AAC, and FLAC files (one- or two-channel audio only). It accommodates sampling rates of up to 192 kilohertz for WAV and FLAC files and up to 48 kHz for other files. If you want to stream music straight from the Internet, the unit supports Internet Radio, Pandora, and Rhapsody. Furthermore, if you have a plethora of music stored on an external hard drive, you can plug it into the USB port and access the files through the onscreen display.
I'm usually not a big fan of stock remotes, but Yamaha's remote is actually quite functional and easy to learn. First, it's sturdy and heavy and doesn't feel cheap in any way. All of the necessary keys are easy to find—even in a darkened room, thanks to the included backlighting. My only gripe: Yamaha has assigned each of the A/V inputs a number instead of a name (DVD, Blu-ray, Sat, etc.), so until everyone in the family learns that your Blu-ray player is linked to AV1, there may be some trial and error to find the right input .
If you've embraced modern technology and own an iDevice or an Android gadget (or the Kindle Fire), you'll be happy to know that Yamaha has a very useful app that allows you to power the CX-A5000 on or off, set the volume and input, and choose any of the 33 DSP programs the unit supports. I'm generally not a big fan of DSP modes and leave them off, but I have to admit it was kind of fun switching among them to see how they affected the sound.
As with other Aventage-branded products, the included room-correction software is Yamaha's proprietary YPAO-R.S.C. It analyzes room acoustics and performs speaker angle measurements, then calibrates audio parameters to achieve optimum sound at any of several listening positions. The R.S.C. attempts to correct for early reflections, and it also provides DSP Effect Normalization, which varies the Cinema DSP parameters according to the reflective nature of your room.
I chose to measure the maximum eight positions, following the instructions in the manual. (As an aside, that manual is only on a CD. Given the price point of this pre/pro, I don't think it's too much to ask for a printed manual, is it? Regardless, I moved the PDF onto an iPad for easy reference, but there's nothing like leafing through a beefy manual to find what you need. Call me old-school!) Anyway, it took only about 15 minutes to measure my room, and then I performed the angle measurements using the supplied triangle-like apparatus and its three positions. Once I completed all of that, I saved the information and then verified the settings.