Trinnov Audio Altitude16 Surround Sound Processor Review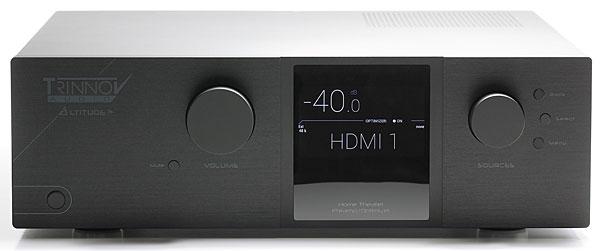 PRICE
$18,000
AT A GLANCE
Plus
Phenomenal sound quality
Software-based platform makes upgrades easy
Superior room correction processing
Minus
Pricey!
Basic remote control
Typically requires pro installation
THE VERDICT
The Altitude16 may be a luxury purchase, but for those seeking an upgradeable surround sound processor with fantastic sound quality, cutting-edge room correction, and support for all the latest immersive audio formats, it's a true standout product.
I've been reviewing A/V gear for over 15 years, and it's rare that something new comes along that will intimidate me. But all that changed when I found out I'd be reviewing the Trinnov Audio Altitude16, an $18,000 surround sound processor offering up to 16 discrete output channels plus the company's proprietary Optimizer speaker/room correction, that's arguably the most sophisticated and flexible offering of its kind on the market. (Trinnov's portfolio also includes the Altitude32, a model with up to 32 discrete output channels and the Amethyst, a four-channel processor that can be configured for stereo, biamped, or 2.2 output in systems with dual mono or stereo subwoofers.) To prepare myself, I even downloaded and starting reading Trinnov's 172-page manual well in advance of the Altitude16's arrival.
Once it arrived and was unboxed, I admired the Altitude16's design—it has an industrial look that I personally love in an A/V component. The brushed aluminum front panel contains only a few controls: power, mute, volume adjustment, and source selection, plus menu navigation buttons. A large dimmable display shows volume, input, and audio format status, along with other information about incoming and outgoing A/V signals.
The Trinnov offers 16 channels of processing with support for the three major immersive audio formats: Dolby Atmos, DTS:X Pro, and Auro-3D. It has eight 18Gbps HDMI 2.0 (HDCP 2.2-compliant) inputs and two HDMI 2.0 outputs (with eARC on output 1), dual coaxial and optical digital inputs (plus one output of each type), and analog XLR and RCA stereo inputs. Other connections include a trigger input, four trigger outputs (three configurable), an RS-232 control port, an Ethernet port for network connection and control, and two additional Ethernet ports labeled for future use. The unit is also Roon Ready and functions as a UPnP renderer.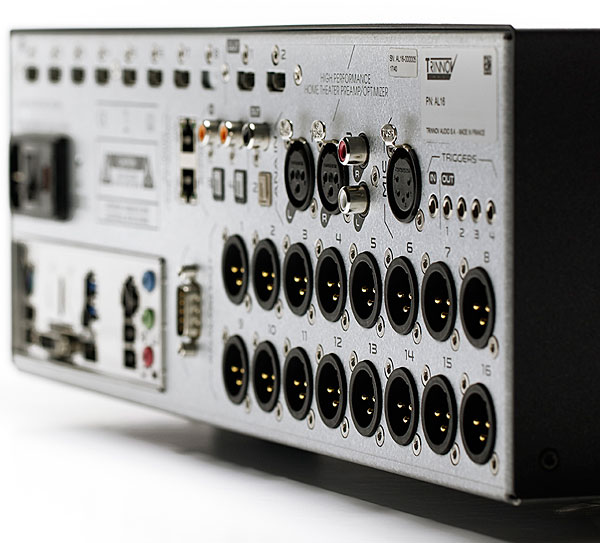 Since the Altitude16 is based on a PC architecture, it features standard I/O options on the lower left side of its rear panel. In lieu of a chip-based DSP, Trinnov uses a Linux-based software suite that runs on a multicore Intel i3 processor. The benefit to this design is that when a new processing mode comes along, the Altitude16 can be easily upgraded for it over the internet. (Trinnov also says that the modular hardware design allows for HDMI connections to be updated to version 2.1 when that upgrade becomes available.)
While the non-backlit remote control Trinnov includes is rather spartan, it's also true that the main customer for an Altitude16 will likely have a custom-installed home theater that runs on an advanced control system. Hence, the unit supports Control4, AMX, Creston, Savant, and RTI, and can be controlled via IP or RS232. (It also features integration with The CEDIA Designer home theater design software.) Since I don't have a sophisticated control system in my own home theater, I instead used the supplied handset along with a URC MX-990 universal remote for my evaluation.
There are two other ways to connect to the unit for control. First, you can use the rear panel's PC outputs to hook up a monitor, mouse, and keyboard. Second, you can hook up via Ethernet and direct a web browser to the unit's IP address via a VPN connection—the more convenient option. I connected this way using both my PC and Samsung Galaxy Tablet. The user interface's fixed font was very hard to read on the tablet's 10-inch display without reading glasses, however, so I ultimately ended up using my PC with its 27-inch monitor. Once connected, you better have the manual handy for reference because the learning curve is very steep when you dig into this beast.
Setup
The Altitude16's setup menu can be a bit overwhelming at first, so it's easy to see why custom installation is recommended for most users. Even so, I decided to dig right in. Thankfully, Trinnov's Wizard offers a Quick Setup option where you define the room's speaker layout. This can range from a 2.0 system all the way up to a 9.1.6 configuration r anything in between—just remember, you're capped at 16 discrete outputs. My room's four subwoofers are run through an outboard MiniDSP HD processor and treated as a single subwoofer by my reference pre/pro, so I chose an Atmos 7.1.4 configuration for my setup. Granted, there's no reason for a Trinnov owner to use a MiniDSP since the processor has full bass management to redirect low frequencies in surrounds or height speakers and can individually handle multiple subwoofers.
The next step in the setup process is to assign each output to a specific speaker and use the pink noise generator to confirm your assignment. You then move on to the Bass Management page, set crossovers for individual speakers (I chose a global 80Hz), and connect the Trinnov 3D microphone (an extra $800 option). Lastly, you start the Trinnov Optimizer calibration process, which takes a few minutes to run, with the processor then analyzing the data and applying acoustic corrections.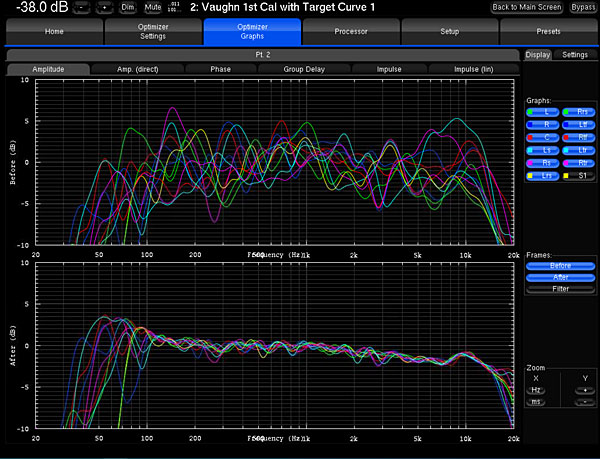 Once auto-calibration is complete, I'd say you will have achieved about 85-90 percent of what further tweaking could provide. But quite honestly, unless you're the ultimate geek and love to obsessively tweak and fiddle with multiple settings, you're better off paying a Trinnov-affiliated installer to set the Altitude16 up. When you spend $18,000 on a processor, you'll want to ensure you're getting 100 percent of its performance! (Another benefit to going the installer route: they will bring along their own 3D microphone.)