Marantz AV8802 Surround Processor Review
PRICE
$3,999
AT A GLANCE
Plus
11.1 channels with Audyssey MultEQ XT processing
Dolby Atmos, Auro-3D, and DTS:X surround
Full 4K video processing upgradable to HDCP 2.2
Minus
Limited range for remote sensor
THE VERDICT
Noticeably improved sound quality over its predecessor plus Atmos, Auro-3D, and DTS:X surround processing make the Marantz AV8802 a top-notch upgrade.
It's been a little more than two years since I reviewed the Marantz AV8801 surround processor, and I liked that model so much, it never left my system. At the time, I thought it was the best-sounding pre/pro I had ever owned, and I had no real desire to upgrade anytime soon. That all changed last fall when Dolby announced that Atmos for the home was on its way. I started thinking how I could finagle four extra speakers into my room—because for some reason, I have this overwhelming desire to stay on the cutting edge of home theater technology, regardless of the personal expense.
Upping the Ante
The AV8801 was tricked out to the nines with virtually every bell and whistle that could be found at the time in a pre/pro, and the same is true of the AV8802. Networking goodies include Apple's AirPlay, Pandora, SiriusXM, Internet Radio, Spotify Connect, and Flickr. In lieu of the four-port Ethernet hub that was on the AV8801, there's a single Ethernet jack on the rear, but now you get Wi-Fi and Bluetooth, as well as DLNA 1.5 support for streaming audio files from your local computer network.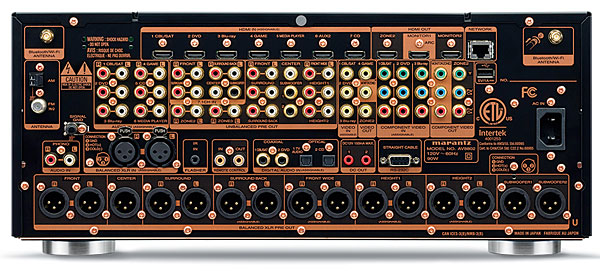 The upgrades don't stop there. Marantz's engineers dissected every critical component for the AV8802—including the transformer, the DACs, the HDAMs (the company's proprietary amplifier modules), and the filter capacitors—and relied on trickle-down technology from the company's Reference line, specifically the PM-11S3 integrated stereo amplifier. The 11.1-channel preamp section utilizes balanced outputs. Enhancements include brand-new, fully discrete current-feedback HDAM-SA2 modules, along with improved jitter-reduction circuitry for the optical, coaxial, and HDMI inputs. If that's not enough, the engineers also included a lower-noise toroidal power transformer (derived directly from the PM-11S3), 768-kilohertz/32-bit DACs (AKM4490), and capacitors that have twice the reserve than what was in the vaunted AV8801.
As with its predecessor, the build quality of the AV8802 is outstanding. In addition to the upgrades listed above, the unit has a dual-layer copper chassis that's carried over from the AV8801, which helps isolate the electronics from outside interference.
If you've liked the look of past Marantz AVRs and pre/pros, then you'll be happy to know that the design philosophy hasn't changed. The AV8802 has the same classy curved front panel and sparse layout, which includes a volume knob on the right, a source select knob on the left, a power on/standby button, and a simple porthole display showing the selected source and volume level. There's a flip-down door beneath the porthole that reveals navigation and other controls along with a large traditional LCD. In addition to the plethora of discrete control buttons, there are connectors for HDMI, headphone, Audyssey mic, and auxiliary analog audio/video.
The rear panel is well laid out and accommodates 15 individual balanced and unbalanced output connections. This includes dual subwoofer outputs with XLR and RCA connections for each. These are on a single channel, but there are independent level settings for each subwoofer. Note that even with all these connections, a maximum of 11.1 independent channels may be playing at once. There are seven HDMI 2.0 inputs, three outputs (Monitor 1 with ARC, Monitor 2, and Zone 2), dual component inputs/outputs, and enough gold-plated analog inputs and outputs to satisfy most every audio need you could think of. Rounding out the features on the back panel are a moving-magnet phono input, dual antenna hookups for Wi-Fi and Bluetooth, HD Radio (AM/FM) connection, a single set of XLR balanced inputs, and a second USB input in case you want to permanently attach a storage device loaded with music and photos.
Video processing is handled by an Analog Devices ADV8003 chip, which performs admirably. Additionally, the AV8802 has 4K video processing with the ability to scale current sources to UHD (3840 x 2160), and while the initial units shipping into retail won't comply with HDCP 2.2, Marantz says it will begin offering a free hardware upgrade at some undesignated point in the future in order to conform with the new copy-protection scheme (you'll have to pay for one-way shipping). One thing I love about Marantz's video implementation is the ability to customize the video output by source, so if you want the 1080p/24 signal from your Blu-ray player to be unprocessed but your cable/satellite signal to be upconverted to 1080p or 4K, you can make this choice in the setup menu.
The included remote is competent in its layout and fits nicely in your hand. Thankfully it's backlit, so it's easy to see in a darkened room. However, as with my reference Marantz AV8801, the remote sensor on the AV8802 is quite a bit less sensitive than those on my other components, and in my space, it only responds to commands if you are within 15 feet of the unit. While this may not be an issue for most folks, I sometimes watch or listen from an adjoining room, and these pre/pros have been the only pieces in my rack that won't respond from 16 feet away to either the factory remote or my URC universal. Of course, if you use an RF remote or control system with a receiver hub, it won't be a problem.
Setting Up
Marantz has the best user interface system I've come across (shared by sister company Denon). It's extremely intuitive, and it looks pretty, too. When you fire up the AV8802 for the first time, a guided setup "assistant" will greet you and walk you through hooking up the various components to your new toy. The only downside of this setup is that I've never been a big fan of hooking up wires while the unit is powered up, but if you need it, it's there. Regardless, once you have all your amplifiers hooked up—I used a total of 11 channels in order to take full advantage of the Atmos capabilities—you can then perform an Audyssey calibration by plugging the supplied mic into the front of the AV8802.
My first calibration didn't go very well, with the unit setting my trims much too low, especially for my subwoofers. Perplexed, I ran through the process a second time, which worked perfectly. I may not have had the mic situated properly the first time.