Integra DHC-60.5 Network A/V Controller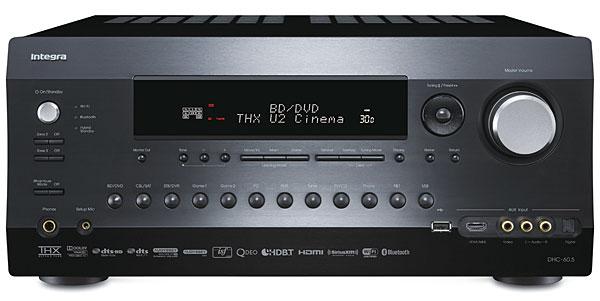 PRICE
2,000
AT A GLANCE
Plus
HDBaseT audio/video via CAT5e/6
4K upconversion and passthrough
Feature packed and futureproof
Minus
Lackluster sonics
THE VERDICT
The futureproof, feature-packed, and easy-to-operate midline DHC-60.5 is a custom installer's dream, but it falls short on sound quality.
Integra's new THX Ultra2 Plus–certified DHC-60.5 A/V controller—one of the first to offer HDBaseT connectivity—is clearly intended for the custom install market. But with its generous feature array and ease of operability, the $2,000 midline offering will no doubt also attract its share of retail consumers.
For those unfamiliar with HDBaseT, this is a relatively new technology that allows a variety of different audio/video signal types, including HDMI and various control signals, to travel together along a single inexpensive CAT5e/6 cable, the kind typically used for Ethernet connections. The DHC-60.5's built-in HDBaseT technology allows custom installers (or you) to send up to 4K resolution video and high-resolution digital audio (among other things) as far as 300 feet. Thus, it can be used for a primary display device that's located well away from the DHC-60.5, or it can be used for either the theater's second display device or for one of two remote zones.
While the HDBaseT-equipped unit goes where no pre/pro has gone before, it also jettisons the past at warp speed by not including either a 5.1-channel analog input or a second HDMI output, now commonplace among better surround processors and AVRs. So if you've got a legacy multichannel analog source (such as my Sony SCD-XA777ES SACD player), you'll be out of luck. (To its credit, the DHC-60.5 is also "future-proofed" with a decent built-in moving-magnet phono preamp.) Having HDBaseT instead of a second HDMI out also means that multi-display media rooms will require an HDBaseT receiver and a run of CAT5e/6 to the second display. Retrofitting the DHC-60.5 to an existing dual-display theater would mean either a new CAT 5e/6 run for the second display or using the existing HDMI cable and a suitable HDMI splitter.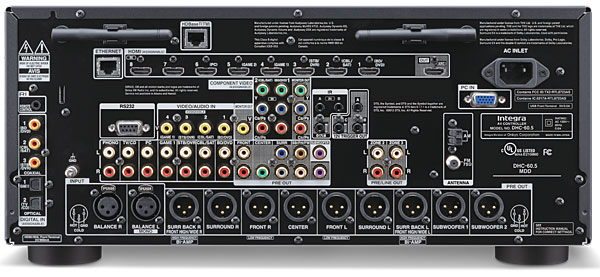 Beyond the advance of HDBaseT, the 7.1-channel DHC-60.5 is more conventionally featured. It offers balanced XLR and single-ended preouts and includes decoding for the now familiar Dolby TrueHD and DTS-HD Master Audio uncompressed formats. There's also Audyssey DSX processing for adding height or width channels, and that company's MultEQ XT32 setup and room correction and Audyssey Volume and Dynamic EQ modes. With the 7.1 balanced and single-ended outputs, you can configure either surround back, height, or width channels, but not all three. You can also use the same two outputs to biamp the front channels using the built-in digital crossover network. A second set of subwoofer outputs is provided to feed an additional sub, though it carries the same signal as the main sub out. There are eight rear-panel HDMI inputs and one front input, plus three coaxial and two TosLink digital inputs.
The DHC-60.5 provides both 3D and 4K passthrough and up to 4K upscaling (via its Marvell Qdeo chipset) and allows tweaking of a full range of ISF calibration parameters, which can be used to individually tune each video source in the hands of a skilled technician. (THX recommends setting the output to Through so the screen sees the source's native resolution. The picture it produced in this setting on both my plasma and JVC DLA-HD750 projector were as good as I've seen them—essentially transparent to the source.)
The unit features Bluetooth, Wi-Fi, and iPod connectivity (the latter with an optional dock). It also includes a 40-preset FM/AM tuner as well as a host of Internet-based widgets, including SiriusXM, Pandora, Spotify, Tunein, last.fm, Aupeo!, Rhapsody, and Slacker. The DHC-60.5 is DLNA version 1.5 certified; its onboard DAC decodes files up to 192 kilohertz/24-bit audio.
Setup and Use
Upon initial turn-on and after plugging in the Audyssey microphone, the unit automatically goes into setup mode. By now you probably know that familiar drill. While each manufacturer's operating system differs slightly, the Audyssey setup basics remain the same. The remote's Setup button doesn't access the complete system setup. Instead, it gives you the completed setup's connectivity and configuration status and allows you to change the most common settings.
Pushing the remote's Home button accesses the setup toolbox icon, one of five that then appear on your set's screen. Selecting that icon accesses the full setup menu. The second icon is InstaPrevue, which displays small thumbnail windows that show what's being streamed to your connected HDMI inputs. The third icon is for firmware updates. The fourth is for Network Service, which is where you access Internet services or stored Windows-based media connected to your home network. The fifth icon is for USB stick media playback via the front-panel USB input.
Overall, despite its unusually complete feature set, configuring and using the DHC-60.5 was relatively easy, including integrating the pre/pro into my Ethernet-wired Internet connection, which is often far more problematic.
Clearly, the idea is to have a custom installer set it all up and then encourage the end user to navigate the preset and configured features. So while setup wasn't difficult, making some changes was. For instance, while many remote controls allow you to switch Audyssey on and off, the Integra's does not. Instead, each input is separately configured for Audyssey. Changing that particular input's Audyssey setting requires you to go into the toolbox—you can't globally turn it on and off from the remote.