Monoprice Monolith HTP-1 Surround Sound Processor Review Page 2
Visual feedback when using Dirac's software on your computer is much more comprehensive than what you get with other room correction solutions. This is another area where I could see a casual home theater enthusiast being intimidated by the process, since the Dirac workflow requires greater end-user input than plug-and-play solutions like Audyssey. There are excellent resources on the Dirac website that help you to get the best possible results, however. The software's nearly limitless customization options include the ability to load target curves and display detailed representations of filters and crossovers. The latter provides insight into how the different crossover settings will interact with the main speakers and subs, and what type of response to expect. In follow-up measurements that I made using an outboard analysis system, the results Dirac predicted proved nearly spot-on accurate.
The Monolith lets you store up to six separate Dirac calibrations with different crossovers, slopes, and target curves, and you can jump from one to another nearly instantly. And because it also has manual EQ options, you can fine-tune any channel before you apply Dirac. I took advantage of the multiple memories to check out a variety of Harman-derived target curves with different adjustments at the bottom end to boost bass quality at different volume levels. It was great having the ability to quickly switch from one calibration to another for listening at various times of the day or depending on the type of content.
There were a few setup shortcomings worth noting. The HTP-1 has variable output voltage capability for better amplifier matching, but I think this is a feature that would go over the heads of most users and leave them worried about setting it properly, especially if they have multiple amps with different voltage expectations. (I found that a setting somewhere around 1.8-2.2 worked well across my amps and provided adequate headroom.) Another shortcoming is the HTP-1's global implementation of lip-synch delay, which ideally should be available per input.
Users can either assign default surround sound modes to incoming signals or process them natively. Direct access to common upmixing solutions is available both from the front panel and remote control. I used Dolby Surround upmixing for most movie playback and Auro-3D, which has customizable processing that lets you fine-tune the intensity and spread of the upmix, for both stereo and surround music. Auro-3D does a tremendous job with music playback—I highly recommend it!
Performance
Due to the sheer number of setup options the HTP-1 offers, getting everything dialed in took a long time. But despite having received an early version of the HTP-1 to review (I waited for Dirac Live Bass Control functionality to be added before digging in for a serious evaluation), I rarely if ever had any issues with general playback and operation. Firmware updates were uploaded regularly by Monoprice, and the update process using the IP-based control interface on my laptop was pretty simple. I re-did the Dirac Live calibration following the Dirac Live Bass Control update, so any comments on performance are based on my time with the HTP-1 following that calibration.
I honestly can't think of anything the HTP-1 was lacking from an audio performance standpoint—listening to a wide range of music and movie soundtracks, the sound was as good as I've heard in my room to date. The room's 7.1.4 speaker setup features Revel Ultima speakers across all the main channels, four Seaton Sound subwoofers, and the spectacular Revel C763L in-ceiling speakers for the overhead fronts and rears. I used a long list of my favorite stereo and multichannel music tracks to evaluate the Monolith processor and could have been lost for days in this phase of my review process. From the luscious performances of Diana Krall and Norah Jones to the hard-driving bass, blistering guitars, and chaotic energy of Nine Inch Nails and Tool, the fantastic sonics gave my Revel Ultima Salon 2 towers a workout and constantly left me with a smile on my face. And I absolutely loved what Auro-3D processing brought to the experience: It opened the front soundstage up dramatically and also seemed to deliver a bit of a house curve to the low end that helped drive bass lines without adding any bloat.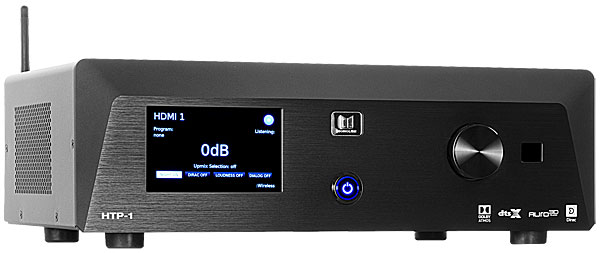 One of the biggest standouts during my test was getting to watch the first season of the Netflix series Dark, a trippy time-travel thriller produced in Germany that has one of the most impressive and engaging Atmos soundtracks I've yet heard. The sound design here is absolutely spectacular, and the show's eerie surround cues, seamlessly panned score, and ample use of overhead effects throughout were wonderfully conveyed by the HTP-1.
Another powerhouse demo was Ready Player One, a movie with an incredible Dolby Atmos soundtrack. The first challenge in the story is a chaotic race through a New York City complete with ever-changing roads, dinosaurs, and King Kong himself. The real challenge of this sequence is to see if your surround setup can weather the absolute sonic assault it delivers in every channel. I loved jumping between different Dirac curves using the HTP-1's IP interface to get a different effect on Kong's footfalls and other sonic effects as the movie continued uninterrupted. This proved a dazzling showcase of not only how good the HTP-1 sounded, but also how quickly and easily it lets you fine-tune material you're familiar with. No other processor I've used to date permits such an outstanding level of customization while delivering second-to-none performance.
Conclusion
I can't remember the last time I evaluated a product with so few real kinks in its armor as the Monolith HTP-1, and honestly could go on and on discussing this surround sound processor's virtues. Its vast number of setup options may be a little intimidating, but one can also get a fantastic out-of-box experience without wandering into those woods. When it comes to features for the price, the HTP-1 is one of the best value propositions I know of and should be on the short list of anyone seeking a state-of-the-art surround processor. I can't wait to see what Monoprice brings next to its Monolith A/V product line.